Smoking Growth
Tim McAleenan pointed me to an article about how there are now more smokers in the world today than there were back in 1980. Yes, there's growth in Big Tobacco.
As you might have guessed, this growth is not in the U.S. but it's instead found in countries like China, India and Russia. But, that growth comes from an absolute increase in the number of smokers. The actual percentage of people smoking has declined. Here's how to wrap your head around this using data about Chinese smokers:
China had 182 million smokers in 1980, and nearly 282 million in 2012, it said. India gained 35 million smokers - bringing its total to 110 million - even though the smoking rate fell from 19 to 13 percent of the population.
In effect, tobacco consumption is up because of population growth and not because people in general suddenly think that smoking is good for your health.
Although we could get into some pretty interesting discussions about tobacco and cigarettes, I'd prefer to stay out of that holy war in this article. It's the same reason I avoid getting into debates about fast food, defense contractors and pharmaceuticals. Let's instead shift gears and talk about (NYSE:PM) as an investment.
But first, I need to take a weird detour. I need to talk about a totally different company so that you can view this as a complete case study.
Lost Confidence
In my recent "Stock Story Time (Part 2)" article, I mentioned that I held a position in DeVry (NYSE:DV). I said this specifically:
"I bought this stock without fully understanding my ignorance and hubris about how the industry really works. I recognize this now and I'll likely reduce (but not eliminate) my holding in early 2014, thankful that overall market gains have also smoothed over potential losses."
In other words, I lost confidence in my due diligence and my understanding of this business. I understand the business itself pretty well because of countless hours of reading and research, but I don't fully understand the industry. More and more risk is popping up on my radar, such as:
I promise to talk more about Philip Morris. Please allow me to make just a couple more comments about DV's price and fundamentals. Your patience will be rewarded.
52-Week High and High P/E
Although DV will likely survive, and perhaps thrive, I'm just not sure that I understand the business well enough. I don't see a clear path into the future. And, I don't think DV plans on drowning owners with a flood of dividends.
Furthermore, I've been working hard to decrease my higher priced and lower dividend paying companies. Right now, as I write this, DV is selling for about $38 per share. I bought at an average price of $32.23 about 1 to 1.5 years ago. So, I made something like 16-17% on my investment; nothing to sneeze at in my book.
(I take no credit for the gain because the entire market went way up. The only credit I get is that I had the grit to hold when DV fell to $23-24 and I didn't sell at the bottom!)
What's more, DV is now trading near its 52-week high of $38.84 and also it sports a P/E of 36 (although the forward P/E looks to be around 15, give or take). Nevertheless, out of all my stocks, it was the one with the highest P/E and most uncertainty.
I would have held back on selling all my shares, but Philip Morris turned my head. It struck me like a bolt of lightning so I took nearly every dollar from the DV sale and poured it into PM.
Easy to Understand Business
I believe I have a much better grasp on PM than other business. I'm also keeping in mind that Jeremy Siegel said that the best performing stock of all time was Philip Morris.
I'm also considering the demographic and country-specific growth opportunities that I mentioned earlier. Plus, PM is introducing new products (like e-cigs) and forming alliances with old partners. For example PM and (NYSE:MO) are working on reduced risks products. And, who knows about selling marijuana in the future? Hey, anything is possible. Some people even argue that Big Tobacco must sell pot.
Fundamentals, 52-Week Low and Other Related "Stuff"
PM is getting beaten up right now and it's trading at a 52-week low right now. And, as Bill Maurer pointed out, PM's dividend yield keeps going up and up, now hitting a critical level.
While the price has languished recently, I can look back over the last 5-6 years and see EPS increasing, dividends increasing, revenue per share increasing, ROA above 20%, operating margins above 16%, net margins over 11%, and more. For a quick glance: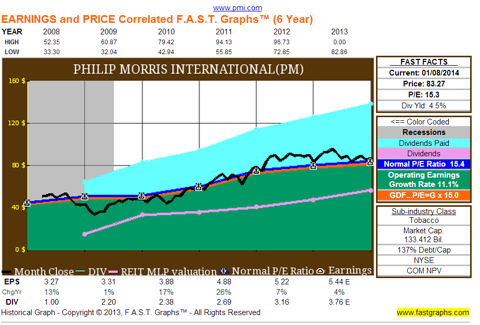 Click to enlarge
Yes, I also see a balance sheet that's bloating up with debt. However, that debt is being used to buyback shares like crazy. It's not being "burned up" (ha ha) or being wasted on ridiculous M&A.
That said, I'm watching the debt and debt/equity ratios, and I am aware of this situation (data from PM page on GuruFocus):
2006 Total Assets: $26B
2006 Total Liabilities: $12B
2006 Total Retained Earnings: $13B
2006 Total Equity: $14B
2012 Total Treasury Stock: $0
2012 Total Assets: $37B
2012 Total Liabilities: $41B
2012 Total Retained Earnings: $25B
2012 Total Equity: -$3B
2012 Total Treasury Stock: -$26B
That said, massive share buybacks cause debt/equity to get out of whack: Large Debt-Equity Ratio Can Be A Byproduct Of Share Repurchases (Philip Morris gets special attention in that article).
The Old "Switcheroo"
To summarize, I got cold feet about DeVry but I held firm thinking that the price dropped too much. I patiently waited for DV to return to "fair value" give or take I then sold out completely when I realized that Philip Morris was easier to understand, paid higher dividends, offered a great entry point, and is positioned to stabilize and then grow.
I didn't try to harvest gains. I didn't chase yield. I didn't allow an automatic stop loss to make a decision for me automatically. I didn't allow a single news story to scare me into selling DV and I didn't let bloodthirsty greed drive me into buying PM.
Instead, I looked for one of my weakest businesses trading at a value above my cost. Perhaps it's overvalued given the risks. Time will tell. I then looked at my existing portfolio for opportunities and PM was one of two or maybe three companies that I believed was worth a larger investment.
IBM, Portfolio Remix and Capital Allocation Philosophy
In a sense, this is what (NYSE:IBM) is doing right now. I'm specifically talking about Page 2 of IBM's 2012 Annual Report. They "Remix to Higher Value" all the time. You can see this with IBM's move from hardware to software and consulting.
I consider my portfolio one of my businesses. It's always supposed to be working for me, delivering results or it'll getting fired. Therefore, I'm always looking for opportunities to "remix" my portfolio to a "higher value" just like IBM.
And now you know why I bought more PM today. It was a portfolio remix, based on moving capital from a lower level of productive use to a higher level of productive use.
Disclosure: I am long PM, IBM, . I wrote this article myself, and it expresses my own opinions. I am not receiving compensation for it (other than from Seeking Alpha). I have no business relationship with any company whose stock is mentioned in this article.