As a dividend growth investor, I look for companies that pay sustainable, growing dividends. Although I prefer stocks that have a high dividend growth rate, there are some companies that I find interesting despite growing their dividend at a single digit rate. A good example of this would be Southern Company (NYSE:SO). At the current price per share of $40.62, Southern Company is trading very close to its 52-week low of $40.03. This drop in price has pushed the dividend yield up to a very respectable 5.00%. This means it now yields a lot more than its competitors Duke Energy (NYSE:DUK) and Dominion Resources (NYSE:D).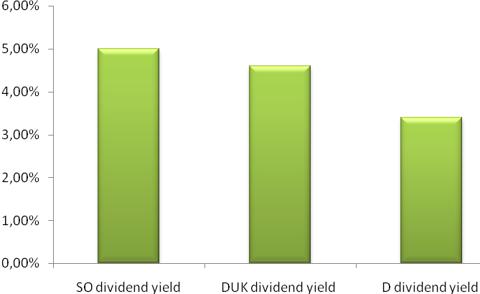 Investors in Southern Company have been rewarded with very stable dividend increases over the past decade. Although the rate of growth is not very impressive, with the dividend increasing by only a few pennies each year, the company has managed to slowly but surely increase both earnings per share and dividends, as can be seen in the next graph.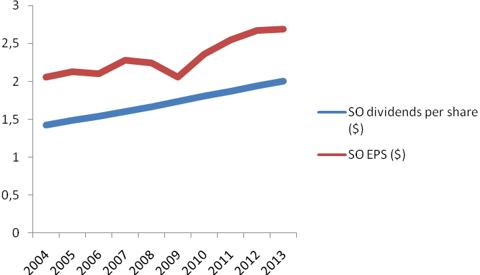 So far, it seems Southern Company would be a great addition to my portfolio of dividend stocks. However, even a great stock can perform poorly if bought at too high a price. Therefore, we will also need to look at SO's valuations. We will compare Southern Company's forward price to earnings and price to sales ratios to its competitors, Duke Energy and Dominion Resources.
We will start by looking at the forward price to earnings ratios. To calculate these, I have taken analyst estimates for earnings per share in fiscal year 2014, as found on Yahoo Finance. As we can see, Southern Company is a bit cheaper than Duke Energy, and a lot cheaper than Dominion Resources.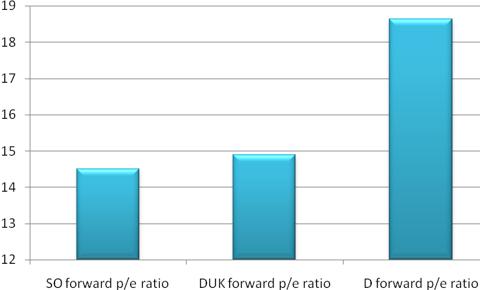 Historically, Southern Company has traded at around 17 times earnings, with a 5-year average P/E ratio of 17.18 and a 10-year average P/E of 16.94. Applying a multiple of 17 to SO's expected earnings of $2.80 gives us a price target of $47.60 for fiscal year 2014, which is 17.2% higher than the current price of $40.60, but still lower than the 52-week high of $48.74.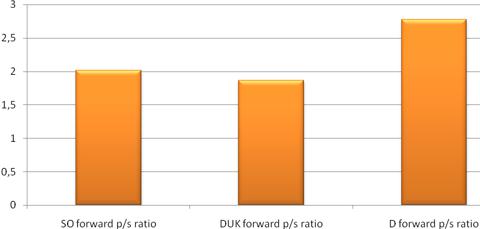 Southern Company has a forward price to sales ratio of 2.01, which is a bit higher than Duke's P/S ratio of 1.86. However, it is still a lot cheaper than Dominion Resources, which is trading at 2.77 times next year's expected earnings. Southern Company's forward price to sales ratio of 2.01 is very close to both its 5 and 10-year averages, as can be seen in the next graph.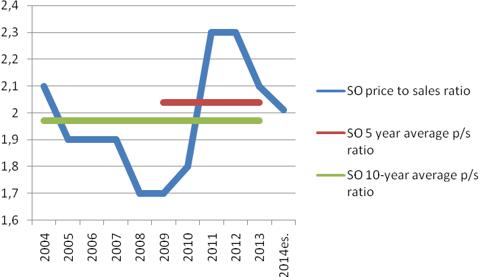 Conclusion:
At the current price per share, Southern Company will reward its shareholders with a 5.0% dividend, making it a great stock for those looking to get stable income from their stock portfolio. The stock would need to climb over 17% to get back to a P/E of 17, which is where it has traded for over the past decade. Southern Company is cheaper than both of the competitors I've used for comparison on a forward price to earnings ratio basis, although Duke Energy has a lower forward price to sales ratio. I already own shares in Southern Company, and will continue to hold them.
Disclaimer: I am not a registered investment advisor and do not provide specific investment advice. The information contained herein is for informational purposes only. Nothing in this article should be taken as a solicitation to purchase or sell securities. Before buying or selling any stock, you should do your own research and reach your own conclusion. It is up to investors to make the correct decision after necessary research. Investing includes risks, including loss of principal.
Disclosure: I am long SO. I wrote this article myself, and it expresses my own opinions. I am not receiving compensation for it (other than from Seeking Alpha). I have no business relationship with any company whose stock is mentioned in this article.