By Nick Hodge
China's Solar Industry
The modern solar industry was cradled in Germany. It was the first country to offer robust incentives for solar installations, and now boasts the largest solar market in the world. (See, solar can thrive anywhere.)
And while that world-leading market was developing, German solar companies were on top of the world...
In early 2006, as the solar market really got underway, German companies like Q-Cells (OTCPK:QCLSF) and SolarWorld (SRWRF.PK) doubled shareholders' money inside of two months. Take a look: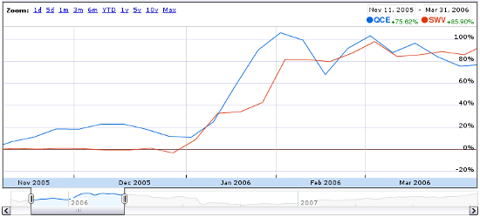 But the Chinese are great at reverse engineering, and when they saw how much money was being made — and how they could use solar in their own country — they quickly took action.
In less than a year, multiple Chinese companies entered the market. Aided by cheap labor and relaxed government regulation, these companies were quickly able to steal market share from the Germans.
And while a few German companies had doubled investors' money in early 2006... by the end of 2007, there were several Chinese solar firms that had tripled in value or better:
Those companies would go on to supply not only Germany, but also the rest of Europe, China, and even the United States.
Of course, we were advising premium Green Chip members of this situation as it unfolded, and many walked away with triple-digit gains in hand.
But the solar takeover was only the first leg of China's cash-rich cleantech trinity.
China's Wind Energy Industry

Just like the solar market, the wind energy market was pioneered outside of China, namely in the Netherlands and Scandinavia, where wind power had been used for centuries.
Between 2003 and 2008, as the wind industry really ramped-up, investors made good money playing European wind turbine companies. Vestas (OTCPK:VWDRY) and Nordex (OTCPK:NRDXF) were among the few pure wind plays on the market, and their shares rallied as wind farms sprang up around the globe.
But it wasn't long until China made a move on this industry as well.
After buying several turbines from their Western counterparts, Chinese companies quickly learned how to build their own quality version. And soon, wind farms were being built all over the Middle Kingdom.
In fact, in 2009, China not only built the most turbines in the world... they also installed the most wind turbines in the world.
And almost overnight, Chinese companies like Sinovel Wind and GoldWind Science — which you probably have never heard of — have become global Top 10 producers of wind turbines... and are knocking on the Top 5 door.
Green Chip investors have profited from this trend as well, as companies doing wind business in China have blown passed European-based companies like Vestas: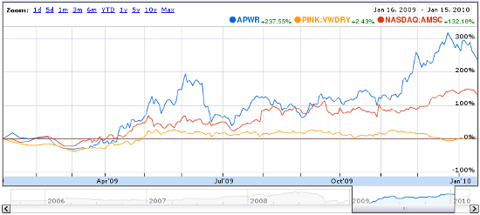 But if you missed the Chinese solar and wind runs... the third horse in this profitable trifecta is just now getting out of the gate.
China's Clean Auto Industry

By now, the Chinese have realized three things:
They can produce high quality / high profit cleantech products;

They can ensure economic prosperity and energy security while reducing pollution by deploying those assets in their home country;

They can make even more money selling those products to other countries.
As you just read, each of those three tenets was realized during the Chinese wind and solar booms.
And it's happening again... in the auto industry.
Undoubtedly, you've witnessed the trend toward more efficient (and even electric) cars. Led by Japan (and, to a lesser extent, the U.S.) sales of smaller, more efficient automobiles have skyrocketed in the past two years... and will only go higher.
Honda (NYSE:HMC), Toyota (NYSE:TM), and Nissan (OTCPK:NSANY) were well-positioned to benefit (and they have), and Ford (NYSE:F) has also ramped up its offering of efficient autos.
Now, China is gearing up its effort. Members of its billion-strong middle class are buying more and more cars each day. They want those cars to be efficient. And they want those cars to be Chinese.
You can already see how Chinese auto companies are performing as other mainstream brands continue to struggle: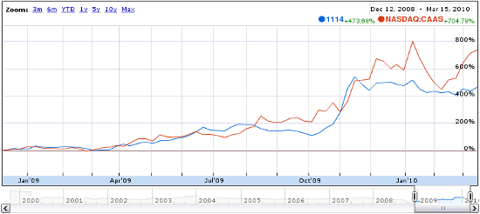 But there's one Chinese clean car company about to blow all the others away.
They make a series of gas, hybrid, and electric cars that are all the rage in China. And they'll soon be on sale in the U.S and Europe — the same as we saw with solar and wind.
The company sold 165,000 cars in 2008. But that grew 170% in 2009 to over 450,000.
What's more, China is now the world's largest car market, with 13 million cars sold last year.
In all reality, this company could become the world's largest automaker by taking over sales in China, and then the rest of the world.
They've already got backing from Buffett and the right portfolio of cars to make it happen...