By David Russell
The bears are gunning for Textron (NYSE:TXT) today after the aerospace conglomerate failed to break above $23.
optionMONSTER's Depth Charge tracking system detected the purchase of 2,900 June 22 puts for $1.50 and the sale of a matching number of June 22 calls for $2.10, generating a credit of $0.60. Volume exceeded open interest in both strikes.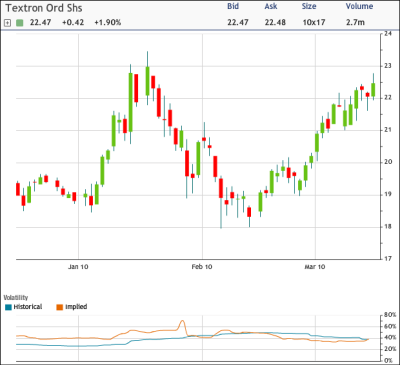 The trade, known as a bearish risk reversal or "synthetic short," will make money if TXT closes below $22 on expiration and lose money above $22.60. The strategy may have been implemented by a shareholder looking to lock in an exit price of $22.60 while hedging against a reversal lower.
TXT rose 1.9 percent to $22.47 in afternoon trading. It pulled back after touching $22.78 earlier in the session, below the $23.46 peak on Jan. 19.
The company, which makes Bell helicopters and Cessna aircraft, fell after issuing a weak profit forecast on Jan. 28. Since then it has rallied back along with the rest of the market.
However, TXT traded below December support levels last month. The price action, featuring slightly lower lows and lower highs, may be interpreted as bearish by some chart watchers. The $23 level is also represents the stock's high in October 2008, which further suggests that it is an important point of resistance.
Our tracking programs also detected selling of the April 24 calls for $0.35 and the April 23 calls for $0.50, which also reflects an expectation the stock will remain below those strikes.
Overall options volume in the name is four times greater than average so far today. More puts were bought than sold, and vice versa for calls, which reflects the negative sentiment.
Disclosure: No positions