Boeing (NYSE:BA) revealed the tremendous strength of global commercial aerospace demand in a news release. During 2013, the aerospace giant noted that it delivered a record 648 commercial deliveries, received a record 1,531 gross commercial orders for the year, and posted a record 5,080 units in its backlog of unfulfilled orders at the end of 2013. The 1,355 net commercial order mark for the year was the second-largest in company history. Boeing continues to execute well on its production rate increases, and three of its programs set records for deliveries during the year: the 737 program, the 777 program and the 787 Dreamliner program. 2013 was a fantastic year across the board for Boeing and for much of the supply chain to which it remains inextricably tied.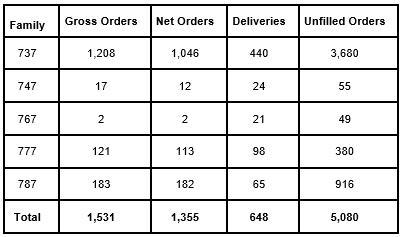 Image Source: Boeing
Boeing Commercial Airplanes highlights in 2013 included:
Our Take
There are few industries that we like more than the commercial aerospace industry (not to be confused with the airline industry, which we think is among the weakest). We like Boeing's fundamentals and its dividend strength, but we continue to prefer ideas in the supply chain, namely Precision Castparts (NYSE:PCP). The firm's products are ubiquitous and do not depend on which jet maker delivers more planes in any given year. Precision is also a trusted, low-cost supplier - it has been delivering castings to the jet-engine makers for over 20 years (40 years in GE's case). The company continues to be a holding in the Best Ideas portfolio.
Disclosure: I have no positions in any stocks mentioned, and no plans to initiate any positions within the next 72 hours. I wrote this article myself, and it expresses my own opinions. I am not receiving compensation for it (other than from Seeking Alpha). I have no business relationship with any company whose stock is mentioned in this article.
Additional disclosure: PCP is included in the portfolio of our Best Ideas Newsletter.