Here are the 2013 Q4 and full-year results for the ETF portfolio I recommended at the beginning of the year. As a reminder, the portfolio is equally weighted with the following:
I have also been tracking a parallel portfolio in which I've rebalanced the portfolio at the end of each quarter to see what positive or negative effects a quarterly rebalancing would have had.
Here are the results of the previous three quarters:
2013 Q4
For 2013 Q4 the diversified portfolio performed similarly to how it did throughout the year, underperforming the S&P 500 index by a good margin. Q4 was extra tough, as the S&P 500 (NYSEARCA:VOO) had an impressive 10.43% return (even after Vanguard's 1:2 stock split). For the first time, the S&P 500 Equal Weight underperformed the S&P 500 index.

Click to enlarge
In regard to sector performance for Q4, industrials, technology, consumer discretionary, and materials were the winners (notice, no losers!).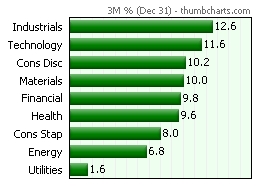 Courtesy: www.thumbcharts.com
The Q4 performance of the rebalanced portfolio was most interesting; it outperformed the non-rebalanced portfolio for the first time. The rebalanced portfolio was up 4.36% vs. 3.63% for the non-rebalanced portfolio.

Click to enlarge
The impressive performance of the Guggenheim S&P 500 Equal Weight is a result of it being one of the holdings that had money added to it at the end of Q3.
2013 Full Year
As we have seen throughout the year, it is hard to beat a strong bull market without having 100% invested in the proper equities. The S&P 500 was up 29.83% (as measured by the Vanguard S&P 500 Index), the SPDR Dow Jones Industrial Average (NYSEARCA:DIA) was up 29.63%, and the NASDAQ index, PowerShares QQQ (NASDAQ:QQQ), was up 36.22%. Returns include dividends and are calculated using data from Yahoo! Finance.
Here is the impressive sector performance for the full year. All sectors were in the green for the year and almost all sectors had double-digit returns.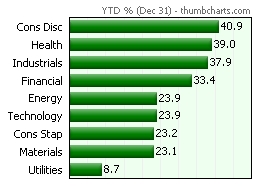 Courtesy: www.thumbcharts.com
My portfolio underperformed for the year with a modest 8.02% gain (including dividend reinvestment). The rebalanced portfolio had a 6.75% total return for the year. On a positive note, the effective annual dividend yield for my portfolio was 4.97% vs. 3.14% for the Vanguard S&P 500 Index.
Summary of performance: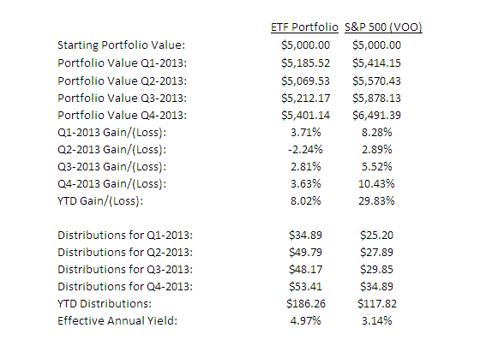 Click to enlarge

Click to enlarge
Why Did a Portfolio with 80% Equity Exposure Underperform?
Diversification is the only "free lunch" in investing and is an important tool in long-term investing. One year of underperformance should not discourage any investor (I can see how results of 8% vs. 30% would though). Even though my proposed holdings were fairly diversified at the start of 2013, I missed one important aspect, which was probably the largest macroeconomic theme: the quantitative easing program by the Federal Reserve. The NAREIT Index, Business Development Company Index, and Emerging Markets ETF (being used for income) were all interest-rate-sensitive holdings and, therefore, highly correlated. I did not have the lack of correlation (during calendar year 2013) I would have hoped for in a diversified portfolio.
Here what's the full-year results would have been if I had rebalanced back to equal weight after Q1, Q2, and Q3 (excluding trading costs and taxes).

Click to enlarge
Looking Ahead to 2014
Let's consider making a few adjustments to the diversified portfolio. I actually really like the portfolio as is for a long-term investment, especially if an investor is dollar-cost-averaging into the positions.
I think there are some areas of possible improvement, though. First, if we describe the market as the S&P 500 index, the S&P 500 had record sales per share last year (trailing four quarters) and a record margin (EPS to sales) and, therefore, record earnings per share.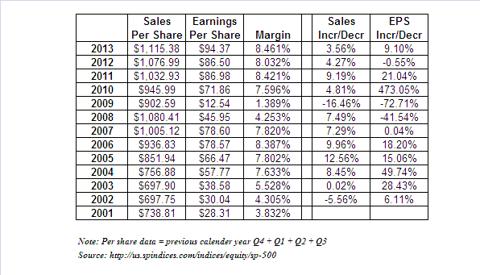 Click to enlarge
I do think the economy has some momentum and will continue to improve slowly, especially if corporations start spending their cash reserves. I think three factors will converge to create a sweet spot that may spark an increase in capital expenditure spending, fueling the economy even more: sales growth will remain steady; borrowing rates will start to increase (although they'll still be low compared with historical standards), triggering a "better do it now" attitude; and uncertainty from Washington will abate.
Considering my positive outlook, a reasonable and realistic sales per share growth for the S&P 500 would be 4.5%. Keeping the margin at 8.5% and a slightly expanded multiple (fueled by increasingly positive economic news) of 20.5, a realistic S&P 500 target for the end of 2014 would be $2,031 per share, a 9.9% increase year on year.

Click to enlarge
The general consensus is that the market has been fueled by the Federal Reserve stimulus. Now that there is clarity and the stimulus will be slowly reduced throughout the year, and given the relatively high multiple of the market, I think 2014 will be more of a stock picker's market.
As much as I like the S&P 500 Equal Weight, I think two ETFs may have a better chance of outperforming. First, since a rising tide (improving economy) can lift all boats, the best chance of outperforming the greater index is to ensure a higher margin. One way to do this is to reduce share count. Second, investors will be looking for companies with the greatest chance of growth that are still at a reasonable valuation. I think small caps can still offer some growth and may be more shielded from global economy news or headwinds. I am going to replace the S&P 500 Equal Weight with these two ETFs:
PowerShares Fundamental Pure Small Value (PXSV). Brief description: The Russell Fundamental Index® which uses publicly available data of the Russell 3000 to select and weight securities using the average of three fundamental measures of company size including adjusted sales, retained operating cash flow and dividends plus buybacks. The Russell Fundamental U.S. Small Company Index has a median market capitalization of $2.2 billion.
PowerShares Buyback Achievers (PKW). Brief description: The PowerShares Buyback Achievers™ Portfolio is based on the NASDAQ US Buyback Achievers™ Index. The NASDAQ US BuyBack Achievers Index is comprised of US securities issued by corporations that have effected a net reduction in shares outstanding of 5% or more in the trailing 12 months.
Now let's turn our attention to bonds. There has been a macro shift in the bond world. The largest buyer of bonds has announced it will slowly reduce the amount of bond buying to zero (that is the assumption at this time). The Federal Reserve has been buying U.S. Treasuries and mortgage-backed securities. The demand for those bonds will be reduced over the coming year, lowering the price of bonds over time, making corporate bonds more appealing. I reviewed the performance of various bond types and durations over the past year.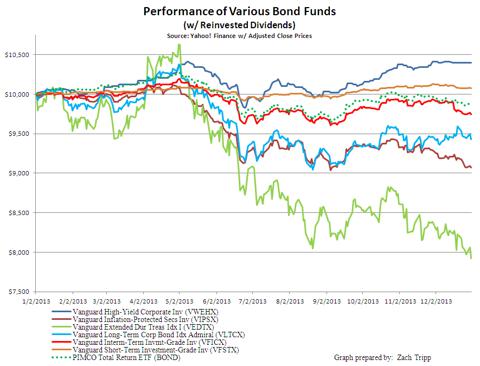 Click to enlarge
Bill Gross's Total Return ETF faired very well as compared with more passive bond index funds. Vanguard High-Yield Corporate was the standout last year, which supports my thesis that corporate bonds should outperform Treasuries this coming year (if I am not too late to the corporate bond party). I will admit that the relative strength of Long-Term Corporate the last two months of the year is interesting.
Since the PIMCO Total Return did relatively well last year and I predict that the active management of Bill Gross will be an asset during this unprecedented time in the bond market, I am going to split the bond allocation 50/50 between BOND and JNK.
SPDR Barclays High Yield Bond (JNK). Brief description: The SPDR® Barclays High Yield Bond ETF seeks to provide investment results that, before fees and expenses, correspond generally to the price and yield performance of the Barclays High Yield Very Liquid Index, which measures the market of USD denominated, non-investment grade, fixed-rate, taxable corporate bonds that have been issued within the past three years and have a USD 600 million minimum amount outstanding. Must be rated high yield (Ba1/BB+/BB+ or below) using the middle rating of Moody's, S&P, and Fitch after dropping the highest and lowest available ratings.
I believe that the emerging markets still have the opportunity to offer some growth next year and will satisfy the international portion of the portfolio. I will keep the Emerging Markets ETF.
Business Development Companies had decent performance last year even though it underperformed the S&P 500 index. With an improving economy, current investments have a greater chance of success. The BDCs with fixed-rate loans should not be impacted by increasing rates. If raising rates do become a problem, they can go to the equity market for more funding, so they do have an out. I will swap out the current BDCS fund for Market Vectors BDC Income ETF, which is a true ETF as opposed to an ETN. It also has a lower expense ratio of 0.4% as compared with 0.85%.
Market Vectors BDC Income ETF (BIZD). Brief description: The Market Vectors US Business Development Companies Index that tracks the performance of the largest and most liquid business development companies. The index combines benchmark qualities with blue-chip characteristics, i.e. provides at least 90% coverage of the investable universe based on strict size and liquidity requirements. The pure-play index contains only companies that are treated as Business Development Companies and that are domiciled in the US. The index has been licensed to underlie financial products with currently USD 25.00 million in assets under management.
This leaves us with our REIT fund. Since I do not want to increase the size of the portfolio and I have been able to make a thesis statement for the current and new holdings, I am going to drop the REIT ETF from this portfolio. The portfolio still has some yield (a little downside protection) from the SPDR Barclays High Yield Bond ETF and the Market vectors BDC Income ETF.
Final portfolio for 2014:

Click to enlarge
Good luck, everyone, and let's hope for a perfectly average 10% return from the market this year.
Disclosure: I am long VNQ, VOO, VWO, VWEHX. I wrote this article myself, and it expresses my own opinions. I am not receiving compensation for it (other than from Seeking Alpha). I have no business relationship with any company whose stock is mentioned in this article.