This morning, the Bureau of Labor Statistics released its Employment Situation report for the month of December and the results were not good. Economists were caught way off guard with the incredibly weak non-farm payrolls number. They were expecting to see an increase of about 200,000 jobs in December. Instead, they got just 74,000. That's a huge disappointment. It's a sign that the economy is still very weak.
At the same time, the unemployment rate plunged from 7.0 percent in November to 6.7 percent in December. But that's only because more people dropped out of the workforce. In fact, while the civilian non-institutional population increased by 178,000 during the month, the labor force fell by 347,000 and the number of people who are not in the labor force increased by 525,000. In other words, the story of a declining participation rate continues.
Here's some more bad news to consider. Job growth in 2013 averaged 182,000 per month. That's much too weak at this point in the recovery and it's marginally less than the average job growth of 183,000 per month in 2012. We're not making progress. There has been a lot of talk about how manufacturing jobs are coming back to America. But manufacturing jobs increased by just 77,000 in 2013. That's way down from the 154,000 increase in 2012. Even healthcare, which has been a source of strength, produced significantly fewer jobs in 2013 than it did in 2012.
I have harped often about the declining participation rate in this country. It's currently at levels not seen since the 1970s. This is because more and more people keep dropping out of the labor force. They have simply given up hope of finding a job. However, there is another interesting change taking place. While the overall participation rate is falling, the participation rate for older Americans is actually rising. Take a look at the graph above. The participation rates are indexed to 100. Since June 2008, the overall participation rate has dropped 5 percent from 66.1 to 62.8. However, during the same time, the participation rate for older Americans who are not disabled increased 8.3 percent from 21.6 to 23.4.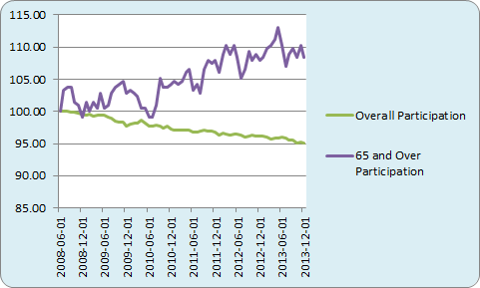 Older folks who in better times would have retired by now are holding onto their jobs, or at the very least, they are willing to take any kind of job they can find to support themselves. (Think of the 70- or 80-year-old man or woman you see bagging groceries at the supermarket.) While it is great that so many of our elderly are still capable of working, there are many 20-somethings with expensive college degrees and heavy debt burdens who are biding their time at home hoping and praying that the employment situation improves for real.