Microsoft (NASDAQ:MSFT) Windows phone is much maligned on SA by fans of competing ecosystems centred in developed economies. Many see Microsoft's attempts to gain a foothold in mobile as too little too late. Time will tell, of course, but it seems to me that growth in India may be the key to Windows phone success.
The Asia Pacific market will be the next battleground in the smartphone wars with 865 million or more than 40% of the world's mobile broadband subscriptions as at the end of 2013, equal to Europe and the Americas combined.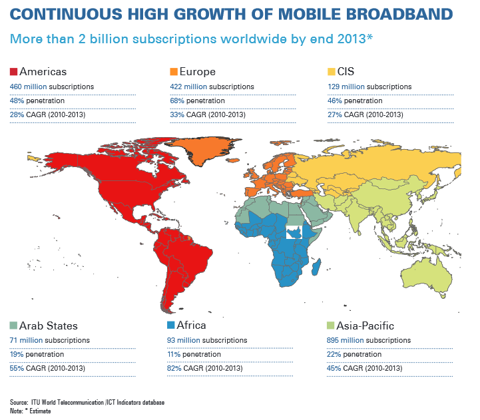 A big part of Asia Pacific and a huge opportunity for Microsoft is the fast growing smartphone market in India where Windows phone already has a number two position with a 5.4% market share according to IDC.
As pointed out by SA author Sneha Shah in a recent article, iPhones are not a big factor in India leaving the field open for Android and Windows phone OS.
Part of Microsoft's potential success in India has been its partnership with newly acquired Nokia (NYSE:NOK). Nokia offers not only Windows phones but also its own Symbian and Asha phones in India and has a very strong market position in the country. Nokia has long recognized the unique nature of the India consumer and in particular the demand for dual-SIM phones where Nokia had a 30% share in the fall of 2012 according to a Nielsen survey.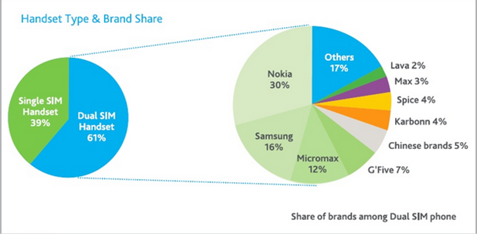 Smartphones still make up less than 20% of the cellular phone market in India, but the migration from feature phones is steadily increasing based on IDC data.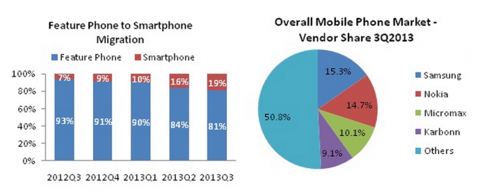 Microsoft's latest initiative is to negotiate with local Indian smartphone makers like Micromax, Karbonn and Lava for the production of Windows phones. Lava has committed to produce a Windows device while it seems that Micromax is still negotiating the license fee and Karbonn is non-committal. Local suppliers are important in India where consumers prefer home grown brands to imported ones.
About 30% of India's smartphone market is taken up by "phablets", that is, smartphones with screens of five inches or larger. Sales of these devices were up 17 fold year over year in Q3 2013. IDC data show just how rapid the shift to larger screen sizes has been in India.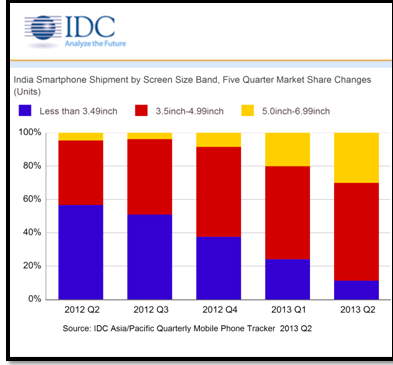 Nokia's October 2013 introduction of two phablets and a tablet targeted at Asian markets on the eve of the Microsoft purchase of Nokia's handset division puts Microsoft in a strong position to compete for a share of the phablet growth.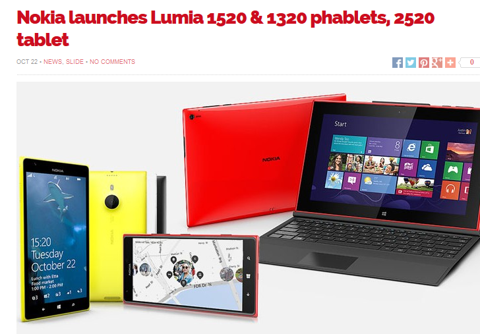 The Nokia 1520 was a hot seller from the get go in India reportedly selling out quickly. With smartphone growth in India estimated at 459.7% through 2017, almost quadruple second fastest growing Brazil and about 9 times the rate of market growth in China, the battle for India smartphone users is one Microsoft needs to win.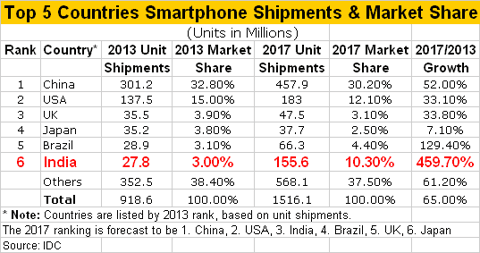 For many consumers in India, their smartphone may be the first computing device they have ever owned. Profits in this sector should be less important to Microsoft than making sure that first device runs Windows. The growth of the Microsoft ecosystem will be enhanced substantially if Microsoft can achieve a meaningful share of the world market for smartphones. That pretty well necessitates share growth in India.
I think Microsoft will succeed in mobile markets in India. I am long the stock.
Disclosure: I am long MSFT. I wrote this article myself, and it expresses my own opinions. I am not receiving compensation for it (other than from Seeking Alpha). I have no business relationship with any company whose stock is mentioned in this article.
Additional disclosure: I hold call options on Microsoft.