Tesla (NASDAQ:TSLA) is, depending on who you ask, a revolutionary automobile company that has a chance of reshaping mankind as we know it - or, a simple car company whose the stock is overinflated and likely to eventually be bought out.
My history with Tesla is one where I have constantly been bullish for the long-term. I have officially drank the Kool-Aid, and I believe that Tesla is going to be a revolutionary automotive company that avoids buyout and continues to execute for many years to come.
One of my last articles about Tesla addressed the volatility that we've seen with the company's stock as the bulls and bears duke it out. My prediction was that TSLA would be trading anywhere but $140 in a couple of quarters' time.
Constantly, Tesla's fundamentals and valuation have been in question.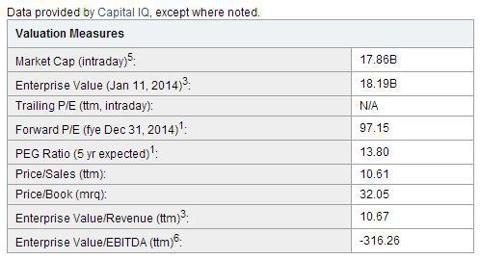 Tesla has traded mixed over the past three months, going as high as $195 pre-earnings, and then subsequently falling to $120 post-earnings. It's coiling and condensing in the $140-$150 area over the last 2-3 weeks, waiting to make its next trend upward or downward.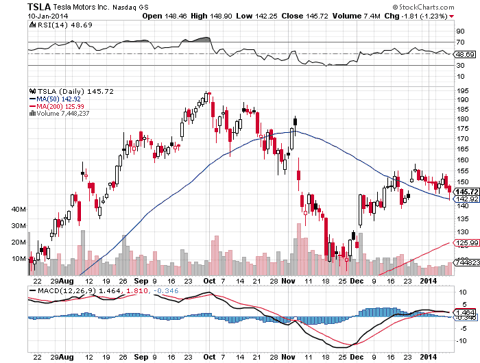 What's New With Tesla?
Over this past week, two news items broke for Tesla, neither one of which seeming to have a sustained effect on the stock price. Both of which, however, continue to show that the bullish argument based on ongoing innovation is firmly intact.
The first was that a Model X had been spotted on the road (story with pictures available here, at InsideEV.com):
This Model X sighting occurred in Culver City, California, which is less than 10 miles from Tesla's design center in Hawthorne.

The Model X seen here was believed to have just been at the Hawthorne design studios.

Our guess is that perhaps this Model X is getting ready for the trip to Detroit for the 2014 NAIAS.

Of note, the Model X has side mirrors rather than cameras. This is to comply with federal regulations in the US. This change was made awhile back, though some are still unaware of the alteration.
The second, as reported by Bloomberg, was that Tesla - who's latest string of unproven uncertainly is centered around fires relating to its wall chargers - is going to upgrade is wall charger units to include an automatic shut down in case of over-heating. Bloomberg reported:
Tesla Motors Inc. (TSLA), which is under investigation by U.S. regulators over fires in its Model S sedan after battery punctures, will upgrade wall-charger adapters following reports of overheating in garages.

The charger connectors, which tether Tesla-issued cables to wall outlets, will be mailed out in the next two weeks, Chief Executive Officer Elon Musk said in an interview today. The replacements will be treated as a recall, though owners won't be required to travel to service centers. Overheating can stem from inadequate household wiring, he said.

"These are very rare events, but occasionally the wiring isn't done right," Musk said. "We want people to have absolute comfort, so we're going to be providing them with an upgraded adapter."
These two items may not seem like ground breakers, but I assure you that they're a nod that Tesla is continuing to innovate and put customers first. The fact that Tesla, instead of fighting this problem chooses to steer around playing the blame game and continue to innovate shows that they're mindset is the right one for both customers and shareholders. I didn't want to reproduce the photos of the Model X (you can use the above link to click through), but one look at that vehicle and you'll understand what tangible product innovation looks like.
The Bear Argument Doesn't Include A Paradigm Shift
One of the major problems with the bear argument is that it ignores the fact that Tesla has executed since inception. So, what it does is it focuses on the fundamentals and it puts a microscope on the numbers behind the valuation. And, while we can see the company is making strides the revenue and profit, those numbers are nowhere near numbers that would command Tesla's valuation. So, the bears have a point - but not a very good one in this case.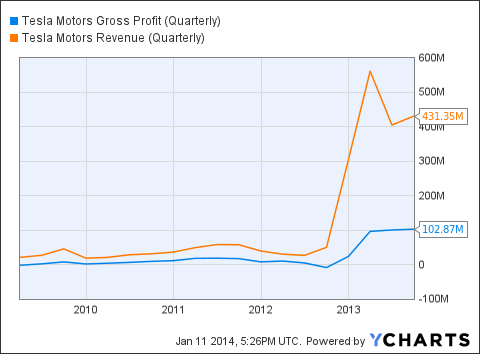 TSLA Gross Profit (Quarterly) data by YCharts
The truth is, the numbers are massive. The company is commanding a market cap of nearly $18 billion and is currently trading at a price to book value of over 30. If you have read my articles, you understand that I don't necessarily disagree that these are good fundamental reasons to short. As a matter of fact, it's numbers just like these that caused me to write a short analysis of Yelp (NYSE:YELP).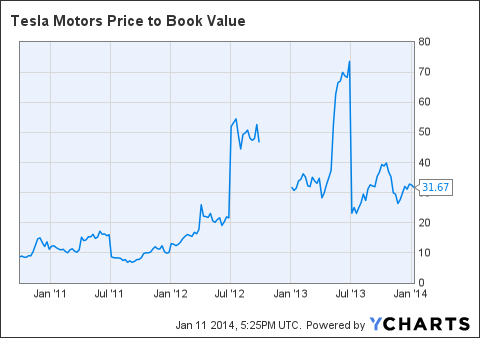 TSLA Price to Book Value data by YCharts
The difference between a Yelp and a Tesla is that Tesla is actually, physically creating a product that has a chance to revolutionize a long-standing sector. Yelp? They're a site you log onto when you've just paid eight dollars for the worst rum and coke you've ever had and want to complain to the world about it. Do you notice the difference in innovation?
So then, the question becomes what price multiple can you put on true industrial innovation?
Conclusion - I Remain Bullish on Tesla
There are very, very, very few companies that can honestly command such a wicked valuation. Most companies valued like this are in the social media sector, where the world's smartest people are sitting around in a room somewhere trying to figure out ways to get you to click on ads.
Tesla, on the other hand, is about to introduce a paradigm shift to one of the most prestigious, long-standing industries in the history of U.S. manufacturing. Slight difference.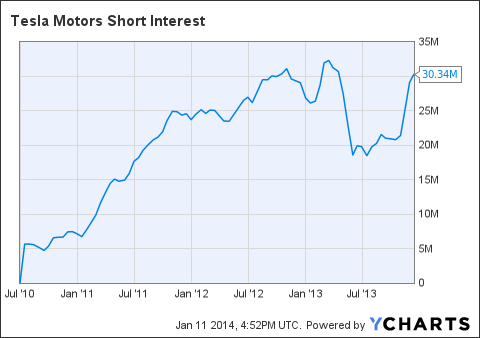 TSLA Short Interest data by YCharts
Of note to start 2014 is the increase in short interest in Tesla stock and Tesla's next earnings report. A short squeeze could be catalyzed in early 2014 if Tesla performs well beyond expectations. If that occurs, it would likely rocket the company's valuation upwards even more.
And, the truth of the matter is that I truly don't believe Tesla is overvalued. I think at $100 billion at this stage, the company would be pushing it. But, for a company that has continued to show that it can execute and truly innovate, Tesla could easily command a price double of what it's currently trading at while growing at the same rate.
In today's euphoric market chock full of billion dollar restaurant review and resume websites - Tesla remains fairly, if not under, valued at this point. My money would stay with Musk and company.
I remain bullish long-term here. Best of luck to all investors.
Disclosure: I have no positions in any stocks mentioned, but may initiate a long position in TSLA, over the next 72 hours. I wrote this article myself, and it expresses my own opinions. I am not receiving compensation for it (other than from Seeking Alpha). I have no business relationship with any company whose stock is mentioned in this article.
Additional disclosure: I'm short YELP.