Competition among U.S. mobile carriers has the makings of turning into a price war. Verizon (NYSE:VZ) may be an early casualty.
Aggressive moves by T-Mobile (NASDAQ:TMUS) are rapidly upping the ante. T-Mobile's "un-carrier" promotion was a smash hit last year. In 2013, T-Mobile reports it added 4.4 million customers bringing its total to 45 million. Its recent moves seem to be an all-out effort to prolong that trend. T-Mobile CEO John Legere threw down the gauntlet offering to pay users up to $350 to break their contracts with other carriers if they moved to T-Mobile and bought a new phone, and will throw in $300 towards that phone.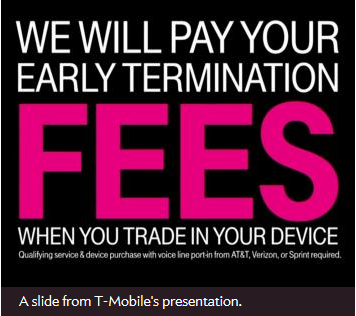 A leaked ad published on Gizmodo suggests T-Mobile plans to go further, paying your entire family to switch.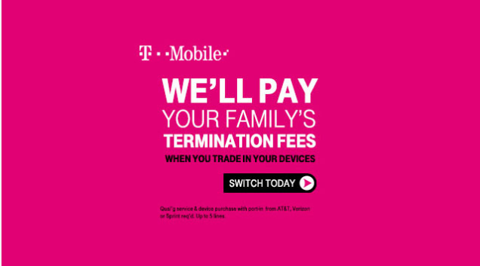 T-Mobile just acquired 700 MHz spectrum from Verizon for $2.4 billion. It is using that spectrum to shake up the industry just as it did with its "un-carrier" promotion taking shots at competitors who try to lock in customers to an opaque agreement full of hidden fees seduced by a subsidized smart phone. His antics have competitors reeling and Wall Street cheering. Legere is heavily promoting T-Mobile's expanded 4G coverage which now services about two thirds of the U.S. population.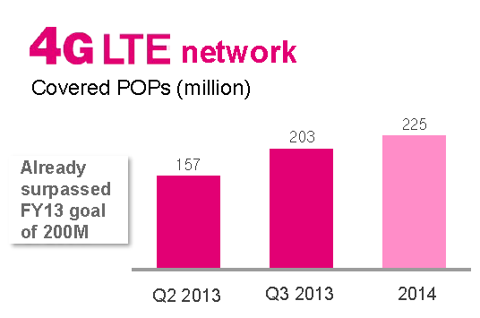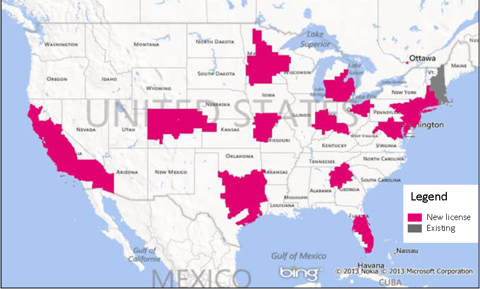 T-Mobile claims it now has the fastest 4G speeds.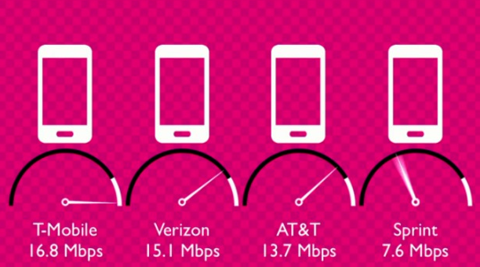 T-Mobile's $650 offer to pay customers to switch may trigger a price war among carriers. Both Verizon and Sprint (NYSE:S) stocks took a hit January 9, 2014 when the T-Mobile initiative hit the street.
AT&T launched an immediate $450 promotion to pay customers who had left to switch back. Legere immediately responded that AT&T's move was "desperate" and that AT&T would be "toast".
The price war could not be worse timed for Verizon, having just had to pony up $130 billion to buy Vodafone interest in its wireless business and with a balance sheet at September 30, 2013 that had $90 billion debt and a deficit of $72 billion in net tangible assets.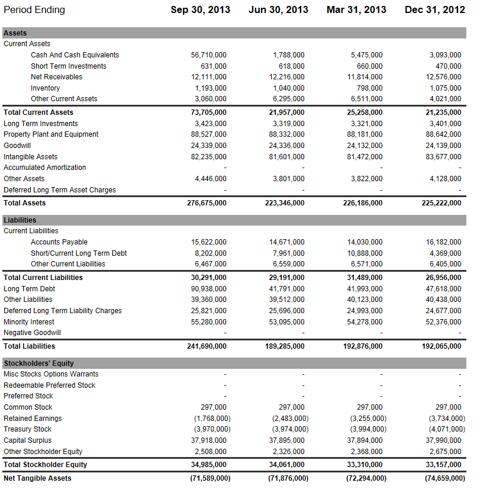 A company with negative net tangible assets is purely a play on cash flow and cash flow can't be aided by a price war in the business that generates most of the cash. The Vodafone deal closes in early 2014 and will use up the $56 billion cash on the September 30, 2013 balance sheet pretty quickly.
Verizon is massive with over 100 million customers. As little as a $5 a month reduction in average revenue per user ("ARPU") would take $6 billion out of Verizon's cash flows. With annual cash flows of $30 billion and a massive debt to carry, Verizon seems vulnerable to me if this price war escalates. If Verizon chooses to keep its pricing it might lose some customers. With average revenue per account of $155.74 per month, the loss of 3 million accounts would hit Verizon to the tune of $5.6 billion. Verizon seems to be between a rock and hard place.
Even a moderate price war would very likely hurt Verizon stock. An all-out war might imperil the dividend and do real damage to the stock price.
I have no position in Verizon at the moment but will set up a short position when the market opens Monday. No matter where this goes, customers are going to be the winners.
Disclosure: I have no positions in any stocks mentioned, but may initiate a short position in VZ, over the next 72 hours. I wrote this article myself, and it expresses my own opinions. I am not receiving compensation for it (other than from Seeking Alpha). I have no business relationship with any company whose stock is mentioned in this article.