Coeur Mining, Inc. (NYSE:CDE) is a large primary silver producer with growing gold production with assets in the United States, Mexico, Bolivia, Argentina and Australia. Coeur also owns strategic minority shareholdings in eight silver and gold development companies in North and South America. The Palmarejo mine in Mexico, San Bartolomé mine in Bolivia and Rochester mine in Nevada all produce silver and gold in doré form. Coeur's Kensington gold mine in Alaska produces gold concentrate and the Endeavor mine in Australia produces a concentrate that contains silver. The company refines its precious metals doré and concentrates using a geographically diverse group of third party smelters and refiners, including clients located in Mexico, Switzerland, Australia, Germany, China and the United States. Coeur markets its doré to credit-worthy bullion trading houses, market-makers and members of the London Bullion Market Association, industrial companies and sound financial institutions. The refined metals are sold to end-users for use in electronic circuitry, jewelry, silverware and the pharmaceutical and technology industries.
I'm going to make the case for shorting CDE. I'm expecting the price of Coeur to drop 50% down to around $5 a share. I'll use three lenses through which to look at this company. First, the economy, second the gold mining industry, and third the Coeur Mining Inc. company itself.
However, out of these three, the economy will be the biggest driver of the stock price decreasing; thus, I'll primarily focus on the economic impacts on the stock.
Economy
"The determination that the last expansion began in June 2009 is the most recent decision of the Business Cycle Dating Committee of the National Bureau of Economic Research" (source: here). During economic expansions, gold prices tend to go down as investors put money into stocks. Gold prices are not the only ones suffering during economic expansions-mining companies tend to do poorly as well. During the last 12 months, while the S&P 500 has gone up nearly 30%, the platinum and precious metals industry declined by over 23%.
(click to enlarge image)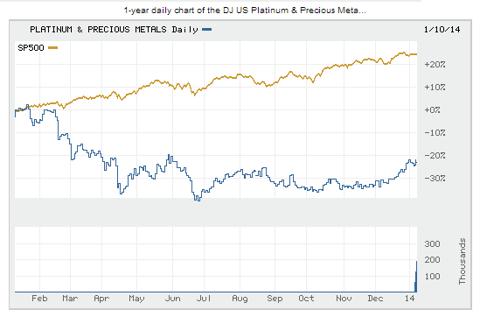 Source: Wall Street Journal
Why gold and Coeur Mining may go up
Economy tanks (again). I realize that the majority view is that the worldwide economy is improving. The Economist, more than once, speculates that the recovery won't be as smooth. Thus, the price of gold will increase again as people panic. Yet, elsewhere The Economist predicts that the price of gold will drop in 2014 given the Fed tapering (see below).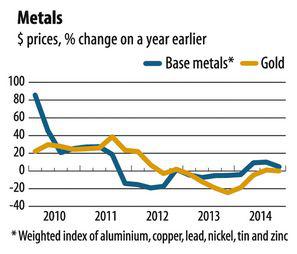 Source: The Economist
Gold demand from Asia increases. As reported in the Wall Street Journal, during the first trading day in 2014, gold prices increased to a two-week high at $1,229.42 a troy ounce due to increased demand from China. China is now the largest gold consumer in the world and India the second. However, I'm not convinced that consumer demand out of China will be that significant. See, for example, the chart below from the World Gold Council. Year over year, consumer demand increased a meager 41.7 tons while ETFs have reduced their gold ownership by a massive 256.4 tons. As discussed below, the movement of gold out of ETFs will more than offset the increased consumer demand.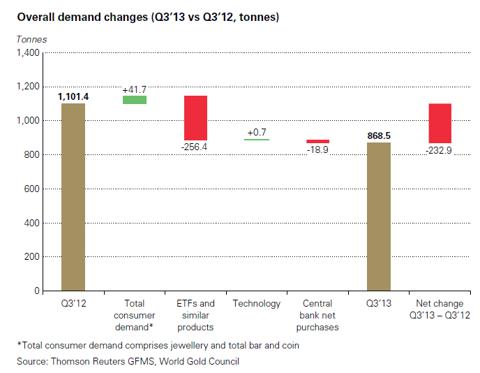 Source: World Gold Council
In addition, the 5-year average world-wide demand for gold is $44,987 million. This includes the 2008-2013 world economic panic years where everyone wanted gold. After all, it was viewed as a safe asset. The latest (2013Q3) demand for gold is $37,035 million. The current demand level makes sense: we are out of a recession, there is no need for an inflation or a currency hedge. I don't see the demand rising to the 2007 panic levels.

Source: World Gold Council
The Wall Street Journal reports that the Indian government is making it difficult for citizens to purchase gold by increasing taxes on the metal and making other stipulations. Thus, there will be lowered consumer demand from India because of higher gold price within the country.
Okay, but what if consumers (regular people afraid of the world ending) buy gold coins? Won't they generate enough demand to increase the price of gold? The numbers show that there isn't enough of this consumer demand. In 2013, while ETFs dropped nearly 30 million troy ounces from their coffers, gold coin sales increased by a measly 0.125 million troy ounces from consumers.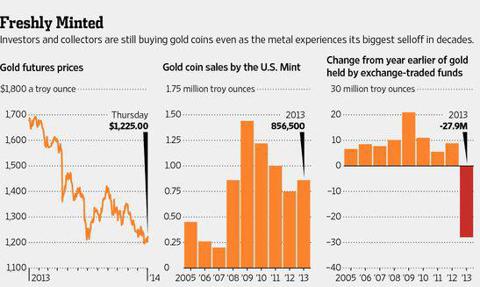 Source: Wall Street Journal
Why gold and Coeur Mining may go down
During 2013, gold prices experienced a 29% drop not seen since 1981. The question in my mind is, will the decline continue into 2014? I can think of several forces that may move the price in either direction. There is a range of analyst forecasts, with about an equal split in either direction. However, a more recent analyst poll suggests a bearish outlook on gold. "Seven out of eight analysts polled by Canada Real Time they see bigger downside risks to bullion in 2014." Here is my outlook.
Kat and Oomen looked at the performance of commodities in relation to business cycles and actions of the Federal Reserve.
"To investigate whether commodity futures do better in a restrictive than an expansive monetary environment we distinguished between three different monetary regimes, namely an expansive regime, defined as a period during which the most recent policy rate change over the past 3 months was a cut, a restrictive regime, defined as a period during which the most recent policy rate change over the past 3 months was a hike, an awaiting regime, defined as a period during which the policy rate was left unchanged for at least 3 months."
Typically, gold returns -13.7% per year during the end of an expansion. In the same study, these returns were assessed in terms of monetary conditions. According to the above definition, we are in an awaiting regime. During awaiting regimes, gold returns -8.04% annually.
A stronger world economy in 2014 will reduce the price of gold because there is less need for a safe haven asset. Another reason: a stronger US economy leading to the Federal Reserve reducing stimulus measures as it did in December 2013. I'm not the only one betting on a better macroeconomic outlook-The Conference Board and The Economist do the same.
Furthermore, outflows out of gold-backed ETFs have increased according to the World Gold Council. This is a sign that investors are reducing confidence in gold; but the catch is, there are a lot more of potential outflows. ETF gold holdings have not returned anywhere near their pre-2007 crisis levels.
Considering history, gold is overpriced. For example, let's compare the price of gold to the consumer price index. There is some positive correlation, but there are also wide swings. The current levels are considerably higher than would be predicted for the current consumer price index of 234. Using CPI as a predictor yields a current gold spot price of $929. This is considerably lower than the current $1,200 some level.

Source: Author's Calculations
Similar to the PE ratio, we can consider the price of gold as a multiple of the CPI. The historical gold price/CPI ratio since 1975 has been 3.4. Today's multiple is 5.36. The gold price predicted using this measure is $790.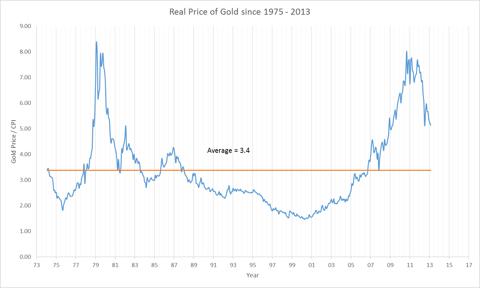 Source: Author's Calculations
All things considered, I'm leaning toward the prices of gold dropping. I think the bears have a stronger argument this time, at least in the early parts of 2014.
Industry
In terms of the industry life cycle stage (growth, maturity, decline), the gold mining industry is in the mature stage. According to IBISWorld, because this is a mature industry there is a "rationalization of low margin products & brands". This means that the industry winner is usually the largest player in the market. The largest player in the market has scale of economies and thus has minimized costs. As we will see later, Coeur has above average mining costs and thus struggles to produce a healthy profit.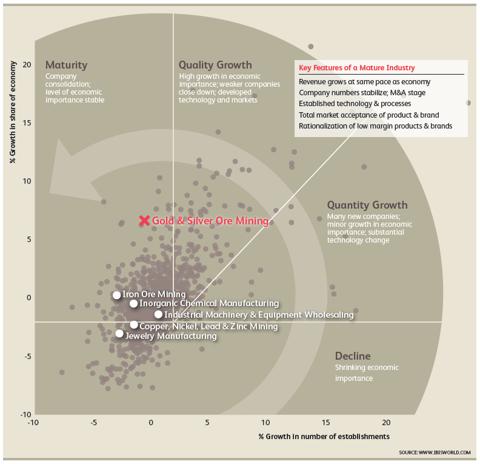 Source: IBISWorld
Success in the gold mining industry requires cost control and a stable macroeconomic environment. Thus, the gold mining industry is particularly prone to risk and volatility for several reasons. First, there is a high level of capital intensity. Production requires large scale operations involving electric shovels and conveyors. Second, there is high revenue volatility due to volatility in the price of gold. Gold, like any other commodity, is driven by supply and demand. Throughout the years, supply (output of gold produced) has been fairly constant. What changes is the demand. Thus, the main driver of gold volatility is demand.
But what is driving the demand up and down? It's the global investment markets. During recessions, people want safe haven assets like gold. During economic expansions, people want to own company stock.
Coeur Mining, Inc.
Coeur Mining, Inc. is the largest US-based primary silver producer and a growing gold producer. In April 2013, the company announced the completion of its acquisition of Orko Silver Corp. In December 2013, Coeur completed an acquisition of Global Royalty Corp. In addition, it owns strategic minority shareholdings in eight silver and gold development companies in North and South America.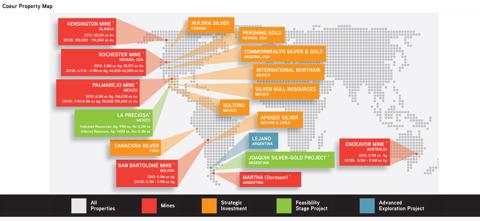 Source: Coeur
Why is the property information important? Because the business is fairly established, Coeur can predict its cash operating costs per ounce of gold. This is a key metric in the industry. Cash operating costs per ounce of gold for 2013 are expected to be $950-$1,000. How do these costs compare to the industry average? Below is a list of the Big 10 gold mining companies and their cash costs per ounce of gold.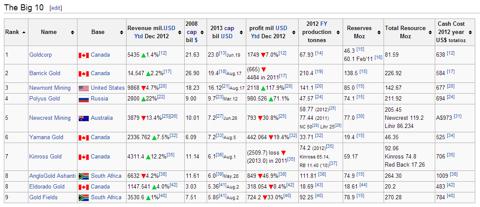 Source: Wikipedia
Using the table, the average 2012 cash cost of a Big 10 gold miner comes to $707. Major gold miners are able to achieve lower costs due to economies of scale. The smaller gold mines have higher cash operating costs. Coeur is a small player in the gold mining industry. Thus, it is going to be extremely pinched when the gold prices fall. In the worst case scenario, it could go out of business.
Compared to its competitors, Coeur is a weak player. The current ratio is 1.7 compared to the competitor average of 3.91. This indicates low cash on hand and may be a sign of cash flow problems. Coeur's profit margin is 13.1% while the industry average is 29.04%. Having comparatively low profit margins makes decreasing gold prices especially hurtful to the bottomline. A Return on Equity of 18.41 is average for the industry, while Coeur produces a meager 5.34 ROE. This is a signal that the equity employed is poorly utilized. Overall, it is a risky company with weak financials.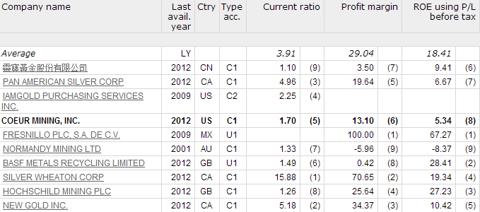 Source: Mint Global
Another reason I choose to short Coeur is because of its high beta, which is at 1.49. Beta measures how volatile a stock is relative to a benchmark such as the S&P500. A beta of greater than 1 means the stock is volatile; any news at all, and the stock swings wildly.
As a company, Coeur has underperformed the analyst consensus in FY2012 and is on track to underperform this year as well. Furthermore, the consensus of nine analyst forecasts for the next two years (2014 and 2015) is that Coeur will continue to lose money and produce a negative Earnings Per Share.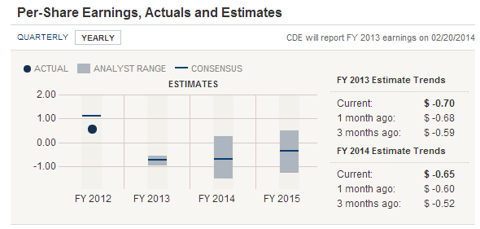 Source: Wall Street Journal
When to short and when to cover
A recent Wall Street Journal article explains that the reason gold prices have increased on January 2 and 3 is because of expectations of index rebalancing by large funds. You would have to wait until the large ETFs bought enough gold to properly rebalance their portfolio. The Journal reports, "The Dow Jones UBS Commodity Index and the S&P GSCI are giving gold more weight this year, and the funds will need to increase their holdings of the precious metal to match the commodity indexes' moves." The rebalancing should be done by the second week of January, so my suggestion is to place a short order Sunday night/Monday morning on January 20. At this point, I believe that gold will slide, greatly bringing down the value of CDE. The gold freefall is expected to continue until mid-2014. That may be a time to buy to cover the short sale.
Disclosure: I have no positions in any stocks mentioned, and no plans to initiate any positions within the next 72 hours. I wrote this article myself, and it expresses my own opinions. I am not receiving compensation for it (other than from Seeking Alpha). I have no business relationship with any company whose stock is mentioned in this article.