By now, we are all well-enough aware of the ongoing recovery in the real estate market. Investment in the space has proven to be a smart move for many courageous early investors fast to return to the beaten down sector. The physical asset market has now come well off the bottom, and stocks of companies that operate in real estate have been some of the best performers in the market over the past several years. For this year, though, I like a name in the space that has lagged the others on a relative basis. My best bet for real estate investment in 2014 is Bank of America (NYSE:BAC), and yes, BofA is a real estate play and then some.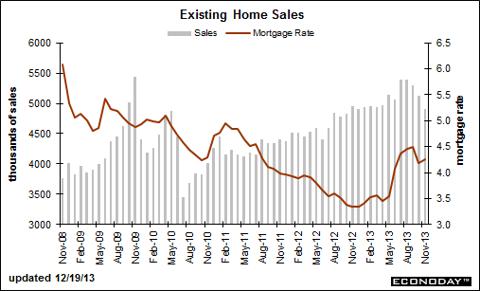 There is no denying the real estate recovery now. Despite some fluctuation over recent months, the annual sales pace of new and existing home sales are on long-term rising trend-lines. Also, home prices are greatly improved and appreciating at roughly a 1% monthly rate, as evidenced by S&P Case Shiller data and data from other resources.
I have been vocal about my favor of real estate investment for some time now. While I still suggest physical real estate for investment for 2014, real estate sector investors might do better this year to look beyond the physical asset class for the best segment investment of the year. Though, I suggest looking past the homebuilder stocks like PulteGroup (NYSE:PHM) or the SPDR Homebuilders ETF (NYSEARCA:XHB), which did well on Friday (PHM up 1.9%). My favorite real estate stock will not be found among the mortgage REITs, like Annaly Capital (NYSE:NLY) and American Capital Agency (NASDAQ:AGNC), either. I like mREITs, though, because of their discounted valuations and for other reasons. I'm not suggesting the mortgage insurers either today, like MGIC Investment (NYSE:MTG). Rather, my pick for the best real estate relative bet for 2014 is the nation's most important mortgage lender, Bank of America, but for broader reasons than that.
Bank of America took an especially hard beating through the financial crisis and real estate collapse, mainly because it acquired Countrywide Financial Corp. as it teetered on the cusp of bankruptcy. In doing so, BofA levered itself to the housing market just as broad risk was materializing, including legal liability. It was a strategic move geared toward the future, because Countrywide was at the time a critical player in the mortgage origination market, however it has mostly hurt BAC to date.
| | | | |
| --- | --- | --- | --- |
| Lender Stock | Price-to-Book | B of A Value at P/B Multiple of Peer | % Gain Opportunity |
| Bank of America | 0.82X | $16.77 per share | NA |
| Citigroup (NYSE:C) | 0.86X | $17.59 | +4.9% |
| Wells Fargo (NYSE:WFC) | 1.59X | $32.52 | +94% |
| J.P. Morgan Chase (NYSE:JPM) | 1.13X | $23.11 | +38% |
| U.S. Bancorp (NYSE:USB) | 2.14X | $43.77 | +161% |
| Value if BofA P/B = 1.0X | | $20.45 | +22% |
| AVERAGE Excludes BAC | | $27.49 | +64% |
Largely because of massive legal liability and exposure to housing, Bank of America and also Citigroup have traded at price-to-book value discount to their peers. While some risk tied to the mortgage securities mess remains, as evidenced by the recent JPMorgan Chase settlement with the government, today it seems much of the pain of the acquisition is behind BofA. It's time to enjoy the gain resulting from it. Bank of America is now one of the nation's most important mortgage lenders, and the company should benefit from that leverage as the housing market continues to recover.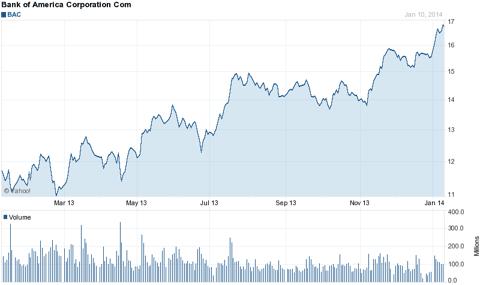 The evidence of an already begun recovery is clearly visible in the stock's outperformance in 2013. Bank of America gained 34% in 2013, against a lighter market rise. But the stock still appears to have more room to grow in my opinion. The reason for it is not simply limited to housing recovery and is many-fold:
The recovering housing market means the bank's leverage to it will pay-off now
The improving economy appears to be gaining traction, which means more lending for the bank
The change in Fed policy means long-term interest rates will rise, allowing for a better net interest margin for BofA
Legal issues are nearly exhausted and should decreasingly detain BAC
The stock's valuation is discounted to peers, and should normalize allowing for extraordinary gains beyond industry improvement
As you can see by the table above, if the stock's valuation adjusts simply toward a 1.0X book-value as these factors weigh, the stock has 22% upside, and that excludes the boost it would get from natural operational improvement. Obviously, the upside is far more should BofA become valued like some of its less embattled peers. The greatest risk to investors is that perhaps BofA has not reserved enough capital for future legal liability, which would impact book value negatively and act against the values we've calculated here. I believe that even if this is the case, the upside is clearly great. This company's legal burden is going to go away soon, and what will be left is an undervalued bank that is levered to an economy gaining traction and a recovering housing market. In my view, it therefore presents an attractive investment opportunity for long-term investors and is probably the best idea among real estate relative stocks this year.
Disclosure: I have no positions in any stocks mentioned, and no plans to initiate any positions within the next 72 hours. I wrote this article myself, and it expresses my own opinions. I am not receiving compensation for it (other than from Seeking Alpha). I have no business relationship with any company whose stock is mentioned in this article.