This weekend, Barron's discussed some of the best investment choices for income-oriented investors (article available here). While the investing journal was positive on municipal bonds, it was not a fan of MLPs despite the sector's 5.5% yield. In particular, Barron's was negative on MLPs that return all of their distributable cash flow to investors. A perfect example of this is Kinder Morgan Energy Partners (NYSE:KMP), which strives to pay all of the cash it generates to shareholders. Barron's was more sympathetic to MLPs that pay out less cash than they generate for instance Plains All American (NYSE:PAA) and Enterprise Products Partners (NYSE:EPD).
Due to seasonality in its business, Kinder Morgan Energy Partners pays out slightly more than it generates in the second and third quarters, but slightly less in the first and fourth quarters. Over a calendar year, KMP budgets a 1x distribution coverage ratio, which means it will pay out to shareholders exactly as much as it generates. Thanks to long term contracts on its pipelines, cash flows are relatively predictable, which makes forecasting somewhat simpler and stable. In 2014, KMP should pay out between $5.55 and $5.60 and currently yields 6.7%.
EPD is exceptionally conservative with its payout, and it now sports a coverage ratio of 1.6x. In other words, while the company only pays out $0.69 a quarter, it has the capacity to payout $1.10 quarterly. Over the past five years, EPD has been growing its cash flow faster than its distribution, so its coverage ratio has continued to climb to higher levels. In 2009, the coverage ratio stood at a more reasonable 1.2x, but thanks to modest distribution growth despite excellent operating performance, investors are getting a smaller share of cash today. As a consequence, EPD yields a more modest 4.3%
PAA tries to find the middle ground between the cash-conservative EPD and more aggressive KMP with a distribution coverage ratio of 1.1-1.2x. With this model, PAA shareholders get a better payout than EPD holders but less potential dilution than KMP holders. As a consequence, units yield 4.8%, right between the other two MLPs. Is Barron's right that investors should avoid MLPs like KMP that pay all of their cash even though they offer a higher current yield? I believe the answer is an emphatic no.
First, it is important to recognize the long term ramifications of differing payout ratios. The U.S. has been drastically growing domestic production of oil and natural gas thanks to major new finds and improved drilling techniques. Higher production means increased transportation needs, resulting in an ever-expanding network of pipelines. As a consequence, pipeline MLPs have major backlogs of growth projects to transport this new production to end markets. KMP has a backlog of $13 billion in growth projects. EPD has $7.5 billion in planned expansions, and PAA plans on spending $1.5 billion this year on growth projects.
The distribution coverage ratio impacts how the companies fund these growth projects. As KMP pays out all the excess cash it generates, it has no cash to fund these projects. Instead, KMP sells debt and equity to fund these projects. On the other hand, EPD and PAA are left with some cash after their distributions, so they can use this cash to fund part of their expansion. As such, they have to issue less equity and debt. Their unit count increases at a slower rate, so current investors are diluted less. In 2013, EPD kept over $1 billion, so it will not need to issue nearly as much equity as if it would have had it paid a larger distribution.
Based on this, Barron's analysis might seem to be right, but let's look at a case study. In the following chart, I show two companies who have the same financial operating performance but have different distribution policies. Both companies start with $500 in cash flow and $300 in growth cap-ex with cash flow growing by 5% annually and cap-ex by 4%. Over the duration, both companies also trade at 15x cash flow, and an investor starts with a 5% stake in each and reinvests all dividends. Company A pays out 100% of cash flow and sells equity to fund cap-ex while Company B pays out 60% of cash flow and uses its remaining cash before issuing equity to fund cap-ex. Here are the results: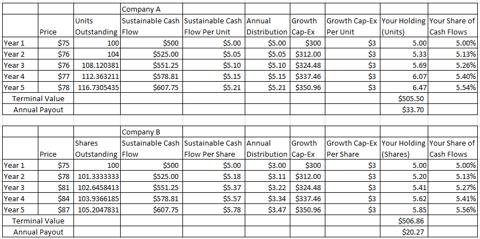 As you can see, an investor's holdings would be worth virtually the same, and both investors would hold a higher share of cash flows. Company A ends with far more units outstanding, but an investor also holds more units thanks to a higher re-invested dividend. Investors in a company that retains cash to re-invest do better by about 0.04% per annum. However, investors in Company A receive significantly higher dividends ($33.70 vs. $20.27). I believe there is value to receiving a higher payout that far outweighs 0.04%. If you need current income, a higher cash dividend is valuable. At the same time, dividend income can be used to make investments in other companies you find attractive. Finally, there is always the chance management wastes money on bad investments, and holding and investing the cash yourself eliminates this risk.
As such, I think investors are mistaken if they try to invest in MLPs that have high coverage ratios. Obviously, investors should only focus on MLPs with a coverage ratio of 1x. If an MLP has a coverage ratio less than 1x, it really is an unsustainable dividend that will likely be cut at some point. As long as a company is maintaining a 1x coverage ratio though, there is little benefit to retaining excess cash. Ironically, if like Barron's you believe MLPs are overvalued, you should support high dividends because the company is then forced to sell more units. If the MLP is overvalued, it is selling equity an attractive price with a low cost of capital, making it a wise decision. If anything, a more expensive company should be inclined to pay a higher dividend.
The MLP-fixed income equivalency is also false because MLPs have the capacity to raise payouts over time thanks to a strong operating environment. With its current backlog and strong pricing power, I expect KMP to grow its distribution by 5-7% annually through 2020. Moreover as contract prices have an inflation hedge, MLPs can pay more if inflation rises while most bonds do not.
It is also important to note that no two companies are the same, and investing decisions are more complicated than distribution policy. KMP has a proven management team with a strong national footprint and access to growth shale regions, which will boost cash flow. Its $13 billion backlog provides the firm with virtually unparalleled growth prospects. Even with these benefits, KMP trades at discount to peers. At current prices, KMP trades at 14x 2014 DCF. Sister company Kinder Morgan Management (NYSE:KMR), which owns units of KMP, is even cheaper as it trades at a discount to KMP. EPD is trading at about 14.5x next year's DCF while PAA is 15x.
Early in 2013, Barron's concurred with Hedgeye analyst Kevin Kaiser that Linn Energy (LINE) was paying too much, and Mr. Kaiser has since suggested KMP pays too much. Barron's is continuing its trend of disliking MLPs with low coverage ratios. However in this case, I believe they have made a mistake. Pipeline MLPs are the premiere way to play the U.S. energy boom as they are compensated based on volume rather than price. As such, the group will be raising distributions for some time, which will leave investors with growing income streams.
This is why the MLP space remains one of my favorites, especially when compared to fixed rate bonds and many dividend paying companies and indices. However, investors are wrong to assume a higher coverage is better so long as a distribution is fully covered. Investors will do just as well when the coverage ratio is 1x while receiving superior current income. Moreover, KMP, which would be sold under Barron's analysis, trades cheap relative to peers and historical valuations while boasting massive growth prospects that will allow the company to grow the dividend for the foreseeable future. A 1x coverage ratio is no reason to sell. Kinder Morgan Energy Partners is my favorite midstream MLP, and I'd rather buy it than EPD or PAA despite their higher coverage ratios.
Disclosure: I am long KMP, . I wrote this article myself, and it expresses my own opinions. I am not receiving compensation for it (other than from Seeking Alpha). I have no business relationship with any company whose stock is mentioned in this article.