Recently, Goldman Sachs entrenched its bearish call on corn prices. It cited prospects of huge corn supplies in 2014-15 and cut forecasts. This makes for an investment case for companies in the alternative energy sector, as I will show in this article. Investors can gain entry into the industry by investing in ethanol producing companies.
In this article, I would like to argue a bullish investment case for Rex American Resources Corp. (NYSE: REX). My valuation indicates that Rex American Resources has a minimum 25% offering leverage on a pullback. Rex American Resources has operations showing good results with ample growth opportunities. The fall in corn prices allows for an increase in the company's crush spread. The crush spread is the difference between the price per gallon of ethanol and the price per bushel of corn. The increase in crush spread enables significant earnings growth. Good earnings will drive the stock's price higher. And I believe that Rex American Resources is doing better than rivals Pacific Ethanol, Inc. (PEIX) and BioFuel Energy Corp. (BIOF).
The corn harvest
Rex American Resources had a strong third quarter. With a good harvest, corn prices fell quicker than ethanol selling prices. The company's crush spread increased. A lot of the benefits reflected in Rex American's margins. In the past quarter, Rex American Resources enjoyed a strong selling price of its byproducts. Consider the chart below showing the present nature of corn prices.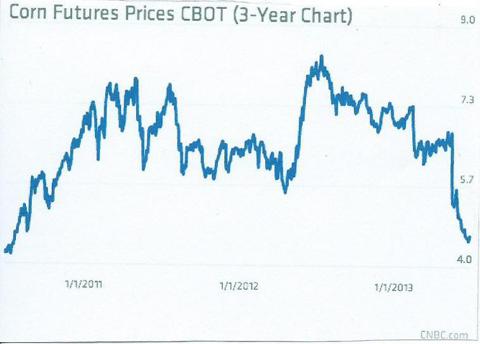 The ethanol situation
However, Rex American Resources faces a risk that should be taken seriously. The Environmental Protection Agency (EPA) strengthened the ethanol market by placing a target of 13.8 billion gallons as the amount of biofuels required to be blended with oil. In the new year, EPA wants to reduce the amount to 13 billion. This will reduce demand and hurt companies like Rex American Resources. Nevertheless, Rex American projects an increase in its crush spread will enable it overcome this problem. Also, competitors of the company are constrained. A lot of them opened plants in the last quarter to benefit from the strong ethanol demand. If the EPA's proposal sails through, most of them will shut down because they are marginal. This leaves the market open for companies such as Rex American Resources.
The business
Rex American Resources has interests in ethanol plants across the corn belt. All of them were built by Fagen, Inc. At October 31 last year, Rex American had lease agreements for four former retail store locations. Five former retail store locations were vacant, and two had seasonal leases. Rex American Resources recently bought a 60% stake in an oil streaming business technology that could change the oil production process.
The share price trend
American Resources' shares rise with a minimum 25% upside on a pullback. Consider the chart below showing the stock's weekly chart.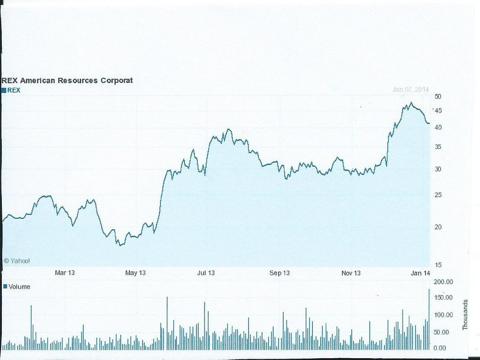 The share price rose in January after Rex American announced an increase in its crush spread. A much larger spike can be observed again in May. It correlated nicely with the announcement of another increase in the company's crush spread. Only this time, the share price rose about 50%. In December, another spike can be observed following another announcement that low corn prices led to another increase in the company's crush spread.
If my analysis of the corn market is correct, and if Rex American continues to show improvements in its crush spread, then the share price should respond accordingly. Announcements of increases in its crush spread should inevitably drive the share price higher. I believe that Rex American Resources will soon set itself up for this classic trend. The shares are at an all-time high. So with no new announcements, I expect the shares to come under pressure in the short term. Though I expect the decline to be sharp, it is unlikely to persist for an extended period. I would be looking for a decline to $39. However, given the magnitude of the correction in August, $30 is within reach. Traders can however initiate positions anytime the stock bottoms out. Consequently, I will be taking a position in Rex American Resources in the future.
Balance, liquidity, valuation
At a share price of $43.69, Rex American Resources' market capitalization computes to $352.88 million. The company recorded a net income of $9.9 million in the last quarter, compared to $0.4 million same period in the year prior. At the end of October, the company had cash and cash equivalents of $93.4 million. Consider this information from Yahoo Finance.
| | |
| --- | --- |
| View: Annual Data | Quarterly Data | All numbers in thousands |
Period Ending

Oct 31, 2013

Jul 31, 2013

Apr 30, 2013

Jan 31, 2013

Net Income

11,478

6,745

4,073

(5,969)

Operating Activities, Cash Flows Provided By or Used In

Depreciation

4,367

4,420

4,391

4,172

Adjustments To Net Income

(1,982)

(1,868)

(95)

(1,119)

Changes In Accounts Receivables

6,135

509

(6,351)

6,198

Changes In Liabilities

113

(1,122)

2,069

(3,262)

Changes In Inventories

13,066

(8,187)

3,734

3,385

Changes In Other Operating Activities

1,769

(814)

978

(296)

Total Cash Flow From Operating Activities

34,946

(317)

8,799

3,816
You can see that the company's cash flow is increasing. However, its outstanding bank debt decreased to $88.4 million, compared with $106.9 million at January 31, 2013. In sum, the company's finances seem in a healthy state, with a liquidity to perform corporate activities if needed. Its cash flow from operations amounted to about $43 million for the first nine months of 2013. Looking forward, I conservatively estimate an average quarterly cash flow from operations of $15 million, or $60 million annualized.
Upside
I expect the company to retain the trust of investors given its improving fundamentals. The improved crush spread should amplify any move to the upside. I believe that a minimum 25% upside is possible on a pullback, making my price target of $51 a possibility. My target does not take into account the considerable mid-term potential of the company's byproducts. It might materialize this year and add a further fuel to the share price of the company.
Downside
The downside has been tested throughout the past year. With decreases in the crush spread, the share price falls. It did this the last time at $30. This bottom has formed a support for the stock since May. Consequently, I do not see much probability for the share price to move below its 52-week low of $17.12. However, Rex American's lows are followed by higher highs. I expect this to happen in 2014.
Impressive gross margins
Rex American Resources' anchor is its gross margin. The company boasts the most consistent gross margin among its rivals. In the last quarter, its gross margin outperformed Pacific Ethanol and BioFuel Energy Corp.
However, what makes Rex American Resources so compelling going forward is its future capacity to grow. The company's cash flow is expected to be huge in 2014, and the board may decide to start paying dividends.
Excellent staff
Another factor that separates the company from others is the quality of its staff. The management believes it has the most resourceful and experienced professionals in the industry. This quality cannot be quantified on the balance sheet. The ability to squeeze more cash flow from operations is a direct result of strategic decision making and the know-how of employees. The experience of employees means that the future promises excellent results.
It is also reassuring that none of the company's employees are represented by a labor union. I expect that the company's employment level will be stable due to this factor.
Final thoughts
In my research, I enjoy looking at companies I would describe as offering capacity to grow in the near future. I have come to the conclusion that this class of equity presents a perfect mix of risk and reward. The ability to grow earnings, combined with the aggressive nature of such companies, results in compelling investments that deliver an upside with little downside risks. This attracted me to Rex American Resources. The company is a classic example of a small-cap company thriving in a sector dominated by large-cap players.
Rex American Resources is supported by many catalysts working in tandem. Its price will be driven by increases in its crush spread in 2014. Look for the stock to capture a minimum 25% short-term upside when this happens. However, this analysis could be on the conservative side. The past five years show that the stock has been having higher highs. Backing this upside is the staff's proven track record and the hope that they will continue to provide stable labor relations. Finally, Rex American Resources has evolved strategic plans for long-term capital gains through its investment in new oil exploration technologies.
Disclosure: I have no positions in any stocks mentioned, and no plans to initiate any positions within the next 72 hours. I wrote this article myself, and it expresses my own opinions. I am not receiving compensation for it (other than from Seeking Alpha). I have no business relationship with any company whose stock is mentioned in this article.