Meritage Homes (NYSE:MTH) rolled out a series of announcements last week culminating in the pricing of 2.2M shares in a common stock offering at $45.75/share. With net proceeds of $95.9M, this offering should increase cash and cash equivalents on the balance sheet by 56%. MTH announced that it will use this offering for "…working capital, potential expansion into new markets and/or expansion of existing markets, including the possible acquisition of other homebuilders or assets, and general corporate purposes." Given that several fellow homebuilders aggressively continue to buy land and acquire choice builders, I strongly suspect that MTH is positioning itself to better compete in those arenas. This activity is more confirmation that builders expect solid performance in 2014 and 2015.
To reassure investors in the offering, MTH announced preliminary financial results. The first release provided home closings, revenue, orders and backlog for the fourth quarter and all of 2013. The second release provided margins (must have been omission from the first financial release). MTH cited strong increases in average home prices for its impressive results. So the coming year, while solid, will almost certainly not perform as robustly on a year-over-year basis as 2013 did. All homebuilders will face similarly tough comparisons. Here is the breakdown on quarterly and annual growth numbers for the fourth quarter and 2013 respectively.
Home closing revenue: 47%, 51%
Home closings: 18%, 24%
Total order value: 17%, 40%
Net orders: 3%, 17%
Ending backlog: 26% in units, 43% in total value (year-over-year)
Margins: 400-425 basis points (year-over-year)
Here is a look at MTH's stock chart. Note that a consolidation phase continues as the stock has not quite been able to break out above $48-49 since May, 2013.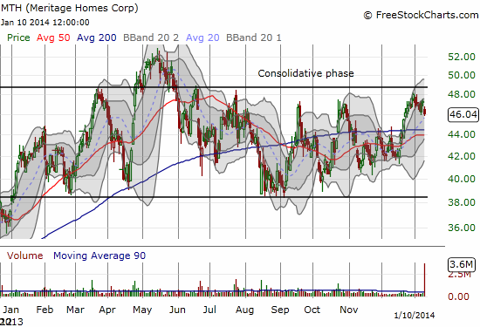 Meritage remains stuck in a wide trading range
Source: FreeStockCharts.com
MTH remains one of the least shorted of the homebuilders. Shares short are only 3.7% of float. Shares short were as high as 2M a year ago and last spring. Shorts cut that amount in half, standing at 1.0M as of December 13, 2013.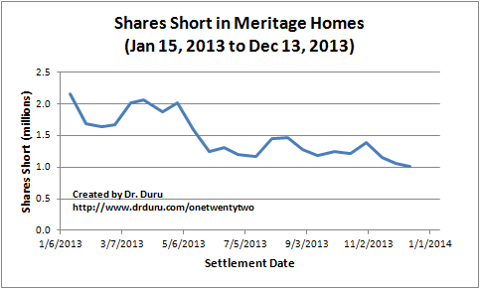 Bears have significantly backed off Meritage over the past year
Source: NASDAQ short interest
Be careful out there!
Disclosure: I have no positions in any stocks mentioned, but may initiate a long position in MTH, over the next 72 hours. I wrote this article myself, and it expresses my own opinions. I am not receiving compensation for it (other than from Seeking Alpha). I have no business relationship with any company whose stock is mentioned in this article.