The energy sector has underperformed the overall market over the last three months as WTI oil prices have slid recently to six month lows. I think this pullback offers some good buying opportunities. A couple of smaller E&P concerns that have performed worse recently than the overall Energy sector look attractive here on a long term basis.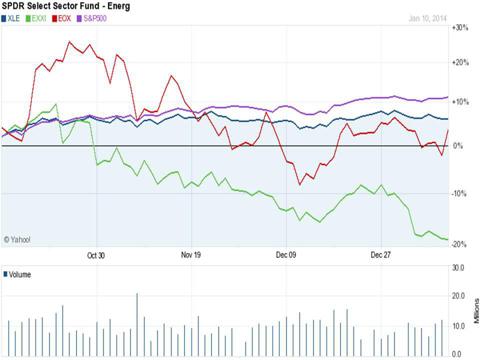 Emerald Oil (NYSEMKT:EOX) - This small Bakken player has seen a couple of positives recently. The company picked up additional acreage near its core assets in the Bakken shale range at reasonable values. In addition, Credit Suisse initiated the shares this week with a $10 a share price target, ~40% above its current price.
Credit Suisse's price target is exactly in line with the nine other analysts that cover the shares and have the same $10 a share median price target. Emerald is a 2014 story. The company should lose just over 60 cents a share in FY2013 but analysts believe the company will make two dimes a share in profit in FY2014.
Production /revenue growth will drive this significant improvement in earnings. After growing revenue better than 85% in FY2013, analysts believe sales will almost double in FY2014. Finally, based on Bakken competitors' valuation by acreage, Emerald seems extremely undervalued (see slide from recent investor presentation below).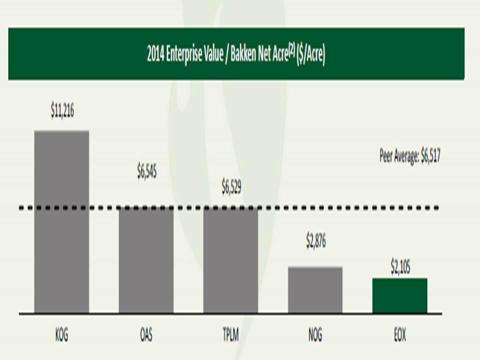 Energy XXI Limited (EXXI) is a Bermuda based deepwater E&P concern that operates five of the most of the productive fields in the Gulf of Mexico. The company was founded in 2005 with a capital raise of $300m. The firm now has a market capitalization just under of $2B and EXXI has shown consistent reserve and replacement growth throughout its history.
The company has focused on growing oil production and oil now accounts for over 60% of overall production. This is another E&P play that is substantially below the value that analysts believe the stock is ultimately worth. EXXI sells for less than $25 a share yet the 16 analysts that cover the shares have a $39 a share median price target on EXXI.
Revenues are growing much more slowly than at Emerald Oil, but sales are rising in the 5% to 8% annual range. The stock sells for less than 11x forward earnings, a discount to the overall market's multiple of ~15x forward earnings. It is much cheaper on an operating cash flow (OCF) basis, where EXXI sells at just 3x its trailing OCF.
Disclosure: I am long EOX, EXXI. I wrote this article myself, and it expresses my own opinions. I am not receiving compensation for it (other than from Seeking Alpha). I have no business relationship with any company whose stock is mentioned in this article.