It looks like the Bank of Canada was indeed setting the groundwork for easing monetary policy when it sounded fresh alarms about the Canadian economy last year. The extremely weak employment report for December seems almost certain to motivate the Bank of Canada to at least express an outright dovish tone if not drive an outright rate cut.
The numbers for December were discouraging on a month-over-month and year-over-year basis. Canada lost 46,000 jobs, sending the unemployment rate up 0.3% points to 7.2%. All the year-over-year growth in jobs came from part-time employment which increased by 2.5% (83,000).
According to Statistics Canada, "Employment growth averaged 8,500 per month in 2013, compared with 25,900 in 2012." This represents a sharp decline in job growth that will be difficult for the Bank of Canada to ignore, especially with inflation still well below target. There should also be growing alarm about the unemployment rate which has now shown little to no improvement in two years.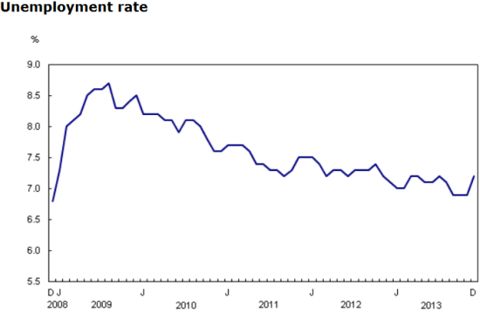 The unemployment rate in Canada has essentially stopped improving for about two years
Source: Statistics Canada
Only one demographic group experienced improvement in 2013. Canadians aged 55 and over benefited from a 4.8% increase in jobs even as their participation rate continued to increase, now at 37.4%.
The response in the Canadian dollar versus the U.S. dollar (NYSEARCA:FXC) was immediate even as the U.S. employment report disappointed at the same time. USD/CAD soared almost to 1.095 before pulling back. Still, this week, USD/CAD finally punched through my almost year-old 1.08 target. The Canadian dollar weakened sharply all weak going into the employment report as the market seemed to anticipate the bad news. While USD/CAD may experience some consolidation in coming days and weeks, I think the path forward is more weakness for the Canadian dollar in 2014. I am proposing a more aggressive, one-year target of 1.16 based on the lack of much technical resistance from here to there. USD/CAD last hit this level July, 2009. The path to 1.16 is paved by the continuing weakening of fundamentals in the Canadian economy.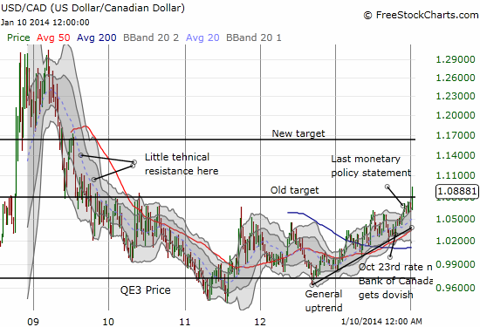 The Canadian dollar is likely to get even weaker for 2014
Source: FreeStockCharts.com
Globe and Mail ran an interesting article on January 11, 2014 titled "Why a lower loonie is (mostly) good for Canada." It runs through a laundry list of economic impacts of a lower Canadian dollar. Notably, the article quotes the Bank of Montreal as claiming that "…a 10-per-cent drop in the currency could add as much as 1.5 percentage points to real gross domestic product over two years." Such a currency move from current levels takes USD/CAD to about 1.198…
Be careful out there!
Disclosure: I have no positions in any stocks mentioned, and no plans to initiate any positions within the next 72 hours. I wrote this article myself, and it expresses my own opinions. I am not receiving compensation for it (other than from Seeking Alpha). I have no business relationship with any company whose stock is mentioned in this article.
Additional disclosure: In forex, I will likely go long again USD/CAD in coming days.