This article is a follow up to my previous article entitled "2014 Small And Mid Cap High Conviction Buys". I will lay out my top Shorts for 2014, with most all of them being Small and Mid Cap equity. On the short side I focus on all market capitalization stocks, as the most radical overvaluation can be found at the very high capitalization stocks like Tesla, Salesforce, and Twitter. Here are my top shorts for 2014.
Aspen Technology
Aspen Technology (NASDAQ:AZPN) is a process optimization and engineering software provider that operates under the new SaaS (Software as a Service). I believe the growth expectations for the company are out of line with the current Valuation and Earnings momentum due to the conclusion of the 3 year transition from a license model to a subscription model. See more of my thoughts in my recent article.
Market Price 12/31/13: $ 41.80
Intrinsic Value (based on DCF) : $19.71
Market Price/Intrinsic Value Ratio: 2.12
Mercadolibre
Mercadolibre (NASDAQ:MELI) is often called the "Ebay of Latin America", but a better description of it is the "Latin American Ebay, Amazon, Overstock.com, Paypal mix of Latin America". This is because Mercadolibre takes on characteristics all its own by taking pieces from each of the companies I mentioned.
The first thing I thought of when researching Mercadolibre was why was Ebay, Amazon, Overstock, and the like not a major presence in these Latin American countries. One of the major reasons is that many of the Latin American countries have fragile currencies with high deflation and some have little legal infrastructure to protect companies operating within these counties. Mercadolibre operates in Brazil, Argentina, Mexico, Venezuela, and several other smaller Latin American countries. Argentina and Venezuela make up 37.3% of its revenues. In both countries the governments are highly socialist, and have put restrictions of some types of investment, with Venezuela even going as far as restricting repatriation of currency held within the country. This causes a major problem for Mercadolibre as it is forced to hold large portions of its balance sheet in Venezuelan Bolivar, which has seen massive inflation in recent years, upwards of 50%. This issue alone requires a discount of the stock price to comparable companies, and should provide some fear in any shareholder. Possible outcomes that could come from this could be write downs or restatements of previous earnings because of incorrect assumptions around real exchange rates or inflation verses the US dollar that is not easily quantified or accounted correctly. There is even a possible, but highly unlikely, scenario where one of these socialist countries may even nationalize a part of Mercadolibre's business within the country.
Ebay owns 19% of Mercadolibre and has a long standing partnership with the company. The Ebay relationship is confusing as Ebay seems to be attempting to compete directly with Mercadolibre in select Latin America Markets with Online Classified Platforms iBazar (Mexico, Brazil) and alaMaula (Argentina, Columbia, Chile, Uruguay).
This investment from Ebay is both a good thing and a bad thing for Mercadolibre. This relationship with Ebay has allowed Mercadolibre to purse an impressive growth trajectory over the last 10 years, seeing revenue growth as high as 46% y-o-y. MercadoLibre has also not had to compete directly with Ebay.com in many of its Latin American markets, only other Ebay properties. The investment from Ebay is a bad thing in the long run as MercadoLibre is very limited from growing outside of Latin America into other markets that Ebay already dominates, not that MercadoLibre has the technology or scale to pursue such an effort at this point.
Alongside these currency issues raised above, the company is beginning to see a declining or stabilizing revenue growth rate.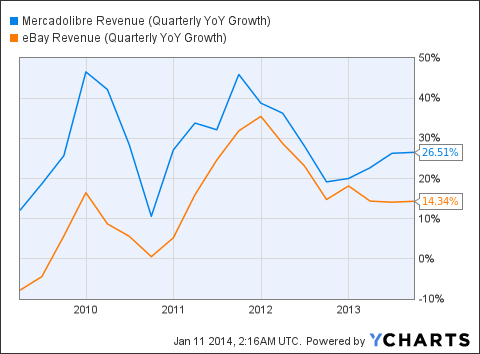 MELI Revenue (Quarterly YoY Growth) data by YCharts
The days of 30-40% revenue growth at the company may be behind it, as evidence of new competition is arising and saturation in its markets is already high.
Market Price 12/31/13: $ 107.79
Intrinsic Value (based on DCF) : $ 54.96
Market Price/Intrinsic Value Ratio: 1.96
Angi's List
Angi's List (NASDAQ:ANGI) has been one of my top shorts in 2013 which has seen tremendous success as the stock is down over 40% to $15 from its peak over the summer at $28.32. I believe there is still room for Angi's List to fall in 2013.
Angi's List is a subscription review site that distorts its reviews in order to please its main customer, its service providers (which contributed 73% of its revenue in Q3). It's a very confusing business model as Angi's List gives the illusion to its paying subscribers that the reviews are total non-bias, when in fact Angi's List main customers are its service providers which by default are always right (There are several good Angi's List Articles, most recently highlights the new lawsuits it faces). But because this illusion exists and this is why people keep coming back to Angi's List they cannot drop the subscription model (they lowered the subscription price & then reversed the price back to original pricing in Oct-Nov after they realized it was a bad idea). Chief Executive Office William Oesterle said in an October 2nd Wall Street Journal interview that "It's important that people pay, but we want to lower the friction point for them participating as a paid member". Which means that as we want to continue the illusion of non-biasness by making customers pay, so our model is really stuck at this point and we can't do much to change it.
Angi's List has never been profitable, and I doubt they will ever be profitable, as their business model has never been proven, and their markets are already saturated.
The company is often compared to and considered part of the new breed of technology savvy internet commerce and service websites like Facebook, Twitter, Zillow, Yelp, or Linkedin. To compare it to these companies is a farce. Just because a company generates its revenues mainly through a website does not make it a technology company comparable to the likes for Facebook, Twitter, and Linkedin. On a comparables basis Angi's List looks cheap, but anyone with a brain wouldn't venture to make the assumption that Angi's List has the same long term prospects at Facebook or Linkedin. I truly think the company is most likely worth $0 as their book value of equity is negative (total liabilities outweighs total assets), so you couldn't even salvage any value out of the company if you shut it down tomorrow.
Market Price 12/31/13: $ 15.15
Intrinsic Value (based on DCF) : $ 0 - 5.23 (assuming they can get to 5% profit margin)
Market Price/Intrinsic Value Ratio: NA - 2.86
Lumber Liquidators
Lumber Liquidators (NYSE:LL) is a specialty home flooring retailer that focuses on hardwood flooring and hardwood flooring accessories. I will state upfront that my short thesis of Lumber Liquidators is largely based on the great work that Whitney Tilson has completed and presented here and here.
The company has increase revenues in 2013 at a rate of 20-24% year over year, and increased its gross margins from 33-35% pre-2012 to 41.83% in the most recent quarter. That kind of revenue growth combined with that massive margin expansion can largely be contributed to the companies sourcing initiatives in China and higher ASPs. In the Q3 Conference call the CFO Daniel Terrell said "The product margin drove 300 basis points due to shifts in our sales mix, including an increase in moldings and accessories, lower cost of product due to sourcing initiatives and higher like kind ASP"
The sourcing initiative's he references all starts with the 2011 acquisition of Sequoia, as Shanghi based sourcing, product development, and quality control company for $8 million. Post this acquisition Lumber Liquidators has been able to gain margin advantages as it has been able to "work directly with the mills". That may in fact mean that Lumber Liquidators is participating in some very shady and illegal activities by trading in the Black Lumber trade of eastern Russia and China. Black lumber is illegal logged lumber from areas in Siberia that are protected due to the endangered Siberian Tiger. Please view the 10 Minute video presented by the Environmental Investigation Agency (NYSEMKT:EIA) on the subject here.
On September 26th the US Department of Homeland Security's Immigration and Customs Enforcement and the U.S. Fish and Wildlife Service raided Lumber Liquidators, likely due to the investigative report published by the EIA.
Why is all of this relevant to the stock? Well its highly likely that margins will contract either due to actual charges and fines being issued, or Lumber Liquidators taking additional care to prevent allegations like this from occurring in the future. Either way, the gross margin expansion is likely to reverse in 2014, which will push the profit margins back closer to historical averages (5-7%).
Disclosure: I am short AZPN, MELI, LL. I wrote this article myself, and it expresses my own opinions. I am not receiving compensation for it (other than from Seeking Alpha). I have no business relationship with any company whose stock is mentioned in this article.
Additional disclosure: I have no positions in Angi's List at this time, but may initiate a short position over the next 72 hours.