Coach, Inc. (NYSE: COH) is an American luxury accessory and clothing brand. It offers fine accessories and gifts for women and men ranging from handbags to travel accessories, footwear, fragrance, jewelry, watches, sun wear and other related accessories. The fashion industry encourages and demands innovation and creativity at a continued rate. Having these qualities in this industry can provide a company with a passport for its future success.
New and innovative designs for existing products along with creatively launching new products cannot only help sustain but also improve the company's progress and brand image. It is that department that I think Coach is lagging behind its competitors.
Competition: A Major Threat
The competitive rivalry within the retail industry is the major threat that Coach is currently facing. Coach currently holds 28% of the US handbag market. The figure below shows that a major chunk of Coach's revenue comes from sales of women's handbags. However, this percentage has declined by 5 points over the past two years.

Click to enlarge
Source 10-K
There is great potential for fashion and luxury items in the US market but there are others who are striving to quickly grab the available opportunities and due to their innovative approaches Coach's market share is being challenged. Michael Kors Holdings Limited (NYSE:KORS) secures its position on the top of the list followed by Louis Vuitton, Gucci, Longchamp and Vera Bradely.
Coach is already suffering because of competition that is evident in its slowing or deteriorating sales growth. During the first quarter of fiscal year 2014 Coach Inc experienced a sales growth rate of -0.9% (in contrast to the results of the same quarter of the previous year) while the industry experienced a growth rate of 8.94%.
This pattern is also followed in its gross profit margins and bottom line figures. This data is shown in figures 3 and 4. However, the company's earnings per share seems to be increasing but in actuality this is because of the declining value of shares outstanding that has overcome the effect of decreased net income.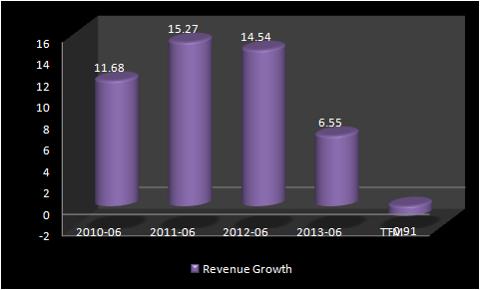 Click to enlarge
Figure 2: Source Morning Star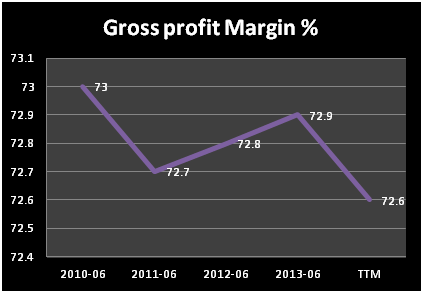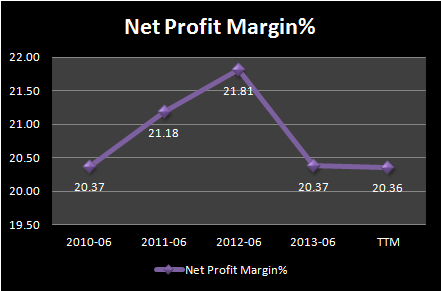 Figue 3 & 4: Source Morning Star
Brand Transformation
Coach is trying to regain what it has lost. In order to achieve this, product and geographic diversification can be very helpful. With a new CEO and creative director on its board as well as increased emphasis on marketing and enhanced product portfolio, Coach has undergone brand transformation. Coach had plans to evolve beyond handbags and small leather goods into a full lifestyle brand for women and men. However, the result of these initiatives will become visible over time and if positive will significantly warrant an upward valuation for Coach.
Future Expectations
According to GIA, despite the interrupted progress of the handbag market, due to current worldwide financial crisis, the US market for handbags is expected to hit a record level of US $ 9.0 billion by 2015. This indicates that the fragmented fashion accessories business is going to face increased competition as the rising demand and expected profitability has raised the threat of new entrants. However a new investor will have to make significant investments before it can reach the position Coach already has. Existing competitors have shown tremendous sales growth especially in North America. Michael Kors has delivered excellent revenue and its earnings growth over last 3 fiscal years has outperformed Coach.
Coach is trying to bolster its distribution via online expansion as well as offering its products in emerging markets. Currently Coach is generating 31% of its net sales from its international segment and a majority of these sales are generated from company operated stores in Japan and mainland China. China can provide a profitable market to penetrate as the Chinese consumer confidence index has been forecasted to reach a level of 102.34 in 2014. This degree of optimism shows the people of China are confident about the stability of their Income and are able to make more purchases to boost economic expansion.
Moreover, according to GIA, the emerging markets in Asia are expected to experience an increasing demand for designer and luxury handbags and a growing consumer base for branded items. This change is forecasted to be brought by the demographic and economic growth drivers including an increase in the population of women aged 15 to 34 years old. That's a positive sign for Coach as it can attain a larger chunk of the market through its innovative and diversified product portfolio and enhanced distribution.
Conclusion
Coach is currently offering a dividend yield of 2.40% while the industry average is 1.1. Currently Coach has a trailing P/E ratio of 13.8 and forward P/E ratio of 12.8 and is trading at a steep low compared to its main competitor Michael Kors that has a trailing P/E of 33.57 and a forward P/E of 23.71.
After transforming its brand internationally hopefully Coach can enhance its brand image and recognition. Also, Coach's online presence can act as a catalyst for its revenue and earnings growth.
Disclosure: I have no positions in any stocks mentioned, and no plans to initiate any positions within the next 72 hours.
Business relationship disclosure: The article has been written by a Blackstone Equity Research research analyst. Blackstone Equity Research is not receiving compensation for it (other than from Seeking Alpha). Blackstone Equity Research has no business relationship with any company whose stock is mentioned in this article.