Occidental Petroleum (NYSE:OXY) is an oil and gas company based out of California. It's one of the largest producers of oil in Texas, and has operations in more than 6 other states. It goes by "Oxy" - but only to its friends. It's subsidiaries include Occidental Chemical and Oxy Vinyl.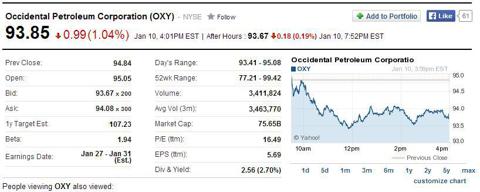 Click to enlarge
Last quarter (Q3 2013), Oxy posted core income of $1.6 billion ($1.97 EPS) with domestic oil and gas production of 476,000 per day. The company's total production was 767,000 barrels per day.
Heading into Oxy's Q4 report, the company finds itself in the midst of a couple of analyst downgrades
Howard Weil just downgraded the stock to "Sector perform" from "outperform" and have a $106 price target on the stock - which represents about 11% upside from Friday's closing price. The day before, Zacks issued a note to investors reiterating a neutral position on Oxy with a $100 price target. Zacks' analyst wrote:
"Occidental Petroleum Corporation's performance in the first nine months of 2013 improved from year ago period primarily on the back of higher contribution from all the segments, a decline in input costs and lower interest expenses. We have spotted several key value drivers, including a favorable financial position, diversified asset-base, disciplined investment strategy, focus on domestic operations and cost-reduction initiatives, which may help to boost future performance. However, stringent regulations, volatile commodity prices and risks related to exploration and production infrastructure damages could offset the aforesaid positives. Thus, we maintain our Neutral recommendation on the stock."
Analysts generally have at $105 price target on the company - representing a small upside from current levels.
(click to enlarge - source)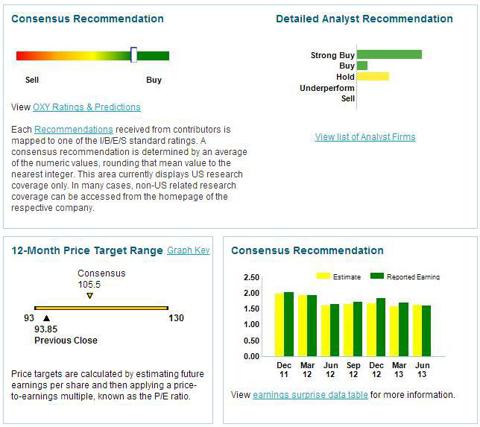 Click to enlarge
When compared to its peers, Oxy's P/E is on the higher end, signaling that the company may be susceptible to being roped in - especially under poor macro market conditions or sector-wide issues in oil & gas.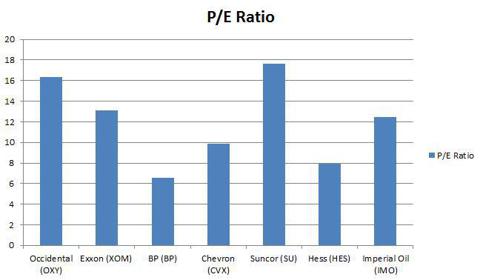 Click to enlarge
However, if you're bullish on oil & gas like I am heading into 2014, Oxy could definitely be a safe play for your portfolio. Although I'm forecasting a target price of $110 based on Oxy planning to grow its production by about 5% YOY, a move to the analyst consensus would be a healthy gain for the year, especially when you tack on the dividend yield that is likely to increase.
Oxy, as compared to peers like Exxon (NYSE:XOM), Chevron (NYSE:CVX), Suncor (NYSE:SU), Hess (NYSE:HES) and Imperial Oil (NYSEMKT:IMO), pays a dividend that's in the middle of the road compared to other oil & gas companies. Right now BP (NYSE:BP) has the highest yield with the lowest P/E, but that is a product of their ongoing legal issues and the uncertainty surrounding them.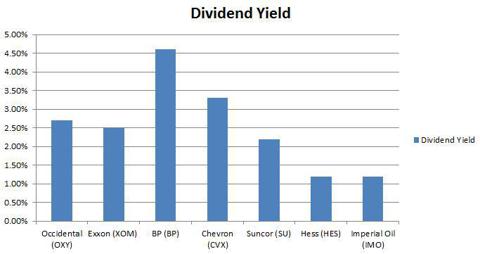 Click to enlarge
Oxy's yield shouldn't be brushed aside by the fact that the company has grown its dividends consistently for the last 10 years.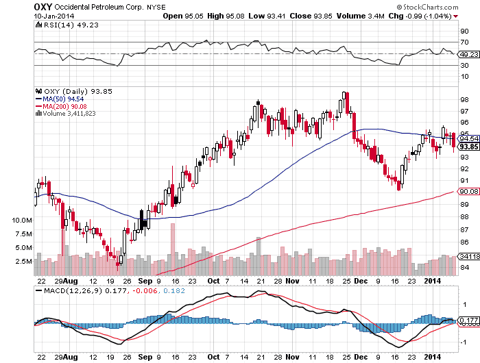 Click to enlarge
From looking at the technical picture, Oxy has dipped below its 50 DMA, and will likely trade off a couple more bucks over the next week towards $90. A dip like that would represent a buying opportunity for me.
Despite the recent analyst downgrades and the higher end P/E amongst peers, Oxy remains a safe, viable investment for your portfolio that's going to yield dividends and is likely to outperform the S&P average. I'm bullish here with a price target of $110.
Best of luck to all investors.
Disclosure: I have no positions in any stocks mentioned, and no plans to initiate any positions within the next 72 hours. I wrote this article myself, and it expresses my own opinions. I am not receiving compensation for it (other than from Seeking Alpha). I have no business relationship with any company whose stock is mentioned in this article.