The significance of the hugely disappointing December jobs report will continue to be debated. One interesting aspect, pointed out by Catherine Rampell at the New York Times, is the gender composition of the new jobs.
In December, net new employment by women increased by 75k jobs, men a net 1k jobs. It was the first month since December 2007 that all of the month's jobs were accounted for by women.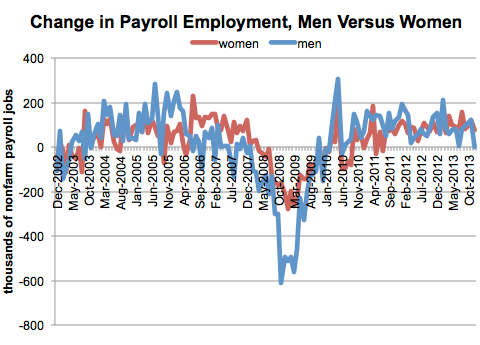 As this great graphic shows, employment by women did not suffer as much as men's did during the Great Recession. This seems partly due to men's jobs being in more cyclical sectors, like manufacturing and construction, but also the sectors that were particularly hard hit like housing and banking.
Overall, women accounted for 56% of the net new jobs in 2013. This illustrates two themes of socio-cultural trends unfolding. The first is the feminization of work, which is meant here in a quantitative sense, but one that will likely produce qualitative changes.
The second arises from the fact that three quarters of the net jobs that were filled by women are in low paying sectors, such as retail, leisure and hospitality. Women are either the sole of primary earner in 40% of American households with children below the age of 18, according to Pew Research Center. This says something about the disparity of income and the economic squeeze on households. Separately, Pew Research also found that the proportion of married women who earn more than their husbands has grown 4-fold to almost 25% over the past 50 years.
Disclosure: I have no positions in any stocks mentioned, and no plans to initiate any positions within the next 72 hours. I wrote this article myself, and it expresses my own opinions. I am not receiving compensation for it. I have no business relationship with any company whose stock is mentioned in this article.