Tri Pointe Homes (NYSE:TPH) closed on Thursday, January 9, at $18.44. This price was just 8.5% higher than its IPO price a year ago and 5.8% below where the stock first opened for trading. TPH has traveled a long hard road during its time as a public company, including a bottom around $13.50/share. The swoon created a great buying opportunity in the stock.
And so it seems an analyst at FBR is longing for those days when TPH could be bought at an attractive discount. FBR downgraded the stock from buy to neutral and reduced its price target from $21 to $19. Here is the rationale as posted on Seeking Alpha (emphasis mine):
"We believe the growth potential of TRI Pointe's WRECO acquisition is being reflected at current valuation that is on the higher end of the group." …Stelmach continues to be a fan of the company thanks to its California exposure, the WRECO acquisition, ample dry powder from a large land portfolio, and a seasoned management team. He's just looking for a more favorable entry point."
The downgrade sent trading volume tripling from the three-month average and sellers took the stock down as low as $17.08. Presumably, sellers concluded from the lower price target that TPH has little near-term upside opportunity. Buyers must have concluded at the lows that the price had already become "favorable enough" as the stock bounced sharply to a close at $17.96. In general, homebuilders traded up on the day in the wake of a disappointing jobs report that helped drive interest rates lower.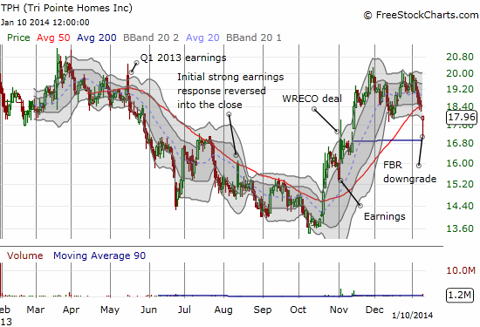 TPH has made no progress since its IPO a year ago
Source: FreeStockCharts.com
Downgrades that are a part of a request to the market to deliver a better entry point always intrigue me. In this case, the investment thesis for TPH has not changed at all. Excluding the WRECO acquisition, all the reasons listed above for liking TPH have been in place well before the company went IPO. Moreover, I would argue that the "premium" valuation is specifically because TPH is so well-positioned in California with an excellent management in place. TPH has a forward P/E of 16.6, P/S of 3.0, and P/B of 1.9. This valuation compares favorably to Toll Brothers (NYSE:TOL) but is richer than Lennar (NYSE:LEN), another quality builder. TOL has a forward P/E of 16.3, P/S of 2.4, and P/B of 1.8. LEN has a forward P/E of 12.0, P/S of 1.3, and P/B of 2.0. (All data from Yahoo Finance).
Unlike TOL and LEN, shorts have continued to soar against TPH. Now at 20.4% of float, shares short have soared from 1.1M on February 28, 2013 to 2.0M on June 28th to 3.7M on December 13th. TOL shares short hit a plateau around August of last year and are now 8.4% of float. LEN shares short recently peaked in late October and are now around the same levels from a year ago. LEN shares short are a whopping 25.0% of float. Clearly, there are plenty of traders betting on lower entry points.
Be careful out there!
Disclosure: I am long TPH. I wrote this article myself, and it expresses my own opinions. I am not receiving compensation for it (other than from Seeking Alpha). I have no business relationship with any company whose stock is mentioned in this article.