Sometimes, a little change can be good. Apparently, that is the case with Canadian device maker BlackBerry (NASDAQ:BBRY). Despite announcing extremely poor results for the third quarter, a deal with Foxconn and some promising words from new CEO John Chen has the stock rallying. BlackBerry shares closed Friday at their highest level since late September, up more than 60% from their 52-week low, partially thanks to an additional investment from Fairfax. But the most interesting aspect may be that short sellers are running for cover, and fast. Today, I'll update investors on the latest data, where BlackBerry stands, and why this is not just a BlackBerry thing.
The latest update:
The end of December update on short interest for BlackBerry was probably the biggest one in two years, and that is not a ridiculous statement. BlackBerry short interest dropped by almost 37 million shares, a fall of more than 25%. As you can see from the chart below, this was a significant move downward.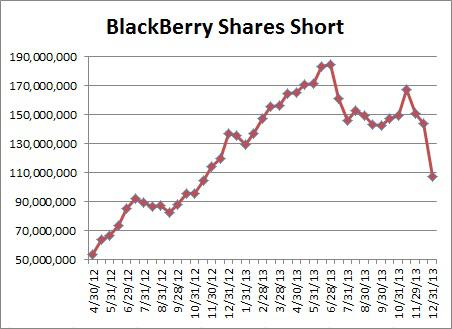 This was the lowest point for BlackBerry short interest since November 15, 2012, more than 13 months ago. BlackBerry short interest topped out at 184 million plus shares in June 2013. Since that time, more than 77 million shares, or nearly 42% of all short sellers, have covered. This is not just a single isolated move. Sentiment regarding this name is definitely shifting, betting that the future of this company is bright. Let's look at where some estimates stand now.
Current estimates and latest opinions:
With BlackBerry badly missing analyst estimates again in Q3, analysts have been rushing to cut their estimates for both the current year (ending in February 2014) and the following one. The following table shows a history of BlackBerry estimates since the huge Q2 warning back in September 2013. Current estimates are available here.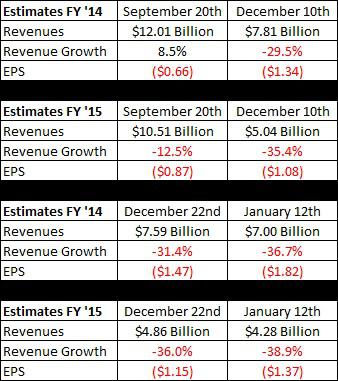 We've seen a mixed picture when it comes to BlackBerry estimates since my previous update on the name in early January. At that point, fiscal 2014 estimates were for $7.05 billion in revenues and an adjusted loss of $1.79 per share. Estimates for fiscal 2014 have certainly edged lower a bit, and they are now at the lowest point that I've ever seen. Since that huge warning a few months ago, fiscal 2014 revenue estimates are down by $5 billion. That's a lot considering how small the revenue base of this company is. On the flip side, fiscal 2015 estimates have edged up ever so slightly. At my last update, the average revenue number was $4.27 billion, and the average adjusted loss estimate was $1.39. It looks to me that analysts are figuring this fiscal year is going to be worse than thought, but that analysts are starting to become a little more positive on the following fiscal year thanks to the Foxconn deal.
While estimates have been mostly falling for the past few weeks, we've started to see some overall opinions on the name change. Wells Fargo analyst Maynard Um recently raised his price target range from $6.50 to $7.00 to a new range of $8.00 to $9.00. Um cited lower liquidity concerns thanks to the new Fairfax investment and expected cash burn improvement. Um also believes that the Foxconn deal should improve margins and reduce working capital risks. The analyst does voice his concerns about BlackBerry needing to be aggressive on pricing or having to provide subsidies to convert BB7 users to BB10. Also, Um also worries that software revenue growth will not be enough to offset service revenue decline.
RBC Capital also came out and upgraded BlackBerry from Underperform to Sector Perform, with a price target raise from $6 to $10. It will be interesting to see if some of these analysts start to raise their estimates going forward. For now, current fiscal year estimates are at their lowest point, and estimates for the following year are close to the lowest point that I've seen.
This isn't a single stock event:
BlackBerry might just be part of a technology sector-wide covering, as the company is not the only big name to see a lot of recent short covering. Apple (NASDAQ:AAPL), which had a short interest high in 2013 of 41.59 million shares, and saw a recent high of 19.39 million shares in November 2013, was down to 14.16 million. Apple's short interest is at its lowest point since August 31, 2012. Apple's short interest decline from its peak is also much larger than the drop from BlackBerry's peak to current level.
Another large tech name seeing a bit of short covering recently, although to a slightly lesser degree, is chip giant Intel (NASDAQ:INTC). Intel saw its short interest top out at over 255 million shares on October 15, 2013. By the end of 2013, that number was down by just over 40 million shares to 215 million. Intel's short interest is at its lowest point since February 15, 2013. Intel bulls are looking towards a turnaround year in 2014, which is not unlike BlackBerry. Intel's turnaround is something the company might point towards at its upcoming earnings report.
Final Thoughts:
As 2013 came to a close, BlackBerry shorts raced to cover, something we've seen with other tech giants such as Apple and Intel as well. Despite analyst estimates plunging since the latest earnings report, the Foxconn deal seems to have inspired some hope in this name. The billion plus in cash from the two investment deals has eased some concerns about the company's financial situation going forward. Right now, the momentum seems to be carrying this name higher, and a few more positive analyst notes and some short covering could combine to get BlackBerry back into the double digits. I do think some of the company's results will disappoint, but we're a long time from the next earnings report. For now, this name feels like it wants to go higher in the short term.
Disclosure: I have no positions in any stocks mentioned, but may initiate a short position in INTC, over the next 72 hours. I wrote this article myself, and it expresses my own opinions. I am not receiving compensation for it (other than from Seeking Alpha). I have no business relationship with any company whose stock is mentioned in this article.
Additional disclosure: Investors are always reminded that before making any investment, you should do your own proper due diligence on any name directly or indirectly mentioned in this article. Investors should also consider seeking advice from a broker or financial adviser before making any investment decisions. Any material in this article should be considered general information, and not relied on as a formal investment recommendation.