A recent article in Investor's Business Daily caught my attention. It stated:
The resilience that has long been one of America's remarkable traits was on display in 2013. Not only did businesses create 2 million jobs, but the struggling economy actually grew, and profits and stock prices soared to near-record levels.
The article went on to depict a less rosy outlook for 2014, as the author explained that, "The economy is gross underperforming. Contrary to the dominant media narrative, it's not bad luck or the financial crisis to blame, but bad policies - from the $860 billion 'stimulus' that didn't stimulate to the Dodd-Frank financial reform that killed lending."
The IBD article went on to describe a "less-bullish" sentiment, namely describing the problems that the average investor faces, "including taxes and spending, that neither the White House nor Congress is addressing."
I don't know about you, but I can't wait on the politicians. I need an investment strategy that I can depend on now, regardless of the "feeble Obama" administration. Most of you reading this article are "average investors," and that means that you're looking to invest in asset sectors that show positive signs for the year ahead.
REITs Should Be a Core Asset Class
As I explained in a previous article, "One of the most fundamental elements of asset allocation is diversification. In my opinion, true diversification involves having several distinct asset classes that perform differently from each other in different financial environments."
Many of you have been skeptical about REITs, as the fear of rising interest rates has overshadowed the recovery that we are seeing in commercial real estate. This has muted the appetite for some. However, for others, the sell-off has created a window of opportunity as REIT valuations have moved from a "moderately expensive" range into a "fair value" range.
In another recent article Dr. Brad Case, Sr. VP of Research with NAREIT, explained that investors are likely to be reassured that REITs will continue to be one of the only sources of strong, steady income. That steady improvement in the macro economy is always good news for REITs. Case offered the following comment:
The 'fundamental drivers' of listed U.S. equity REIT returns are rent growth and occupancy growth in commercial properties, which are driven by macroeconomic forces such as household formation (young adults moving out of their parents' basements into rental apartments), domestic and international trade (which increases demand for industrial/warehouse facilities), employment growth (which increases demand for office space), and consumer spending (which increases demand for retail space). Unless we fall into another recession-which I don't expect-all of those are likely to be stronger than usual over the next several years as the economy recovers.
In a recent (January 10, 2014) white paper, Calvin Schnure, VP of Research with NAREIT, put together a 2014 outlook for commercial real estate. He cites accelerated GDP growth (4.1% in Q3-13) as a significant contributor: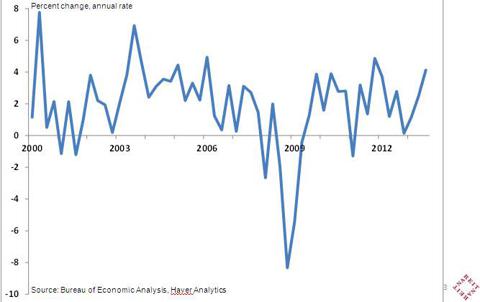 The white paper also lists robust auto sales that reflect rising incomes. The auto sales industry in 2013 was the strongest since 2007, and the aging vehicles on the road translate into confidence and pent-up demand.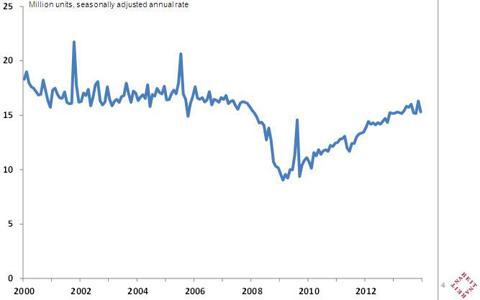 More positive signs for commercial real estate include continued job growth momentum - a trend of 200k per month. Statistically, this is still the worst job slump since the Great Depression, and perhaps the silver lining is that interest rates should remain low for a while longer.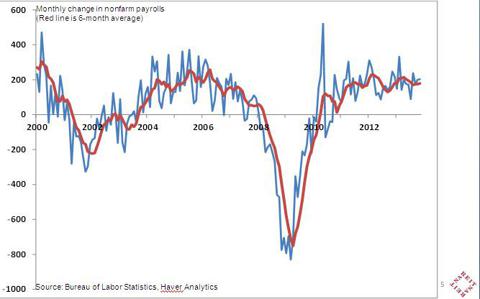 The housing market appears to be in a full recovery mode that translates into rising home prices and more consumer spending. Clearly confidence in the "American dream" will play a significant role in the overall recovery and the "clawing back" of U.S. household net worth.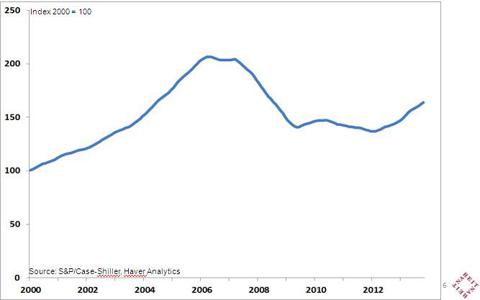 How Do We Know This Isn't Another False Start?
It's clear that GDP growth and the job market have faltered several times throughout history. External events like the European debt crisis, Japanese earthquake, debt ceiling and the more recent government shutdown have stalled growth. However, on the plus side, consumer deleveraging has reduced the debt burden, and housing markets are showing greater overall demand. Conclusively, consumer debt burdens are at decade-low levels: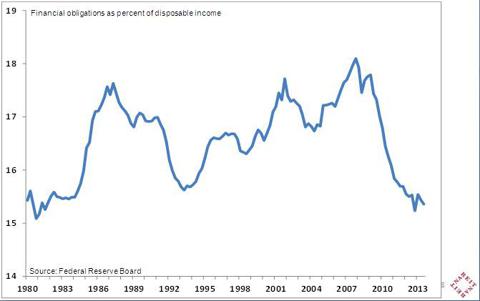 Also, builders are selling homes as fast as they can put them up.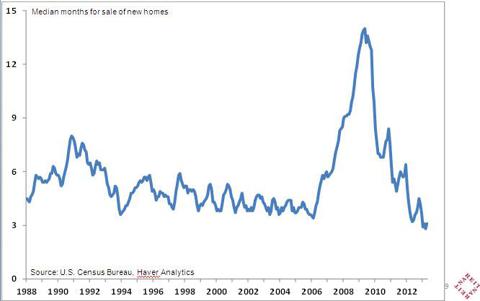 The drag from government spending is fading.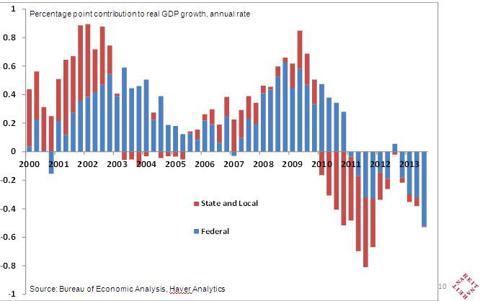 Now Let's Examine the Outlook for 2014
Commercial real estate vacancy rates remain high, but they are trending down.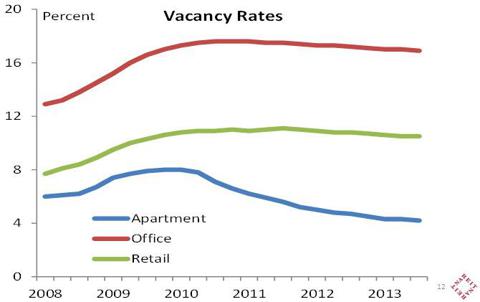 Rent growth is slowly rising; more recent figures show that retail and office is accelerating, and the apartment sector is still solid.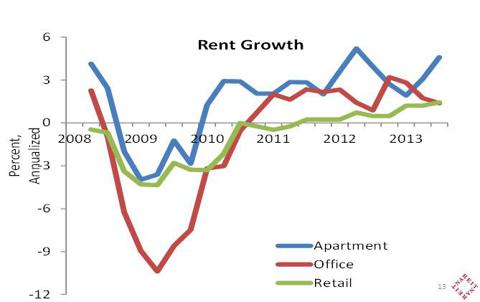 Recent increases in construction still leave activity well below historical trends. In other words, supply concerns appear to be overblown.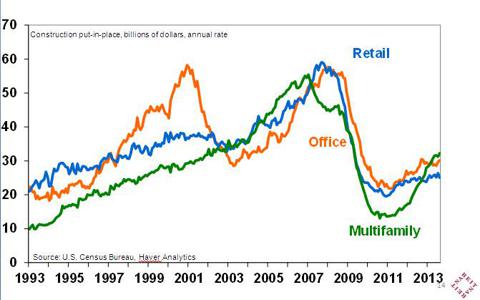 So Why Invest in REITs?
As most know, REITs must distribute at least 90% of taxable income annually to shareholders in the form of dividends (in practice, most REITs distribute 100%), and all dividends are taxed at the shareholder level. Accordingly, because of the distribution requirements, REITs provide a high level of dividend income.
Because REIT shareholders are legally entitled to 90% of the REIT's taxable income each year, the shareholders are allowed to participate in income reinvestment decisions. This more disciplined approach in effect forces the REIT manager to payout substantially more income (to investors) and defend against "squandering or squirreling" it away.
Although many academics claim that it shouldn't matter to shareholders how much of its net income a corporation pays out in dividends, many argue that dividends really do matter with respect to shareholders' total returns. I am certain that Graham would have argued the point as he wrote (in The Intelligent Investor):
One of the most persuasive tests of high-quality is an uninterrupted record of dividend payments going back over many years.
A Look at the Dividend Champions
In a recent Seeking Alpha article, fellow contributor David Fish provided a list of the most recent "dividend champions." Accordingly, Fish references the "champions" as a company that has paid higher dividends for at least 25 straight years; "contenders" have streaks of 10-24 years; "challengers" have streaks of 5-9 years.
I recently started modeling a new REIT portfolio exclusively for my newsletter membership. The so-called Three-D portfolio includes a list of 19 equity REITs that have NEVER cut a dividend. I have over-weighted the portfolio with REITs that are cheaper in price, and during the last 30 days the portfolio has grown by more than 5%, and the average dividend yield is 5.16% (10.16% total return).
There are only 3 REITs that are considered "champions" - paid higher dividends for at least 25 years in a row:

Of these 3 REITs, HCP, Inc. (NYSE:HCP) seems to be the cheapest with a Price to Funds from Operations (P/FFO) multiple of 14.0x. I have cooled on the shares however, as I believe there is risk in the current management team, notably a new CEO. (Seeking Alpha contributor Morgan Myrmo wrote an insightful Q&A article last week that is worth reading).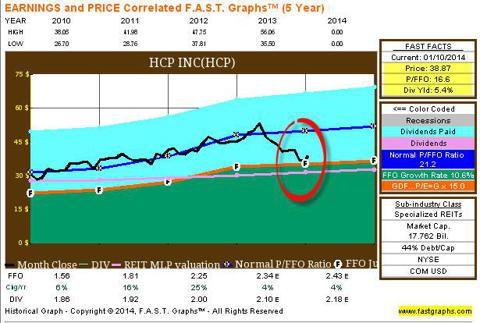 My exposure in the Diversified Health Care space is more aligned with Ventas, Inc. (NYSE:VTR). Although the company isn't a dividend "champion" with consecutive years of dividend increases (did not increase dividend one year), I'm attracted to the dividend policies of the company - no dividend cuts and average dividend increases of 8.5% (over the previous 3 years)… almost double the growth of either of the two diversified health care REITs, HCP Inc. and Health Care REIT (NYSE:HCN). You can read my latest article on Ventas here.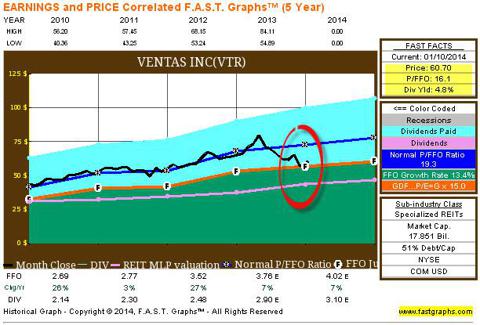 In closing, REITs should be included in your overall asset model. It's important to focus on the companies that are likely to boost their dividends on a regular basis. Make sure you don't look at yield (be careful mortgage REIT investors) until you've analyzed the safety of the dividend, the ability for the dividend to grow, and the overall merit of the REIT.
Finally, don't own just one REIT. By employing diversification correctly, you can reduce risk without sacrificing returns. By diversifying correctly, you provide yourself with insurance that if one of the REITs blows up it will not severely impact your net worth. Always remember: successful investing is about managing risk, not avoiding it. Buena suerte!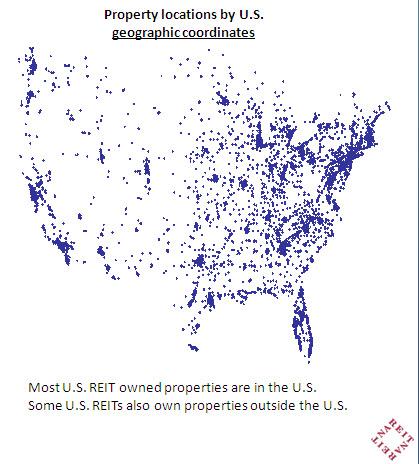 Special thanks to Calvin Schnure with NAREIT for the January 2014 Outlook for the Economy presentation.
Source: NAREIT, FAST Graphs, Investor Business Daily.
Newsletter: For more information, check out my iREIT Investor newsletter HERE.
Disclaimer: This article is intended to provide information to interested parties. As I have no knowledge of individual investor circumstances, goals, and/or portfolio concentration or diversification, readers are expected to complete their own due diligence before purchasing any stocks mentioned or recommended.
Disclosure: I am long O, DLR, VTR, HTA, STAG, UMH, CSG, GPT, ARCP, ROIC, MPW, HCN, OHI, LXP, KIM. I wrote this article myself, and it expresses my own opinions. I am not receiving compensation for it (other than from Seeking Alpha). I have no business relationship with any company whose stock is mentioned in this article.