Summary
So far, this year has not been hitting on all cylinders as employment information was weak to start the year, and the market is not as strong as we had thought it might be. With the Fed starting to pull out and the economy sort of just sputtering along, the market needs a kick-start or we could lose key support lines. We have a busy week of data highlighted by retail sales, the Fed Beige Book, housing data, and consumer sentiment. Additionally, we start to get a large amount of earnings data that will be very important to the market highlighted by General Electric (NYSE:GE), Wells Fargo (NYSE:WFC), JPMorgan Chase (NYSE:JPM), Bank of America (NYSE:BAC), Intel (NASDAQ:INTC), and Goldman Sachs (NYSE:GS). The market will need a solid week to hold onto technical support.
Chart Overview
The S&P 500 (NYSEARCA:SPY) broke out over 1800 but has failed at the 1850 level. Right now, we see support in the 1820 area. If that fails this week, we should see a retest of 18000. From there, we have a long way till the next support area. A good week could see us break 1850. A bad week of data will see us break 1820 potentially 1800.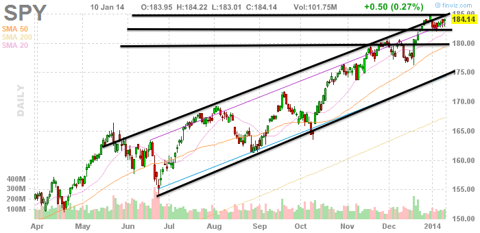 The Dow Jones (NYSEARCA:DIA) has resistance at 16500 right now with tight support at 16350, the Dow needs to see a good week or we don't see support until 16000. Weakness this week would definitely hurt the market.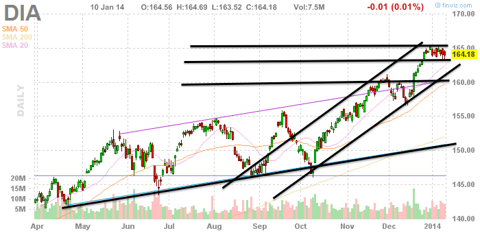 Economic Data
| | | | |
| --- | --- | --- | --- |
| Date | Data Report | Market Expectations | Previous Report |
| January 14 | Retail Sales - December | 0.0% | 0.7% |
| January 14 | Export/Import Prices - December | N/A | 0.1% / 0.0% |
| January 15 | PPI - December | 0.3& | -0.1% |
| January 15 | Empire Manufacturing - January | 3.5 | 1.0 |
| January 15 | Fed's Beige Book - January | N/A | N/A |
| January 16 | Initial Claims - 01/11 | 333K | 330K |
| January 16 | CPI - December | 0.3% | 0.0% |
| January 16 | Philly Fed - January | 8.0 | 6.4 |
| January 16 | NAHB Housing Market Index - January | 57 | 58 |
| January 17 | Housing Starts - December | 986K | 1091K |
| January 17 | Building Permits - December | 1000K | 1007K |
| January 17 | Industrial Production - December | 0.3% | 1.1% |
| January 17 | Michigan Sentiment - December | 83.0 | 82.5 |
It is a busy week of data. None of the data is quite as significant as last week, but the market needs some solid data. At the top of our list are Retail Sales, Empire Manufacturing Data, Philly Fed, NAHB Housing Market, and Michigan Consumer Sentiment. All of these reports are for January, and we believe that the market will pay more attention to these reports with January exposure. Retail Sales start the week on Tuesday and are expected to be flat. From there, we get Empire Manufacturing and Fed Beige Book on Wednesday. The Beige Book will be watched for potential Fed information while Empire Manufacturing is expected to improve from 1.0 to 3.5. Thursday, we will be watching the NAHB Housing Index as well as Philly Fed Index. Finally, we finish the week with a lot of housing data, industrial production numbers, and Michigan Consumer Sentiment for January. The index is expected to rise to 83.0 from 82.5.
Foreign Markets
Outside of the USA, Europe and Asia have a slightly lighter week with Great Britain CPI/PPI on Tuesday along with German GDP for 2013 on Wednesday. On Thursday, we will get the ECB Monthly report, and we finish the week with Great Britain retail sales. It is a pretty light week in Europe with very little happening in Asia as well, so we should see most of the attention paid to domestic happenings.
Earnings
| | |
| --- | --- |
| Date | Key Company |
| January 14 | Wells Fargo |
| January 14 | JPMorgan Chase |
| January 15 | Bank of America |
| January 16 | Citigroup (NYSE:C) |
| January 16 | Intel |
| January 16 | American Express (NYSE:AXP) |
| January 16 | Goldman Sachs |
| January 16 | UnitedHealth (NYSE:UNH) |
| January 17 | General Electric |
| January 17 | Schlumberger (NYSE:SLB) |
It is a big week of earnings with some important reports from the financial industry, Intel, UnitedHealth, General Electric, and Schlumberger. There are key reports every day that can move the market. Some of the most important ones include BAC, Citigroup, Intel, GS, and GE. The financial reports are expected to show some strong EPS growth as well as some decent sales gain, and that should be very crucial to the Dow Jones and S&P 500 right now.
The report we will be watching most this week will be Bank of America. BAC is expected to report an EPS of 0.26 versus 0.03 earnings one year ago. Additionally, they are expected to report a -2% decline in revenue year/year. The key to the report will likely be expenses falling mixed with credit and efficiency improving. The big question is can banks deliver. Loans have been light and the mortgage business is not overly solid as well. Capital markets, however, were likely strong in Q4. What has really been helping BAC versus others is that they have been able to continue to improve their net interest margin.
The first important indicator to watch at BAC will be their net interest margin as well as loan loss provision. The company has been able to maintain a strong net interest margin at 2.4% while a lot of other financial institutions have seen a lot of decline in net interest margin. Loan loss provisions have been on the way down at BAC. The company went from having $2.2B in loan losses in Q4 2012 to $300M in their latest quarter. The company had $1.9B in losses in 2012 Q3, so the improvement here is expected to translate into a lot of gains in EPS. This number will be one of the keys to watch considering that the revenue gains in many parts of the business will be flat. Earnings growth is expected to come a lot form cost saving and loan losses coming down.
The prior is the other part of the report to watch. The company needs to see progress on their cost-cutting behavior. The company has initiated Project New BAC where it expects to reduce its expenses divided by revenue. The company's efficiency ratio has now dropped to 76%, and the company is expecting to reduce their expenses by $5B this year. The efficiency ratio needs to continue to drop. In 2007, BAC had an efficiency ratio sitting at 57%, so they still have a long way to go. In that year, though, they had much less litigation and compensation expenses.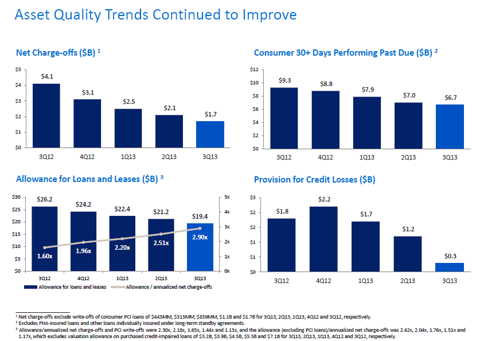 We are also very interested in the company's Consumer Real Estate business that posted a $1B net loss in the last quarter. The company is plagued here by high litigation costs, and we want to see if the company can start to make some progress here. Until we do see progress here, the company will not be able to make real progress in organic revenue. Without improvement here, the company will not be able to see significant upside this year.
Markos Kiminis highlighted why he likes Bank of America's real estate potential that could start to show up in this report:
The evidence of an already begun recovery is clearly visible in the stock's outperformance in 2013. Bank of America gained 34% in 2013, against a lighter market rise. But the stock still appears to have more room to grow in my opinion. The reason for it is not simply limited to housing recovery and is many-fold:

The recovering housing market means the bank's leverage to it will pay-off now
The improving economy appears to be gaining traction, which means more lending for the bank
The change in Fed policy means long-term interest rates will rise, allowing for a better net interest margin for BofA
Legal issues are nearly exhausted and should decreasingly detain BAC
The stock's valuation is discounted to peers, and should normalize allowing for extraordinary gains beyond industry improvement
We are going to be watching these numbers and improvements for the company. We need to see improvement in loan losses, improve net in net interest margin, and some progress in the mortgage business. Those three keys are what to watch. A move back down in loan losses or unforeseen mortgage losses will likely lead to miss. Additionally, as always, company guidance for the year will go a long way.
Fed Outlook
The Fed has been impacting the market in positive and negative ways for quite some time now, and we believe that this week will be no different. The Fed, right now, looks a bit more bearish because they expect to see interest rates rising sooner now as well as are pretty locked into taper. Yet, the Fed Beige Book will give us some more speculation as well as five speeches this week. With the jobs numbers coming in so weak last week, the market might be expecting the Fed to back off on taper pushes moving forward. Speeches this week should have an interesting spin with the jobs number fresh on people's minds. We get two on Tuesday afternoon to start the speech parsing.
Conclusion
Overall, the market really needs to get some help from data this week as well as earnings. The market got a very weak data point in NFP to end the week, and we need to start to see real improvement. With the Fed backing away, the economy has to stand on its own. If it cannot, we could be in for a long year. These numbers this week will be key as well as the start of more important, market moving earnings. Financials will be at the center along with several other blue chip names. Their comments on 2014 as well as earnings and other information will be key to the week.
Disclosure: I have no positions in any stocks mentioned, and no plans to initiate any positions within the next 72 hours.
Business relationship disclosure: I have no business relationship with any company whose stock is mentioned in this article. The Oxen Group is a team of analysts. This article was written by David Ristau, one of our writers. We did not receive compensation for this article (other than from Seeking Alpha), and we have no business relationship with any company whose stock is mentioned in this article.