By Bryan McCormick
US stock index futures are moderately higher this morning after a positive session in Asia and a stronger start in eurozone and UK markets.
Overnight the Bank of Japan eased monetary policy, which helped Asian markets rally. In Europe, banking shares were the strongest group.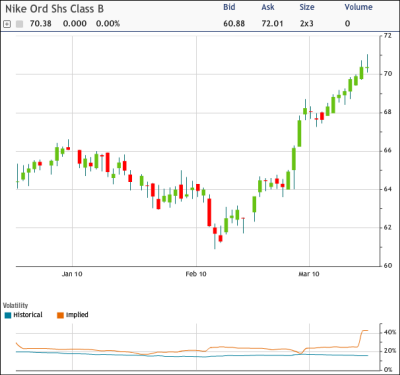 The UK rallied after joblessness fell by the most since 1997. In credit markets, Dubai World (OTC:DPWRF) will make an offer for fully repaying its $26 billion in debt.
All of these factors helped to calm markets globally. The new-found confidence helped to send the dollar lower and commodity prices higher.
Among sell-side research analysts, the following are a few notable calls so far today. Goldman Sachs added Autodesk (NASDAQ:ADSK) to its Conviction Buy List. The firm removed Citrix (NASDAQ:CTXS) from the same list and downgraded the stock to "neutral."
Macquarie raised its price target on General Dynamics (NYSE:GD) to $86. Deutsche Bank upgraded AthenaHealth (NASDAQ:ATHN) to "buy." Credit Suisse upgraded BlackRock (NYSE:BLK) to "outperform." Citigroup downgraded Shire (SHPGY) to "sell." Merriman downgraded Fuqi International (OTCPK:FUQI) to "neutral."
In S&P 500 earnings this week, only a small number of companies are reporting. Today we will hear from Nike (NYSE:NKE). Tomorrow will be the largest reporting day of the week, with Cintas (NASDAQ:CTAS), FedEx (NYSE:FDX), Gamestop (NYSE:GME), and Ross Stores (NASDAQ:ROST) releasing results.
Tomorrow will also be the heaviest day for economic reports, which could make for some interesting cross-currents.
Disclosure: No positions