By David Russell
KongZhong (KONG) is down 37 percent this year, and now traders are looking for a rebound.
optionMONSTER's tracking systems detected noteworthy put selling and call buying in the Chinese tech company, which provides software for mobile phones.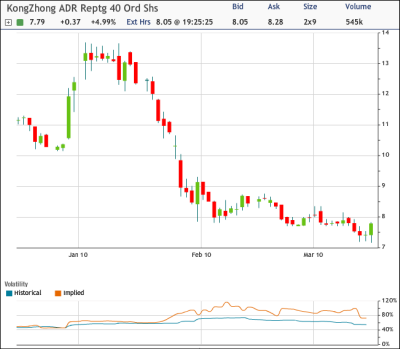 In the largest trade, investors sold about 1,400 June 7.50 puts for $1 to $1.10 against open interest of 407 contracts. Thanks to the premium earned, the investor will make money as long as KONG stays above $6.50 through expiration.
KONG rose 4.99 percent to $7.79 yesterday. The stock's downward momentum has been waning over the last six weeks after a sharp decline in January. It now seems to be finding support above $7, a level to which it rallied amid strong volume on May 4.
Yesterday's gains came after the company reported that fourth-quarter earnings nearly quadrupled on a 28 percent revenue gain. Value investors may also like the stock because cash represents more than half KONG's market capitalization.
The put seller will profit from implied volatility falling further from its 63 percent level. It's already down from 74 percent at the start of February.
Traders also bought the March 7.50 calls to bet that KONG will rally in the next three days. Some 978 contracts changed hands against open interest of 801, and most of the volume priced for $0.20 to $0.30.
Overall options volume in KONG was eight times greater than average yesterday.

Disclosure: No positions