In a previous article, I suggested the SPDR Gold Shares (NYSEARCA:GLD) should benefit from the flow of capital out of stocks in early 2014 and it has. However, I also foresaw a short-lived rally before capital flows would shift back again. This past Friday, though, the GLD grew legs, benefiting from a poor labor market indicator. As a result, gold and the SPDR Gold Shares ETF have room to run higher.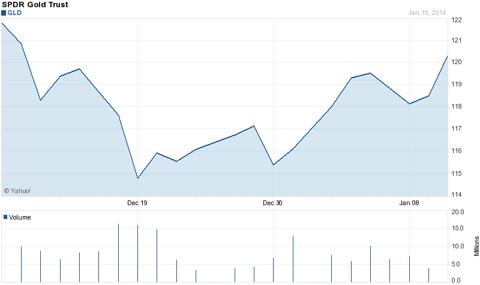 After taking a beating in 2013, gold and the SPDR Gold Shares ETF seem to be benefiting thus far in 2014 from the fact that capital flows have few places to go. A wide swath of stocks appreciated in 2013, with all the major market indexes rising sharply on the year. The great breadth of gains is clearly evidenced by the fact that just 38 of the S&P 500 stocks fell, and also the fact that even the poorest performing stock sector, telecommunications, appreciated.
| | | |
| --- | --- | --- |
| ETF Security | Year-to-Date | Trailing 12 Months |
| SPDR S&P 500 (NYSEARCA:SPY) | -0.3% | +25.2% |
| SPDR Dow Jones (NYSEARCA:DIA) | -0.8% | +21.9% |
| Power Shares QQQ (NASDAQ:QQQ) | -0.8% | +29.8% |
| SPDR Gold Shares | +3.6% | -25.3% |
| Market Vectors Gold Miners (NYSEARCA:GDX) | +4.2% | -51.5% |
| iShares Silver Trust (NYSEARCA:SLV) | +3.6% | -34.3% |
I believe that because of calendar year-end tax consequences and the breadth and depth of gains in 2013, tax loss selling in stocks in early 2014 has been widespread. Add to this picture the fact that gold and silver suffered at least partly due to tax loss selling toward the close of 2013, and you have the set up for sector shift. Certainly, the table above here seems to reflect that reality, with all the precious metal related ETFs rising so far this year while the major market indexes decline.
Such activity would have limited fuel, though, and so should fizzle out after short time. However, on Friday, when the Labor Department published its monthly Employment Situation Report, the GLD and its precious metal ETF peers found a new driver. The jobs data showed just a 74K increase in nonfarm payrolls, versus expectations for an increase of 200K. It was highly disappointing news about the economy, despite the accompanying information showing the unemployment rate improved to 6.7%, from 7.0%. That was because Americans continue to fall out of the labor force count; in December, the labor force decrease was especially egregious at 347K Americans falling off the radar.
Bad economic news means Fed asset purchase tapering might be on hold and the dollar strengthening progress that should accompany that could be delayed. It's all good news for that other currency many call gold; I refer to it as mankind's default currency, our natural historical currency and fallback resource should fiat currency fray. Even if it is not currency, it's a commodity priced in dollars and as the dollar weakens, it gets costlier. This is why the SPDR Gold Shares ETF gained 1.5% on Friday and why the PowerShares DB US Dollar Bullish ETF (NYSEARCA:UUP) fell 0.4%; also note the United States Oil (NYSEARCA:USO) ETF appreciated 0.3%, as oil is also priced in dollars. The SPDR S&P 500 ETF also rose on Friday, gaining 0.3%, because this time the catalyst for gold and the GLD were not capital flows on tax drivers, but capital flows on economic concerns and dollar relative factors.
With another resource fueling it, the GLD ETF therefore has legs to travel further than I initially suggested. The latest employment figures weigh heavily and will likely be followed by cautionary speak from the Federal Reserve. With the market's attention refocused on a once again suspect economy, the GLD and its precious metal ETF peers including the GDX and the SLV look to remain effective long positions.
Disclosure: I have no positions in any stocks mentioned, and no plans to initiate any positions within the next 72 hours. I wrote this article myself, and it expresses my own opinions. I am not receiving compensation for it (other than from Seeking Alpha). I have no business relationship with any company whose stock is mentioned in this article.