By Chris McKhann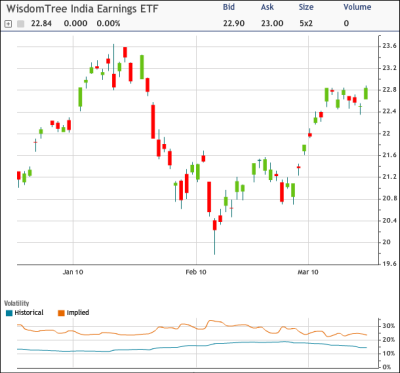 An exchange-traded fund that tracks Indian stocks had 10 times the average options volume yesterday, all in one trade.
The Wisdomtree India Earnings Index Fund (NYSEARCA:EPI) has seen a daily average options volume of just 400 contracts, but yesterday a trader bought 4,000 April 24 calls for $0.25. The open interest at the strike was only 194 contracts, so these calls were clearly bought to open new positions.
EPI finished the day at $22.84, pushing near resistance levels at $23 that have been tested for the last two weeks. Shares have climbed above that level only for a few days in January--when shares hit the high of $23.65--since April 2008.
The call activity appears bullish on its face, but much of the action in these types of ETFs are paired against stock trades and don't provide much of a directional tell.
Disclosure: No positions