Every week Barron's puts out a weekly periodical that is well read within the industry. Companies receiving positive profiles tend to jump in the early part of the next trading week. Bank of America (NYSE:BAC) heads this week's list of stocks that the magazine gives positive profiles to in the current magazine. All could be possible movers on Monday after these positive write ups.
Barron's interviews management of Putnam's Fund for Growth & Income (MUTF:PGRWX), a long term top performer within its mutual fund category. Robert Ewing, the co-fund manager, explains why he sees value in Bank of America in the interview within a market he sees rising at a more subdued rate (high mid-single digits) than in 2013.
Mr. Ewing likes the fact that the bank is further along in resolving its overall litigation woes compared with brethren like JP Morgan (NYSE:JPM). This should allow the bank to grow its loan book faster than their competitors. The fund manager further believes Bank of America can get to a 12% to 13% return on equity. He also thinks the bank can attain a valuation of two times book value over the next couple of years. The stock currently sells at just 1.2x book value which implies substantial upside.
As I recently postulated I think Bank of America will broach the $20 a share level in 2014. In addition to the reasons Mr. Ewing mentioned, I also believe that the Federal Reserve will allow the bank to substantially raise its dividend substantially by the end of the year. Finally, the bank's earning trajectory is on a substantial up ramp (See Chart).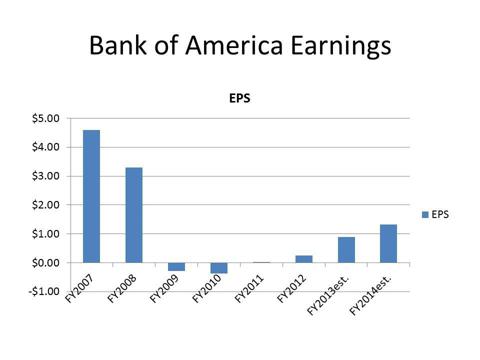 The magazine is also positive on Titan International (NYSE:TWI) whose stock vastly underperformed the overall market in 2013. Barron's believes 2014 will be much brighter for this manufacturer of large tires used by the construction, agricultural and mining industries.
Several possible positives were mentioned in the article around Titan. Rubber prices could stabilize in the New Year. Mining sales could also stabilize in the New Year; falling sales from this sector was a primary driver of the company's earnings disappointments and subsequent fall in its stock price during 2013. Finally, demand in the aftermarket agricultural replacement sector could pick up in 2014. This is important as aftermarket tires' gross margins are 10% higher than original equipment.
The article makes a point that the stock is cheap at 5 times EV/EBITDA. I like the fact the stock is selling much lower than when several insiders picked up over $10mm in new shares in 2012, giving management plenty of incentive to turn the stock's decline around. The shares sell for a five year projected PEG near 1 (1.13) and 9x FY2012's earnings.
The magazine is also high on auto parts manufacturer Magna International (NYSE:MGA) which it believes can rise from its current level of ~$80 a share to $100 by the end of the year. Magna controls over 10% of the U.S. vehicle component market. U.S. domestic auto production is projected to rise again in the mid-single digits in 2014. The company could also benefit from a rebound in Europe, where auto registrations have increased for three months in a row.
The article further states Magna's valuation is cheap at 10.6x this year's projected earnings. This compares favorably with 14.9x average consensus 2014's earnings for competitors and 15.7x for the overall market. The Barron's piece also calls out the company's debt free balance sheet, ample cash and robust stock repurchase program. The shares also yield 1.6%.
Disclosure: I am long BAC. I wrote this article myself, and it expresses my own opinions. I am not receiving compensation for it (other than from Seeking Alpha). I have no business relationship with any company whose stock is mentioned in this article.