Editor's Note: Originally published January 8, 2014
By Carla Fried
Jeffrey Rosenberg, BlackRock's (NYSE:BLK) chief bond strategist says a straightforward approach to managing bond duration is not gonna cut it for 2014. While he's on board that the specter of rising interest rates in 201 suggests one keep effective overall duration in the short end of the pool, Rosenberg points out that the 2-5 year end of the yield curve is not where you want to directly aim your portfolio. His advice: "Shorten Your Duration … but Don't Own Short Duration."
Rosenberg surmises that the 2-5 year pocket of the market could be rattled the most if, as expected rates rise in 2014. Basically it boils down to the fact that 2013's rate rise created a steepening in the yield curve, as shown in this chart of the widening spread between 2 and 10 year Treasuries: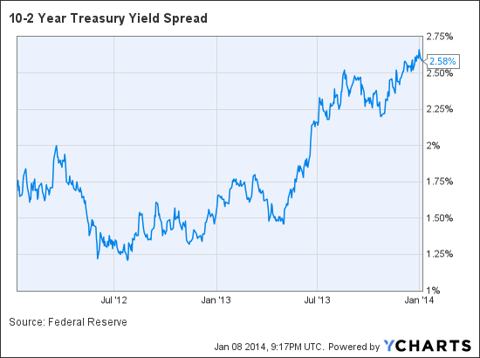 10-2 Year Treasury Yield Spread data by YCharts
While the longer end of the curve from 10-30 years ratcheted up last year in response to the Federal Reserve's initial musing about easing up on its bond buying, the short end basically didn't budge much. That leads Rosenberg to think that if the economy continues to gather steam and we see more upward rate pressure this year it could likely lead to a flattening of the yield curve: the long end won't move as much given it already had a big reset last year, but the 2-5 year range could be where rates rise the most.
That's spurred a change in Rosenberg's 2014 advice for Treasury and Agency investing: "We overweight longer-dated rates and underweight shorter-maturity rates (leaving the sector at neutral). That reflects the large degree of Fed policy "normalization" already in 30-year Treasuries, but little priced in to 2-5 year maturities. The implication is to shed short-duration strategies." In other words, while 2-5 is a reasonable target duration Rosenberg is suggesting getting there with a barbell of short and long.
For ETF investors, the iShares Barclays Short-Term Treasury ETF (NYSEARCA:SHV), the Schwab Short-Term U.S. Treasury ETF (NYSEARCA:SCHO), and the Vanguard Government Short-Term ETF (NASDAQ:VGSH) all have average durations of less than two years. On the long end, the iShares Barclays Long-Term Treasury ETF (NYSEARCA:TLO) has an average duration of 16 years and the Vanguard Extended Duration Treasury ETF (NYSEARCA:EDV) has a duration of 25 years.
Outside of government bonds, Rosenberg makes an interesting case that bank loan bonds could be especially vulnerable in 2014 given the issues typically have maturities in the 2-5 year zone.
What about the whole "rising rate" free lunch of bank loans? Not in 2014. The interest rate on bank loans does indeed float based on rate changes, but the float is tied to very short-term indexes, such as the LIBOR. And LIBOR and all short-term indexes take their lead from the Federal Funds rate which is under the complete control of the Federal Reserve. The Fed has been quite clear-never a given for the Fed-that it has no intention of raising the Fed Funds rate this year (or next). Ergo, the odds are that bank loan funds will not see any rising rates in 2014. In that scenario you could see the payout on bank loans tread water while other bond rates rise. That would certainly put downward pressure on bank loan prices as the yield becomes less competitive. And at 3.5% to 4.5% it's not as if you're getting paid all that much right now to own what are at their core, junk bonds.
Investors who've piled into the PowerShares Senior Loan ETF (NYSEARCA:BKLN) over the past year or so sending assets up to more than $6.5 billion, you've been warned.
Disclosure: None