It is safe to say that Cisco Systems (CSCO) disappointed investors in 2013, with a share price appreciation of about 12%. Even if dividends are included the total returns still lagged the market by quite a bit. But how does 2014 look for the stock? Are there any positives at all? This article presents a few reasons why Cisco Systems might warrant investors' attention. Let us get into the details.
Barron's upgrade: This announcement is the one that got this whole article going. Barron's 2013 picks outperformed an already strong market and its 2014 picks seem solid as well. While one swallow does not make a summer, there is no doubt that a positive coverage by Barron's will have a positive impact on the stock especially when it says the stock has an upside of 20%. Barron's recent theme of picking undervalued dividend paying stocks seems to hold true for Cisco as well.
Potential Dividend Increase: Cisco has paid the same dividend of 17 cents per share for the past four quarters. That means there is a potential dividend increase announcement on its way before April 2014. Cisco began paying dividends in 2011 and the dividend per share has gone up from 6 cents/quarter to 17 cents/quarter. With a trailing payout ratio of 36%, there is plenty of dividend growth left here. The table below shows how this compares with two of Cisco System's old peers Intel Corporation (NASDAQ:INTC) and Microsoft Corporation (NASDAQ:MSFT).
Even if the company increases the annual dividend from 68 cents per share to $1.00 per share (unlikely), the payout will still be a comfortable 54%.
(Note that Cisco Systems started 2012 with a dividend of 6 cents per share and ended the year with 14 cents per share. Click to enlarge)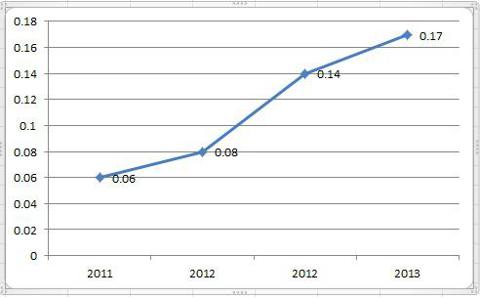 (Source: Chart compiled with data from Finance.Yahoo.Com)
Valuation: Undervalued and Cisco are not two words that have gone together for long, especially if one remembers the dot com bust. But that is the scenario today, as Cisco seems to be undervalued when compared with old mates Intel and Microsoft. There are some who argue that Intel and Microsoft are undervalued, which makes the case even stronger for Cisco.

(Source: Finance.Yahoo.Com)
Cash: Cash and short term equivalents represent 40% of the company's market cap, at $48 billion. This is significant for two reasons:
With an outstanding shares count of 5.34 billion and annual dividend per share of 68 cents per share, Cisco's current annual dividend commitment of $3.63 billion looks paltry.
Investors are essentially paying a much lower price for the company's forward business potential as cash on hand per share comes to around $9.
(Cisco's enormous cash on hand: click to enlarge)

(Source: YCharts.Com)
Earnings: As significant as the cash strength, low payout ratio, low valuation are, without forward earnings it is very hard to get by. Cisco is no longer the bellwether it once was but is still expected to grow earnings at 8% per year for the next 5 years. Analyst estimates aren't bullet-proof but the fact that Cisco has beaten the estimates every single time over the past 4 quarters is encouraging. And beating estimates is nothing new for Cisco as covered here as well.
If the estimates hold true, the earnings per share will be around $2.70 in the next 5 years, not accounting for buybacks. While this might not look too appealing for investors pursuing growth, a (growing) 3% yield per year plus a relatively safe earnings growth of 8% per year, and cash strength make Cisco a good candidate for those seeking safety in technology stocks.

(Source: Finance.Yahoo.Com)
Conclusion: With doubts emerging about Intel's dividend growth potential and Microsoft's musical chairs CEO selection process, the ball is perhaps in Cisco's court to win over investors. A big dividend increase before the next payment will certainly be a good start, especially if the yield inches close to 4% (through sell off and/or dividend increase).
If Cisco increases the quarterly dividend to 20 cents per share, a share price of $20 will give investors the magic 4% yield. And Barron's endorsement doesn't hurt at all. In our opinion, Cisco is still in the running to be considered the second best big tech dividend growth stock behind International Business Machines Corporation (NYSE:IBM).
Disclosure: I have no positions in any stocks mentioned, and no plans to initiate any positions within the next 72 hours. I wrote this article myself, and it expresses my own opinions. I am not receiving compensation for it (other than from Seeking Alpha). I have no business relationship with any company whose stock is mentioned in this article.