As the old adage goes, you pay a dear price for a cheery consensus. Well call me cheap, but that is not the price I care to pay. Of course, that naturally implies that one has to recognize situations before there is enough information available for it to become consensus thought -- easier said than done. But once in a while you discover something that is about to emerge from relative obscurity. And while all of the information is not yet available, you know enough to make a decision.
I am referring to a company called Occam Networks (OCNW). They make what is called a Multi Service Access Platform (MSAP). These are the platforms that provide broadband, VoIP and Video to end subscribers over fibre or copper. MSAPs have been largely embraced by smaller US telcos in more rural areas and Occam has toiled in relative obscurity for the last decade to take a roughly 20-25% share of that market, which is roughly $400-$450 million in size. However, that market is about to get a whole lot bigger, quite possibly multiples of its current size, and it will sustain at a very high level. Occam is the purest play to this Tier-3 broadband market about to experience very high secular growth.
Broadband Stimulus
I will skip the description of what the broadband stimulus is, as it has been discussed widely by now. However, there are a few things that are probably not as well known. The first is that the $7.2bn that the government has allocated for rural broadband stimulus is actually going to be larger than that. How? Leverage. This statement is from November of last year:
"Of the $2.5 billion available to the RUS, loans to applicants would allow some leveraging," said Jonathan Adelstein, RUS administrator. "We can leverage it up to $7 billion or $9 billion; whatever we use for loans we can leverage up to 14 to 1," he said. "We want to use that money to service the more rural and difficult-to-reach areas."
Further, there will be matching funds. So while awards so far have totalled $2,111,909,595 to date, only about 68% of that is actually being spent by the government in the form of grants. Here is the breakdown:
Total Awarded: $2,111,909,595
Matching Funds: $250,105,356
Loans: $427,693,467
Grants: $1,434,110,771
Based upon the early results, if the balance of the awards keeps the same ratio, the total stimulus to rural broadband will actually be about $10.5 billion, well higher than the $7.2bn headline number.
Implications for Occam
But what is the implication of this to the rural access equipment providers and to Occam specifically? Well, a basic top down analysis might look something like this: Access is roughly 15-30% of a network's expenditures. So using the low end, one might estimate 15% x $10.5 billion = $1.58bn going into access gear over the 2-3 year life of the stimulus program. Using the low end of Occam's market share, they should be able to capture 20% of this, or roughly $315 million in incremental revenue related to the stimulus over 2-3 years (beginning at the end of 2010). Is that a big number for Occam? Well yes, when you consider that they have generated only $258 million in revenue for the trailing 3 years. The implication is that once these revenues ramp, they will more than double Occam's business.
That is a bit of a hypothetical argument and not nearly enough information to make a decision, as I implied in my opening statement you say? I would agree. However, here is more information that is not widely known—and it is the empirical kind.
Below is a list of actual Occam customers who have already won awards. This list is compiled from KNOWN Occam customers, so there are quite a few that are unknown. A little googling can confirm this list. And each of these awards is published by the government when they were made.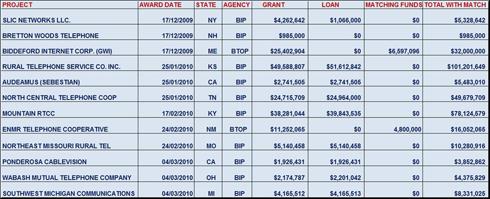 Click to enlarge
So Occam customers will be spending $315 million for rural broadband from the awards made to date. With access equipment at 15-30% of total cost, Occam revenue from the early awards to existing customers is likely to be between $47-$95 million. That is a big number, considering we are only 20% of the way through the dollars to be awarded ($2,111,909,595 awarded to date of a total of $10.5 billion). If known Occam customers continue to win awards at this pace for the balance of the stimulus money, it would imply that somewhere between $235 million and $475 million in revenue will be incremental to Occam. The midpoint, or $355 million in Occam revenue, gets you to just about the same place where the more theoretical, top down, approach did. The only difference is that this is based upon actual Occam customer wins.
When you consider that there could be unannounced Occam customers that win stimulus funds and that there are also a lot of award recipients who will be up for grabs in terms of access equipment vendor, the risk is to the upside for these estimates. And that I think is enough information to make a decision.
National Broadband Plan
One off stimulus money is nice, and it will indeed be massive for Occam's business. However, there is a much bigger, sustained, amount of capital that will also find its way into Occam's market. The FCC will be presenting to congress on March 17th its National Broadband Plan. As there is a lot of information out there about the NBP, I will not go into the background of the plan. An executive summary of what is to be presented, however, has found its way onto the internet here (.pdf).
There are several elements that are highly relevant for Occam. The first is that the FCC indicates to congress that if it wants to accelerate the deployment of rural broadband, it could spend several more billion dollars a year over a 2-3 year time frame. I think given the current environment, this has a very low probability of ever actually taking shape.
Universal Service Fund (USF)—redirected to broadband
However, there are two more aspects that I think will ultimately take shape. They both center on the redirection of the $8bn/yr Universal Service Fund (which subsidizes rural phone service) to rural broadband. I think it is highly likely to be put in place as the FCC does not need congressional approval to enact the following two changes that they are proposing.
· The first is a recommendation to take $15.5 billion over 10 years of the USF to be directed at rural broadband (that is an average of over $1.5 billion/yr).
· The second is the high-cost pool within the fund that is currently $4.6bn annually to be shifted over a 10-year period to the broadband fund.
My takeaway is that rural broadband is about to see a very large amount of capital pointed directly at it. With a graduation of the shift of $4.6 billion, the amount flowing into the industry could start at an additional $2bn a year and grow each year until it reaches $6.1bn/yr in year 10. Of course there are a lot of details that are left unknown at this point. But that there will be a lot of money flowing into Occam's market seems unquestionable. And this means that Occam's business is not only about get a lot bigger, but it's going to stay bigger and even grow from there.
Competitive Position
There is a lot of potential for OCNW, but it requires that the company stays competitive and maintains its position in the market. What gives me confidence that this will happen? Infonetics did a survey at the end of 2009 of 50 carriers to rank the vendors in the MSAP space. Occam was number 1 by a wide margin, ahead of much larger competitors. They were viewed as having both the best technology and the lowest total cost of ownership. They were also the vendor from whom more respondents intended to buy equipment than any other in 2010. A summary of the Infonetics report can be found here.
Occam is in an enviable competitive position with 100% gearing to rural broadband, right before a major secular shift occurs in that market.
Valuation
Valuation is often as much art as it is science. I have my own estimates and ways of valuing those estimates. But at this point, they will surely be wrong as I will modify them as more and more information becomes available. But as I said, I believe there is more than enough information to make a decision here. So perhaps a very broad brush stroke is warranted.
Occam did $83 million in revenue last year (which was depressed by 25-30% of their customer base applying for government money and holding off on capex) and has $45 million in net cash. They are cashflow positive and generating a small amount of cash earnings. So there will be a lot of leverage and EPS growth once the money starts to flow into rural broadband in the back half of 2010, but in earnest in 2011.
So what multiple would you put on trailing revenue (that you believe to be artificially depressed), when your expectation is that revenue will more than double over the next two years and then be sustained and grow over the next decade?
Once revenue starts to ramp at the end of 2010 and everyone begins to see the information that I have outlined above, a cheery consensus is likely to form. And it wouldn't surprise me if the market paid 5x EV/trailing sales on pre-stimulus, depressed revenue. That gets you to a stock price of $21 per share—more than a 3-bagger from here.
Is that unreasonable? I think it may be conservative. If revenue will more than double over the next 18 months or so, as I think we have enough information to assume, that would leave the company trading at about 2x trailing sales. Adtran (NASDAQ:ADTN), a larger telecom equipment company with a much lower growth profile, trades today at 2.9x EV/TTM Sales. Sure, there is more risk in a small capitalization stock like OCNW, but there is also a lot more growth.
Disclosure: Substantial Position in OCNW