Investors in Barracuda (NYSE:CUDA) digested its first quarterly earnings report as a publicly traded company on Thursday after the market close.
Expectations have been high after the stock more than doubled within two months of its public offering. Shares traded with losses of 16% on Friday morning, but recovered to end the day with a loss of 6.5%. Despite this correction, investors are still looking at healthy gains since their public offering.
Despite the solid growth, the stock has more to prove before I will acquire a stake.
High Expectations For Third Quarter Release
While the public offering in November of 2013 has gone well, investors are not happy with the third quarter earnings. Shares trade with losses of 10%, exchanging hands around $35 per share in after-hours trading.
The company reported 15.5% revenue growth on an annual basis for its third quarter with revenues totaling $59.4 million. Note that gross margins remain sky high despite 140 basis point margin pressure. Gross margins still came in at 76.4% of total revenues.
Total operating expenses fell by 330 basis points to 81.5% of total revenues, as selling, general and administrative expenses actually fell in real dollar amounts despite the growth of the business.
As such, GAAP net losses of $2.1 million were a little bit higher than last year on fewer income tax benefits. Reported losses came in at $0.06 per share, while the company squeezed out non-GAAP earnings of just $0.5 million.
While non-GAAP earnings per share of $0.01 beat consensus estimates by two cents, and revenues were higher than consensus estimates at $57.7 million as well, shares did see a sell-off. Very high expectations fueled by the very strong momentum in December are to blame. As such "whisper" estimates which are the unofficial consensus estimates might have been even higher, explaining investors' disappointment with the report.
Price For Growth
Like most initial public offering and recent listings, investors are looking for growth over earnings. Reported growth of 15.5% trailed growth of 18.4% reported in the first three quarters of 2013.
Possibly the IPO has been a distraction for the company, having a detrimental effect on the execution in the quarter. On the bright side, gross billings rose by 19% to $77.5 million, for a book-to-bill ratio of 1.30. As such, new orders are adding nicely to the future backlog. The backlog is just a million shy of $300 million at the moment, making conversion an area of focus going forwards. During the quarter, the company added 6,800 customers.
Growth is driven by continued growth in the subscriber base as can be seen on the left while renewal rates remain very strong, being very close to a 100%.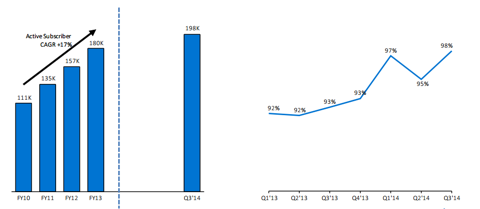 The IPO
Back in November, Barracuda went public, selling shares at a price of $18 per share. At the time this represented the low end of the $18-$21 preliminary offering range.
The company raised some $75.5 million in net proceeds from the offering, boosting total cash and equivalents to $118.5 million. Combined with very modest debt of less than $5 million, this results in a very comfortable net cash position.
Shares traded in a $20-$25 range in the weeks following but rose sharply towards highs of $40 late in December. With shares trading around $36, Barracuda is still valued around $1.8 billion.
At this pace, annual revenues are seen around $230-$240 million while the company will most likely post a modest full year loss. Despite the growth and the recent pullback, this still represents a hefty valuation. Subtracting the net cash position values Barracuda at some $1.7 billion, or about 7.2 times annual revenues for its fiscal 2014.
The Business Model
Just like many other emerging business software players, Barracuda focuses on hot areas. The three main areas of focus of the company are the security, storage and application delivery business. In each of these businesses, the company is hoping to benefit from accelerating growth in coming years.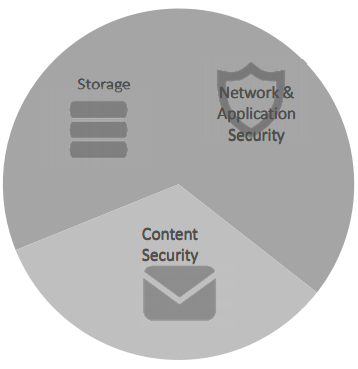 What's very interesting about Barracuda's business model is not just very high gross margins, it is the very impressive renewal rates of 97.5%.
With nearly 200,000 subscribers, it can forfeit a lot of selling and marketing costs to retain customers, as long as customers continue to renew their licenses at current rates.
Therefore the company is already approaching profitability on a GAAP basis despite the early stage in the growth process. The recurring nature of these revenues creates a lot of certainty regarding anticipated cash flows for the company, something which investors like.
TakeAway For Investors
This violent sell-off in the shares is not unusual for IPOs with heightened expectations as investors should expect more volatility. Despite the sell-off, shares trade at similar levels of just two weeks ago, highlighting the intensive momentum.
This momentum has been driven by the fact that Barracuda's Firewalls are now available on the Amazon (AMZN) Web Services Marketplace. Upbeat analyst research reports and product excellence recognition by technological magazines did the rest.
At these levels, shares actually still trade at double the public offering levels, on the back of the successful IPO and December's momentum. Growth is not spectacular, in relation to other recent technology IPOs, making the revenue multiple a bit more attractive. Especially high gross margins and high renewal rates allow for further leverage to the bottom line.
Yet there is still a lot to prove. I'll keep the stock on my radar, but have no convincing reasons to pick it up after the correction on Friday.
Disclosure: I have no positions in any stocks mentioned, and no plans to initiate any positions within the next 72 hours. I wrote this article myself, and it expresses my own opinions. I am not receiving compensation for it (other than from Seeking Alpha). I have no business relationship with any company whose stock is mentioned in this article.