Editor's Note: Originally published on January 8, 2014
By Carla Fried
There's never a bad time to tilt your portfolio toward undervalued stocks as reams of research has documented the outperformance of value stocks v.v. growth stocks over the long-term. But right now seems a particularly smart juncture to focus on value. No stock will remain unscathed in a market correction -- and we sure are overdue for a correction -- but less pricey fare typically emerges a tad less bruised.
The challenge is what metrics to focus your financial research on when looking for the most compelling value stocks. Price-to-Earnings Ratio and Price-to-Book Value Ratio are popular value metrics, and there's nothing wrong with 'em, though they both have their limits. For example, PE ratio doesn't tell you much about the liability side of the balance sheet. For a different spin on value, the successful Research Affiliates approach mashes up current price-to-book value and the five year averages for cash flow, sales and dividend payouts.
In a fresh article for IndexUniverse, Larry Swedroe, the sharp director of research at Buckingham Asset Management does all value seekers a solid by circling back through a 2012 academic research paper that looked at the predictive utility of some alternative valuation metrics. Using 40 years worth of data the academics landed on EBITDA/Total Enterprise Value as a metric that stands out in terms of delivering alpha. This metric is also known as the enterprise valuation multiple.
Here's Swedroe synopsizing a key finding of the research: "When they [the academics] analyzed the spread in returns between the cheapest and most expensive stocks, EBITDA/TEV is the most effective measure. The lowest-quintile returns based on EBITDA/TEV return 8.0 percent a year versus the 17.7 percent for the cheapest stocks."
YCharts Pro subscribers can do their own financial research using the metric EV to EBITDA ((NYSE:TTM)) which is found under the Price and Valuation section.
(One important housekeeping note: while the academics used EBITDA/EV, YCharts indeed flips it the other way around, so to be absolutely clear, at YCharts, the lower the EV/EBITDA, the better.)
The advantage of this metric is that enterprise value is a deeper take on a company's value than say market capitalization. Enterprise value adds in debt owed (as well as preferred shares and minority interests) and backs out cash on the books for a more complete picture of net value. EBITDA gives you a good handle on operating earnings. (Though some investors prefer to use EBIT rather than EBITDA; for example, Steve Romick, lead manager of FPA Crescent focused on EV to EBIT in explaining the fund's investment in some out of favor tech stocks.
The EV/EBITDA metric can be especially useful for comparisons within sectors. Google (NASDAQ:GOOG) crushed struggling tech behemoths Cisco Systems (NASDAQ:CSCO), Microsoft (NASDAQ:MSFT), Intel (NASDAQ:INTC) and Oracle (NASDAQ:ORCL) last year in terms of price performance, as seen in a stock chart.
But it's also more than twice as "expensive" when measured by EV/EBITDA.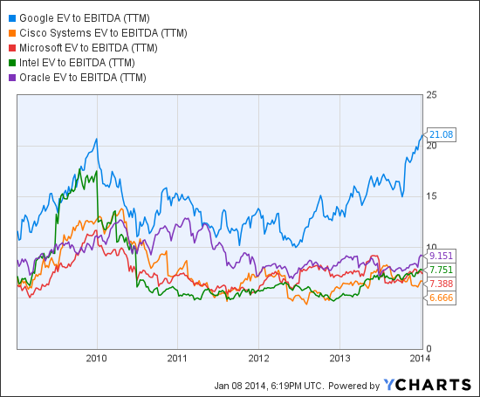 GOOG EV to EBITDA (TTM) data by YCharts
That said, Google is a huge bargain next to say Facebook (NASDAQ:FB) with an EV/EBITDA ratio near 50.
The big integrated oil and gas companies are all trading at below average market PEs as befits the fact that commodity prices have been slumping and we've spent the past few years at the low end of the demand cycle. With global economic output expected to accelerate this year, so too could this cyclical group. While Warren Buffett recently made a large investment in Exxon Mobil (NYSE:XOM), its low EV/EBITDA valuation isn't as low as Chevron's (NYSE:CVX).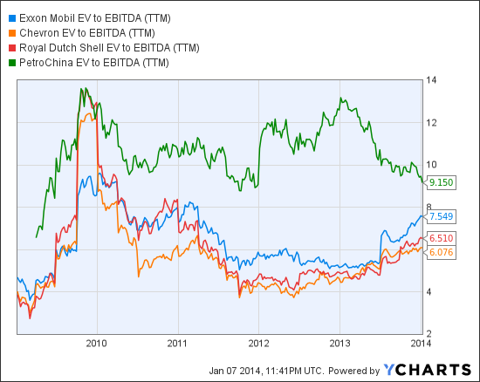 XOM EV to EBITDA (TTM) data by YCharts
For the record, beleaguered BP (NYSE:BP) is the deepest value play of the group, with an EV/EBITDA ratio below 6.
Among big pharma Johnson & Johnson's (NYSE:JNJ) trailing PE of 20 is pretty much in line with the PE for Novartis (NYSE:NVS) , and both look a lot cheaper than Sanofi (NYSE:SNY) and Merck (NYSE:MRK), which both have trailing PE's above 30. Focusing on EV/EBITDA shuffles the deck; Johnson & Johnson trades at a big discount to Novartis, but both are more expensive than Sanofi and Merck based on this metric: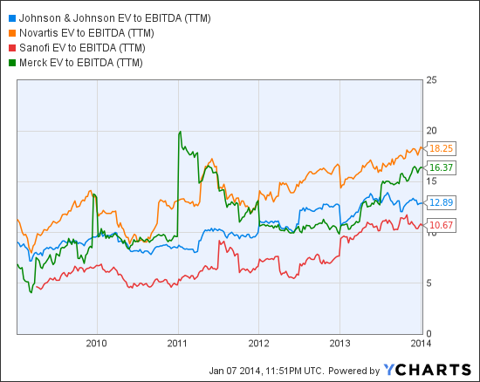 JNJ EV to EBITDA (TTM) data by YCharts
The deepest value play among pharma is Pfizer (NYSE:PFE), with both a trailing PE and EV/EBITDA below 9; it's also the only pharma manufacturer to currently earn an Attractive rating from YCharts' proprietary valuation algo.
And over in soda and snack land, EV/EBITDA has an interesting take on the perennial Coca-Cola (NYSE:KO) or Pepsi (NYSE:PEP) question. While Coke's near 21 PE is higher than PepsiCo's, on EV/EBITDA Coca-Cola looks about 10% cheaper.
Disclosure: None