A lot of ink has been spent recently on the Apple (NASDAQ:AAPL) A7 processor and the "breakthrough" putting 64-bit computing on a mobile device. Most commentators haven't a clue what it means but that doesn't stop them from thinking it is ground breaking. SA author Ashraf Eassa commented on Intel's forthcoming Moorefield System on a Chip (SoC) for mobile by saying:
"But what Intel (NASDAQ:INTC) does have is the "64-bit" marketing point that Qualcomm (NASDAQ:QCOM) is unlikely to have for its high-end system-on-chip products."
Ashraf correctly pointed out the real benefit is marketing.
The obvious advantages of 64-bit computing are threefold
Extended address space
Added capacity
More general purpose registers
To take advantage of the 64-bit processor, applications need to be to a 64-bit version of the compiler. Real performance gains arise in large data processing applications.
I think the foregoing is trite. If any of the technologists among the readership disagree, I would appreciate their comments.
A 32-bit processor can address about 4GB of memory. Having the ability to address more than 4GB can be an advantage if you have more than 4GB of memory to access. If you have 1GB, it is not a big deal. The iPhone 5S comes with 1GB of DRAM.
There are 1 million applications in the Apple app store. None of them were written for 64-bit before the iPhone 5S was announced. Maybe some are being re-written for 64-bit today, but I would guess not many since they work just fine as 32-bit applications and run just fine on either a 32-bit or 64-bit processor.
But Apple is looking ahead, you will say, and this "innovation" paves the way for great things to come. Is it really innovation?
The following timeline (somewhat abridged) in respect of 64-bit computing was published by Wikipedia.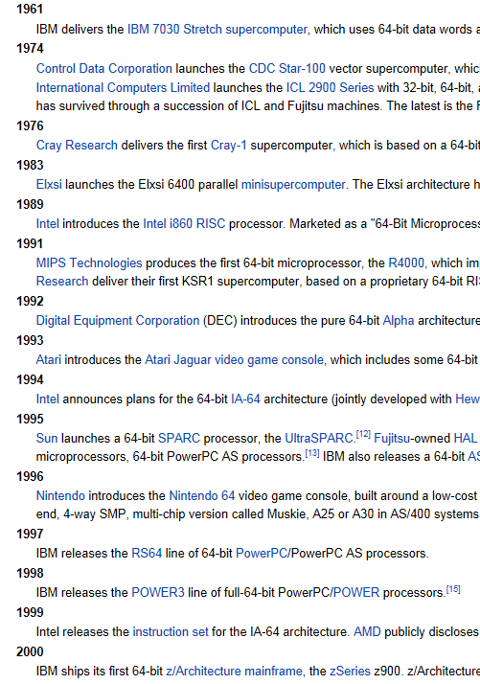 I stopped at the turn of the century because I thought 39 years of history might be enough to persuade readers that 64-bit computing falls short of a "breakthrough" and while it may be innovation, it is about as innovative as putting an outboard motor on a canoe.
I might note that in 1993 when Atari launched a 64-bit game console it was not headline news. As much as the Apple A7 can be correctly described as an advance, it was in my view an inevitable continuation of the trend in more powerful hand held devices.
I was complaining about getting old to my daughter the other day and she quipped: "It is not like you didn't see it coming!" I have the same reaction to Apple's A7. Did anyone think smartphones would never move up from 32-bit computing? It seems to me that 4GB of DRAM has become a minimum for any serious laptop and was already in higher end tablets like the Surface Pro. There were no headlines announcing 64-bit computing on the Surface Pro. It was only a matter of time until it had to come to smartphones.
What was innovative about the 64-bit iPhone 5S was the marketing innovation of making a 50-year old technology seem like it was invented only in September 2013 and was about to revolutionize the way we used our cell phones. I don't know about you, but when laptops passed 100 MIPS of processing power I stopped counting. I don't need to put anyone on the moon but my laptop has more power than the computer that did put a man on the moon, and laptops have had that much power for at least a decade.
I have to admit the A7 is faster than its predecessor and compares reasonably well against Intel's "low end" Bay Trail on the Google(NASDAQ:GOOG) Octane Benchmark v1.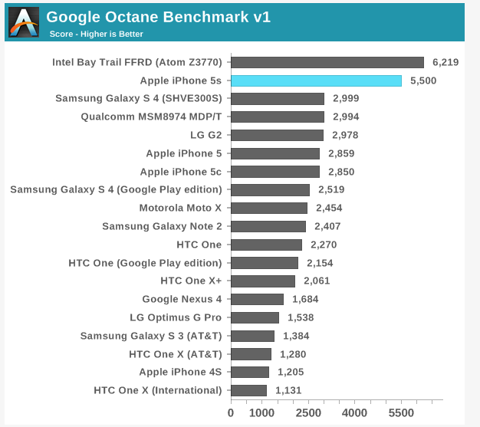 Apple put the A7 into its iPad Air making it almost as powerful as the $399 Baytrail based ASUS (OTC:AKCPF) T100. If the iPad Air could run Microsoft (NASDAQ:MSFT) Office and cost $349 with keyboard included I might accept the performance hit and buy one. But it won't and it does not.
The iPhone 5S is a lot more phone than the iPhone 4S for certain. It needed to be since the iPhone 4S was less than half as fast as Samsung's Galaxy S4 and if Apple had not moved to keep up no one would buy one. No one, that is, accept those trading up from an iPhone 4S who believe the Apple marketing spiel.
The A7 had been on the market for nanoseconds when Qualcomm announced the Snapdragon 800 now present in newer Android models. How does the A7 compare to the new 32-bit Snapdragon. Not that well, really, based on GeekBench. The A7 is about half as fast. Qualcomm is expected to ship a 64-bit Snapdragon this year. The processing power wars are on, and the A8 will be the next salvo. I can't wait for the fall announcement.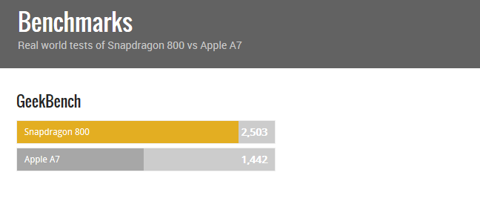 As a point of reference, the Intel Core i7 performance is about one order of magnitude better than the Apple A7.

An Intel Core i5 is about 5 times as fast as the 32-Bit Snapdragon making it ten times faster than the A7. And yes, the Core i5 is 64-Bit.

There are plenty of tablets running Windows and Android OS with Intel processors. If you are impressed with processing power, you may want to rethink the Apple A7 in the iPad Air versus an Intel powered device. The suggestion that putting the A7 into Mac computers would be a threat to Intel may hold water, but not based on processing power.
Apple is a magnificent company with a wonderful marketing department. So was Barnum & Bailey. You can love their devices and you can love their stock, but temper your enthusiasm with a dose of reality.
Apple will put up a pretty impressive Q1 in a couple of weeks. Some think it will propel the stock much higher making David Einhorn, Carl Icahn and the rank and file Apple investor richer. I don't doubt that it might.
As far as Christmas quarter sales of iPhones goes, I thought I would do the arithmetic for you since I see some commentators suggesting sales of 65 or 70 million iPhones. The facts are that sales of the new phones will almost certainly be less than 50 million and total iPhone sales in the low 50 million range when sales of iPhone 4S are included. Here's why.
Apple produced a ton of iPhone 5C devices before it noticed no one was buying them. On or about October 11, 2013 Apple reduced the iPhone 5C production. Anecdotal evidence is that the initial production of each was 300,000 units per day and the cut for the 5C was to 150,000 a day.
The more popular iPhone 5S had some initial production difficulties and production reportedly was limited to 3 to 4 million units in the September 30, 2013 quarter.
On October 19, 2013, there were reports that production of the iPhone 5S was being increased by as much as 75% while the 5C model production was being cut.
Then on November 27, 2013 we saw a report that production of the iPhone 5C was being discontinued and the Foxconn (OTC:FXCOF) factor was going to be dedicated to the iPhone 5S. Another report the same day indicated the iPhone 5S production rate had been increased to 500,000 a day.
I am pretty confident if you can't make them you can't ship them, and equally confident that if you don't ship them, you can't book them to sales. If Apple sold every unit it made, Q1 sales of the new phones would be just over 50 million. Looking around Apple stores at year, there seemed to be some inventory on hand and I am sure a few million phones were shipped to China Mobile (NYSE:CHL) in anticipation of a December deal that did not happen until January. Those phones must also be in inventory unless Apple is pulling a BlackBerry (NASDAQ:BBRY) and booking units not sold to end users. I think Apple corporate governance is strong and doubt Apple would book units they had yet to sell.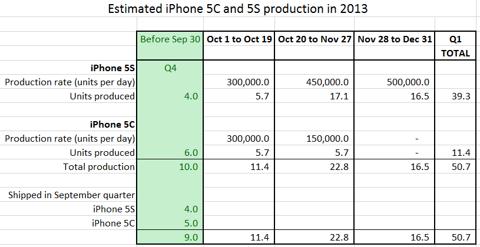 Apple stopped making the iPhone 5 when it launched the newer models, but reportedly had Pegatron continue to make the iPhone 4S as a lower priced model for free-on-contract sales by carriers.
The iPhone 4S remained very popular in the September quarter selling an estimated 16.4 million units.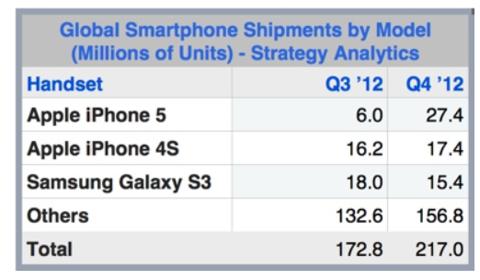 Given the appeal of a lower priced iPhone I would expect sales of the iPhone 4S in the December quarter would continue, but at a much reduced rate with competition from the iPhone 5C which also became heavily promoted in the Christmas period. It would not be outrageous to estimate that Apple sold somewhere around 6 million of the 4S in its Q1.
Putting it all together, and subtracting Apple may have shipped about 53 to 55 million iPhones in Q1, up from 48 million last year. Average selling prices were likely higher as well, conceivably $600 or so. Revenues of $32 billion to $33 billion seem likely.
iPads are harder to call. Until the fall launch of the iPad mini retina version and the iPad Air Apple was seeing declining iPad market share and iPad sales.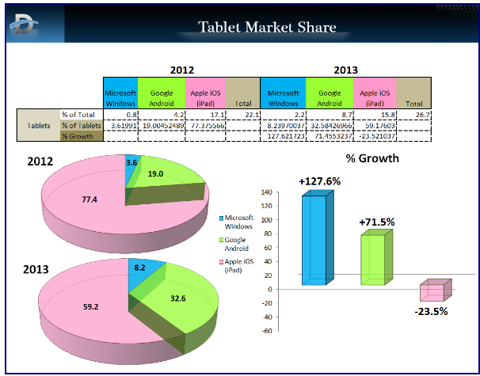 The new models have been well reviewed and had a strong reception in the key U.S. market by all accounts. At the same time they faced some real competition from Samsung who sold 40 million tablets in 2013, with 12 million of those in the December quarter. Sales of Microsoft Surface tablets were also reported as strong.
iPad sales are skewed to the Christmas quarter with a jump of 40% to 70% from the September quarter the norm.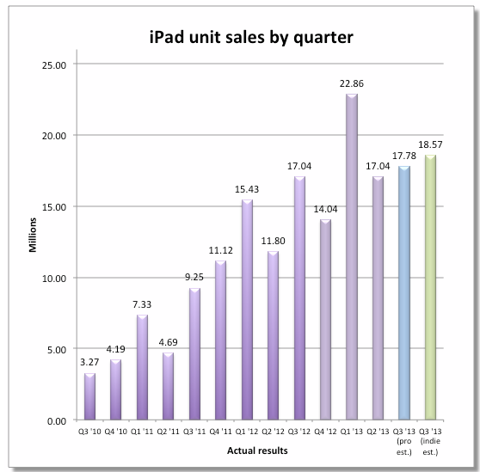 I think this pattern will repeat itself and see iPad sales in Q1 north of 20 million and potentially as high as 25 million with a mix that I think has very likely shifted to the iPad mini. As a result ASP's are probably $400 or lower, and iPad revenues $10 to $12.5 billion.
Apple's Mac line of PC's has been subject of a dispute between IDC and Gartner in their respective forecasts for U.S. shipments, with IDC forecasting 1.6 million units and Gartner seeing 2.2 million. There seems little doubt that unit sales of Macs will be in the 4 to 5 million range despite the disagreement, and at an average selling price of $1,350 Macs should contribute $5.4 billion to $7.0 billion of revenue to Q1.
Apple's other lines contributed $8 billion to Q1 last year and likely grew to $9 or $10 billion this year with high App Store revenues offset a bit by declining iPods and Apple's decision to give away some software it used to sell to customers.
Add it all up and Apple revenues should fall in the range of $58 billion to $63 billion. Apple guided to revenues of $55 to $58 billion and margins of 36.5% to 37.5%. Based on the high end of my estimates, Apple has a good shot at beating is guidance by as much as $5 billion in sales which, at 37% margin and 26% income tax rate would add about $1.4 billion to net income, or a beat of $1.50 per share.
My personal view is that Apple's results will be closer to the low end of these estimates. That would produce a pretty solid Q1 still within Apple's guidance with revenues of $56 billion and net income of $14.00 a share.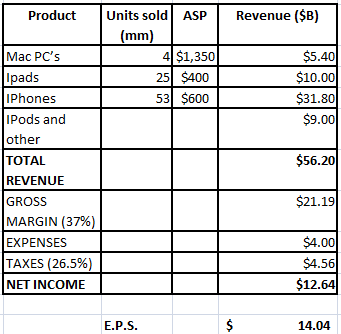 My estimates line up pretty closely to the average analyst's view as reported by Yahoo.com Finance.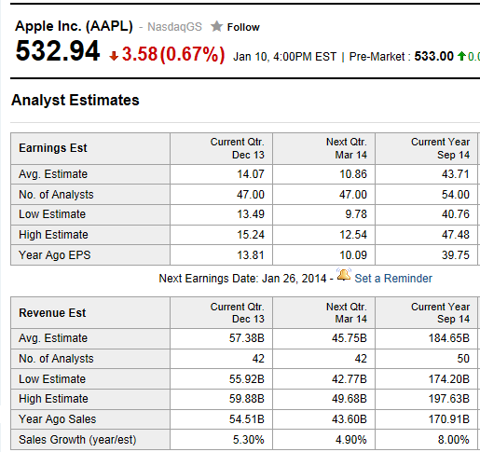 I have no current position in Apple having sold my Apple puts for a tidy gain. I will decide whether to take a long or short position over the next few days, and more likely than not it will be a short.
Disclosure: I have no positions in any stocks mentioned, but may initiate a short position in AAPL over the next 72 hours. I wrote this article myself, and it expresses my own opinions. I am not receiving compensation for it (other than from Seeking Alpha). I have no business relationship with any company whose stock is mentioned in this article. I hold some BlackBerry calls which, surprisingly, seem to be going up in value despite the fact that they are a residue from an earlier misguided bullish view on that company.