Today, we are going back into the retail sector again to look to make some money. Yesterday, retail was good to us with a pick up of Rue21 Inc. (NASDAQ:RUE). Our Buy Pick of the Day was good for 3%. Today, the company reported a 68% increase in profit and beat EPS estimates by 20%.
Overnight Trade of the Day: New York & Co. Inc. (NYSE:NWY)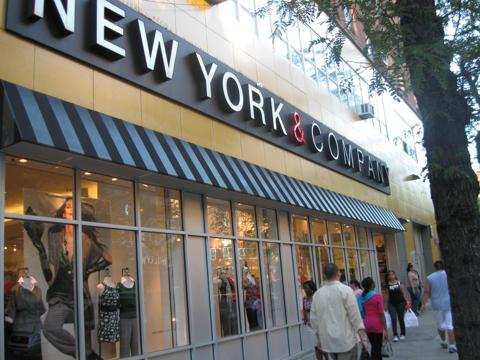 Analysis: Retail has been very solid with earnings this quarter. The reflections of holiday shopping's quarter have been much better than analysts were expecting across the board. This has attracted me to playing a number of retail companies over the past month. For today's Overnight Trade, we are looking to New York & Co. Inc. (NWY), which is a specialty retailer that features strictly women's clothing, in the vein of casual to work-oriented fashions. It is in the non-upscale but not-cheap area - in line with Ann Taylor (NYSE:ANN) and Gap (NYSE:GPS).
I think this stock is a great play because of what I am seeing in other retailers. In the past month, 17 out of 19 apparel stores have reported positive earnings beats. Of the top competitors Ann Taylor reported 600% and Gap was only a 2%, but it is still a beat. NWY is very similar to these companies, and the similarities between these make me very excited. The retail companies have all done exceptionally well after earnings, with gains up to 15% on the next day. The company has EPS expectations at 0.06, which would be a stellar 130% profit, year-over-year.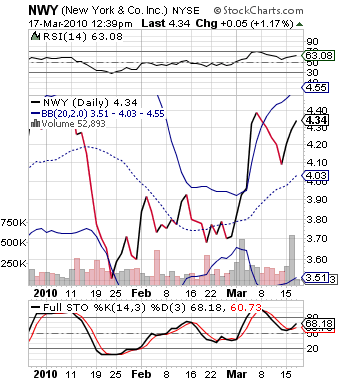 Another reason that I like NWY is that it is projected to report in the green for the first time in two years. The stock is not pricing in that type of report as of yet, which means this is a perfect value play. The company, additionally, has not had the breakout that all these other reported companies have had. We can expect a lot of growth coming from NWY.
The company has great beta at 2.5, so a beat will mean that we are going to see a lot of volatility. Further, the stock does not have a lot of shares outstanding, so a beat will make this one bounce even further. Technically, NWY is nuetral on stochastics and means that the company will have a lot of buying tomorrow on a beat and the earnings buzz. Further, NWY has a lot of upside on bollinger bands as well. This stat is exceptional because all the other retailers are extremely overvalued in the short term. That gap has to close.
Entry: We are looking to get involved with NWY by 2:00 PM today. The ideal entry range is 4.30 - 4.35.
Exit: We will be selling NWY at the open tomorrow, within first two minutes of open. You can set a market sell overnight to sell right at the open or be ready to sell within minutes of market open. This is subject to change, though, and I will give an update if I want to change our exit.