(Editors' Note: This article covers a stock trading at less than $1 per share and/or with less than a $100 million market cap. Please be aware of the risks associated with these stocks.)
Just in case anyone out there missed it, here is a chart of the last 10 days of trading activity in Intercept Pharmaceuticals (NASDAQ:ICPT) - a company originally worth $1.4 B that saw a jump to $8.6 B in two days.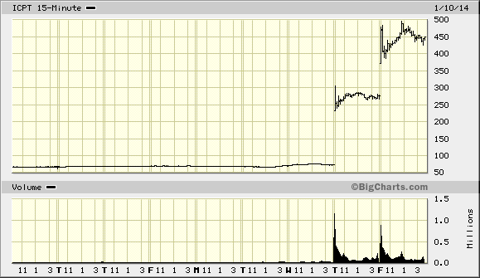 Only in the world of biotech can you get a 2-day, 516% rally in a stock based on one event. Although events like this are rare, it goes to show that biotech companies can still generate huge amounts of wealth in a matter of days.
Although it already had a $1.4 B valuation before the news hit, Intercept was not a well-known company. As noted in the WSJ, the company has only 45 employees. Its largest shareholder is an obscure and foreign healthcare investment management company.
While I think the 516% rally was a bit exaggerated, the top-line data from their Phase II FLINT trial demonstrated some much-needed efficacy data for NASH - an incurable and very common liver condition being targeted by other parties as well. [These others will be mentioned later in the article.]
The FLINT Trial
Obeticholic Acid (OCA) is a first-in-class FXR agonist ("trigger") that is being developed for a liver condition known as NASH. FXR (aka Farnesoid X receptor) is a receptor that travels to the nucleus after it is activated by bile acids. It regulates bile acid synthesis, transport, and detox. Since cholesterols are synthesized into bile acids by the liver, it makes a lot of sense to attack the stagnant cholesterol that is causing NASH via the FXR pathway.
On January 9th, Intercept announced that the 283-patient, multi-center, double-blind, placebo-controlled Phase II FLINT trial was stopped early due to the results of an interim analysis on efficacy. The biopsy results to date were apparently so good that the primary endpoint was met before completion of patient enrollment.
Yep- only about half of the total, expected number of 283 patients were actually enrolled before the Data and Safety Monitoring Board (DSMB) came in to declare victory.
The primary endpoint of a Phase II trial is usually created to formally demonstrate the efficacy of a therapy in the target patient population at the optimal dose. In this case, the primary endpoint was based on decreases in an activity score (the NAS) to show changes in patient disease state.
The NAS, or the nonalcoholic fatty liver disease activity score, had statistically significant (p=.0024) declines within the obeticholic acid (OCA) arm versus the placebo arm. That is a great p-value, and it is below the original efficacy cutoff that the company established for the FLINT trial (p < .0031).
This is great news, but there is limited information on the other endpoints and parameters. Also, it should be alarming that the NIH mentioned something about increased LDL (bad) cholesterol and decreased HDL (NASDAQ:GOOD) cholesterol in the OCA arm. It remains to be seen whether this will hit ICPT shares this coming week, but the company's commentary isn't saying too much. (At the time of publication, shares were trading around $373.)
NASH - Nonalcoholic Steatohepatitis
NASH is an idiopathic condition caused by a buildup of fat in the liver. Most people with the disease have no symptoms, but fat buildup can be found with blood testing and imaging procedures. To confirm, a doctor might want a liver biopsy.
According to 2006 statistics provided by NIDDK (the National Institute of Diabetes and Digestive and Kidney Diseases), there about roughly 6-16 M patients in the US with NASH.
NASH is associated with obesity. Most patients who are considered obese (BMI>30) have NASH or some other fatty liver disease. It also has strong correlation with hyperlipidemia.
NASH is also associated with cirrhosis - a condition where functional liver tissue is replaced with fibrosis (connective scar tissue). An estimated 5-10% of patients with NASH will develop cirrhosis of the liver. The increasing prevalence of NASH and the link to cirrhosis will soon make NASH the leading root cause for liver transplants.
There are no FDA-approved therapies for NASH, although patients can usually improve the condition of their disease by losing weight and improving their diet. There is significant unmet need for a drug that will do for NASH what statins did for hyperlipidemia.
As one might expect, telling patients to lose weight and improve their diet has virtually no effect on outcomes.
Spawning a $12 B drug market
NASH belongs to a family of fatty liver diseases. It varies in its severity, and we estimate that about 10 M adults in the United States would be prime candidates for a new NASH drug. At the conservative estimated cost of $2,000 per patient per year, we imply that a $20 B opportunity exists in this new indication in United States alone.
Since OCA already has the spotlight, I figured that I would make an effort to mention some other companies that are developing treatments for NASH.
Raptor Pharma (NASDAQ:RPTP) - RP103
Raptor is developing RP103 (DR Cysteamine) for non-alcoholic fatty liver disease (NAFLD), which is a broader indication that includes NASH. However, Raptor is targeting NAFLD in children. The bulk of NASH patients are adults, which makes RP103 less of an immediate threat to other prospective NASH drugs.
The delayed release formulation of cysteamine is targeting NAFLD/NASH in a number of ways. Raptor believes that the drug can reduce free-radical damage from excessive accumulation of fat in the liver through promotion of glutathione. Liver fibrosis may also be controlled through inhibition of transglutaminase.
Galectin Therapeutics (NASDAQ:GALT) - GR-MD-02
GR-MD-02 is a galectin-3 and galectin-1 inhibitor that is currently being studied for safety/dosing in a Phase I trial for NASH with advanced fibrosis. Galectin Therapeutics is also developing this drug as a cancer immunotherapy agent for metastatic melanoma.
Based on the literature, we think galectin-3 is a very compelling drug target. Increased production of this galectin is heavily associated with cancer, and reduced organ function. Galectin-3 also has a specific relationship with liver fibrosis, which is why galectin-3 may be the answer to NASH.
Galectin demonstrated hints of efficacy using galectin-3 inhibition in a preclinical model for NASH. Galectin also started a multicenter Phase I dose escalation trial for GR-MD-02 for NASH in March 2013. Data from the first cohort (8 patients) should be available in 2014. Galectin also received fast track designation from the FDA for NASH with fibrosis in 2013.
La Jolla Pharma (NASDAQ:LJPC) - GCS-100
GCS-100 is the flagship drug of La Jolla - an early-stage pharma company. It has the only other galectin-3 inhibitor currently undergoing clinical trial development. As noted, galectin-3 is associated with multiple types of organ failure (including fibrosis) and looks like an attractive therapeutic target.
GCS-100 demonstrated hints of efficacy against NASH in a preclinical trial. Animals receiving GCS-100 showed a statistically significant improvement in their NAFLD activity score.
Also worth noting is that GCS-100 was tested in a total of 9 Phase I/II trials involving over 140 human subjects. It appears to be very safe, so we believe that the drug would have a very good chance at approval given statistically significant efficacy results in humans.
NIDDK -- Pioglitazone & Vitamin E
The National Institute of Diabetes and Digestive and Kidney Diseases isn't a pharma company looking to patent and commercialize drugs, but it did conduct a decently large trial with pioglitazone and vitamin E that is quite relevant to the NASH indication.
Pioglitazone is an FDA-approved treatment for type 2 diabetes. Vitamin E is a great antioxidant. In a 247 patient Phase III trial conducted by NIDDK with NASH patients, Vitamin E showed a significant effect on improvement versus placebo (43% vs 19%, p=.001). Pioglitazone fared a bit worse (34% vs 19%, p=.04), but showed some promise too. Note that this improvement was measured using an specially designed "activity index" (numerically scaled 0-8).
Closing Comments & Risk
Treatment of NASH and related fatty liver diseases is challenging, but there is a tremendous potential in this growing, uncrowded indication. Investors may stand to gain a lot from this space as well, although the developmental/regulatory risks are high. Most novel therapies never hit the market.
It's also worth considering that pharma developers wouldn't necessarily have to compete with one another after FDA approval due to differences in mechanism of action. Treating NASH may require the use of a potent antioxidant, the use of a galectin-3 inhibitor, and OCA to improve the liver's catabolism of cholesterol.
Disclosure: I have no positions in any stocks mentioned, and no plans to initiate any positions within the next 72 hours. I wrote this article myself, and it expresses my own opinions. I am not receiving compensation for it (other than from Seeking Alpha). I have no business relationship with any company whose stock is mentioned in this article.