ChannelAdvisor has again reported "same-store sales" for December 2013. In what concerns Amazon.com (NASDAQ:AMZN) the data was as follows:
Amazon - Amazon's December came in at 27.9% compared to November's 12.3%, a substantial m/m increased caused by the holiday shift.
The distortion due to thanksgiving falling in a different week this year was significant, leading to very low November growth which was at least partially compensated in December. Still, we can draw some insights from how the entire Q4 2013 quarter went. This is how the average growth reported by ChannelAdvisor stood after we plug in December:

So again, Amazon.com saw yet another 380 bps deceleration in the December quarter.
Modeling Amazon.com's Q4 2013 revenues
ChannelAdvisor is our best guess for how Amazon.com did during the quarter. There is a significant correlation between the average same-store sales growth reported by ChannelAdvisor and Amazon.com's overall revenue growth rate year-on-year for the same quarter. This correlation shows a R2=0.88, though down slightly from an R2 near 0.90 2 quarters ago.
This correlation seems to be slightly lower now because Amazon.com's overall growth rate is being helped by an accounting change. Amazon.com is supposedly now accounting for ebook sales using an wholesale model whereas the same ebooks were booked under an agency model last year. This means that the same ebook sales produce around 3 times more revenue, and with ebooks being "multi-billion" segment, this has significant impact on the overall growth rate.
That said, this is how a plot of the ChannelAdvisor and Amazon.com's overall revenue growth rate data looks like: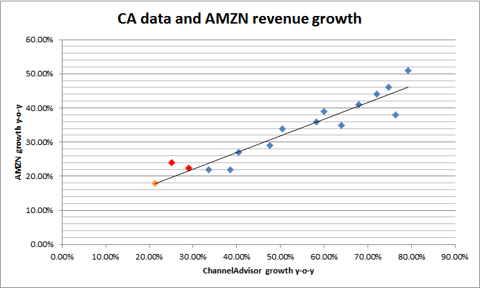 Click to enlarge
I painted the 2 last quarters which were already influenced by the ebook accounting change in red. The orange dot represents the best fit for Q4 2013. So what does it imply?
The 21.3% growth rate reported by ChannelAdvisor implies 17.9% growth for Amazon.com's overall revenues in this quarter. This compares with the consensus expectation of 22.5% growth. The consensus expectation is for $26.06 billion in revenues. The revenues implied by this model are $25.08 billion.
With no other factors in play, this would mean Amazon.com was likely to miss revenue estimates significantly. But the same could already be said of last quarter, and it turned out Amazon.com beat expectations.
For this quarter, we again have 2 major effects which will help Amazon.com's revenues, if not its profits, these are:
The ebook accounting change, which is now near its largest possible impact on revenues. The massive impact from this accounting change might be enough to drive revenues from the model's 17.9% expected growth rate all the way up to the 22.5% consensus revenue growth rate;
And the new generation gaming consoles (Xbox One, PS4), which are selling very well and might add something along the lines of 2% to Amazon.com's quarterly growth rate.
Conclusion
Structurally, Amazon.com continues to slow down. Yet, in a way that would be allowed to no other stock, Amazon.com is allowed to run free with a significant accounting change causing reported growth rates to be higher than they would otherwise be. At this point this is allowed both by the analyst community and by the SEC.
Given this constraint, while the strong correlation between ChannelAdvisor data and Amazon.com's overall revenue growth rate would dictate that Amazon.com would miss revenue projections significantly, the truth is that the most likely scenario is for Amazon.com to meet those projections.
On the other hand, this has no implications for Amazon.com's profitability. These are accounting-related revenues with no calories. This means that it continues to be likely that Amazon.com will guide down EPS for Q1 2014. As for Q4 2013, expectations have been cut so much that I no longer have an opinion (I find the new expectations possible to be met).
Disclosure: I have no positions in any stocks mentioned, and no plans to initiate any positions within the next 72 hours. I wrote this article myself, and it expresses my own opinions. I am not receiving compensation for it (other than from Seeking Alpha). I have no business relationship with any company whose stock is mentioned in this article.
Additional disclosure: I have options positions which stand to gain from AMZN going down.