Over the last month, the single worst performing S&P Sector ETF was the SPDR Select Health Care (NYSEARCA:XLV). It picked up a mere 3% whereas the S&P 500 (NYSEARCA:SPY) picked up 7%.
The reasons may be two-fold: (1) Health care is a defensive segment, and typically produces both smaller declines in corrective phases as well as smaller surges in recoveries, and (2) Health care legislative reform uncertainty has everyone tied in knots. It's this latter reason that pundits differ on what will happen next.
Some soapbox speakers like Jim Cramer believe that, when legislation passes, it'll kill the overall market; health care certainly won't be spared as a defensive haven. Still, other analysts harp on the profit-reducing nature of likely regulation, as private health providers and drug makers could be rendered impotent.
Yet I am going to take a contrarian angle on this one. New law or no law, it's the uncertainty that is keeping folks away. Once there's a semblance of certainty about the "new rules" of health care, investors might just like what they see.
And here's why:
1. Cheap. Health care stocks normally trade at a 4%-5% premium to the broader S&P 500. They're currently trading at a 15% discount to the S&P 500's price-to-earnings. Not surprisingly, then, SPDR Select Health Care (XLV) has lagged the SPDR S&P 500 Trust (SPY) by roughly 20% over the last year.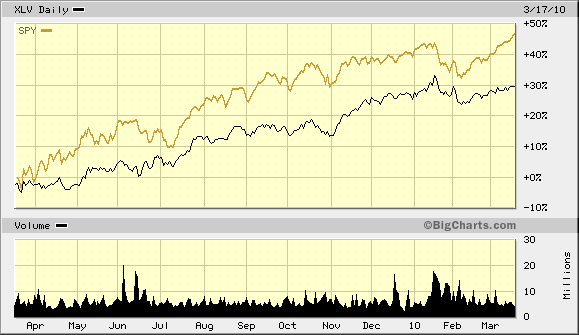 2. An Uptrend Is an Uptrend. Not only is XLV's P/E trading at 0.85 of the S&P 500, but XLV has maintained a steady uptrend above its long-term 200-day MAs. Technical analysts certainly can't complain.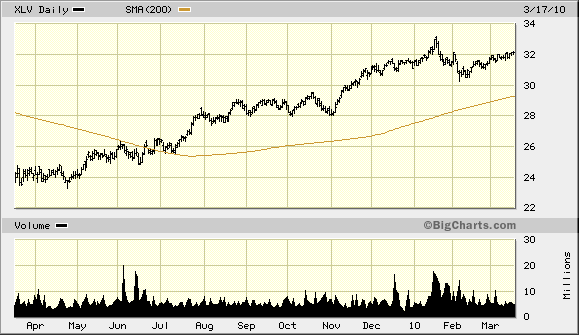 3. Heads You Win, Tails You Win. Okay, let's say Dems manage to get some form of health care legislation passed. Maybe there's a 70% probability of that occurring. Well, in this scenario, you still have greater clarity on what the numbers, procedures and rules are regarding health care in America. The increased certainty provides one with a better opportunity to see that there's still profitable enterprises in health care stocks.
Oh… and there's still another possibility. Health care reform fails. Might the gains be monumental for SPDR Select Health Care (XLV) if the entire reform issue is dropped for 2010?
Disclosure Statement: Gary Gordon, MS, CFP is the president of Pacific Park Financial, Inc., a Registered Investment Adviser with the SEC. The company and/or its clients may hold positions in the ETFs, mutual funds and/or index funds mentioned above. The company does not receive compensation from any of the fund providers covered in this feature. Moreover, the commentary does not constitute individualized investment advice. The opinions offered herein are not personalized recommendations to buy, sell or hold securities.