Background
The retail industry in this country has been undergoing great changes over the last decade or so. Because of this, it is rare that I come across a company for which I have any interest in becoming an investor. At first glance, Nordstrom (NYSE:JWN) seemed a bit different. As an upscale retailer, its customer base is probably less price sensitive while its corporate culture of unmatched customer service provides a competitive advantage that has stood up for decades. So, despite reservations for the sector as a whole, I decided to take a deeper dive looking for value.
The facts:
| | |
| --- | --- |
| | JWN |
| Current Price | $61.20 |
| Market Cap | $11.8B |
| Yield | 1.95% |
| P/E (trailing twelve months) | 16.26 |
| Consecutive Years of Growing Dividends | 4 |
Data Source: Yahoo Finance
Peer Comparison
| | | | | | |
| --- | --- | --- | --- | --- | --- |
| | | Profitability | Earnings Growth | Leverage | Overall Ranking |
| Nordstrom, Inc. | JWN | 1 | 1 | 3 | 1 |
| Macy's Inc | | 2 | 2 | 3 | 2 |
| Kohl's Corp | | 2 | 3 | 1 | 2 |
| Sears Holdings Corp | | 5 | 4 | 5 | 5 |
| J.C. Penney Co Inc | | 5 | 5 | 2 | 5 |
As I have mentioned before the peer comparison that I conduct is nothing more than a high level filter comparing similar companies. Of these peers, my own personal shopping experience is that Macy's is the only one that offers a truly close comparison. Competitors like Saks Fifth Avenue (now a subsidiary of Hudson Bay Company) and Neiman Marcus (privately held) would fit much better than the other three names as upscale retailers. At any rate, including the lower price point department stores allows me to test, if not fully validate, my hypothesis that upscale brick and mortar retailers should hold a stronger position in today's market. Looking at the forced ranking results, Nordstrom stands head and shoulders above this group of peers. It has been able to maintain and even grow extremely high margins over the past decade which in turn has translated into relatively stable earnings growth. Looking at the numbers, my intuition is that Nordstrom's advantages stretch into operational efficiencies as they have been able to grow while keeping costs aligned.
Making a Profit
Data Source: Morningstar, Nordstrom Management Discusses Q2 2013 Results - Earnings Call Transcript
While it is not the prettiest earnings growth chart I have seen, Nordstrom's earnings history displays an impressive level of earnings stability. Over the last decade, Nordstrom has been able to increase earnings in every year but one - 2008 - and we all know what was happening at that time. Unlike low price point competitors like Sears and J.C. Penney, Nordstrom's earnings came out of the Great Recession and continued to grow.
Cash Flow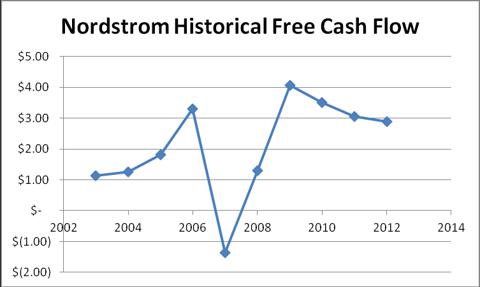 Taking a longitudinal view of free cash flow, it is clear that Nordstrom has been generally successful at generating value over time. The data point that requires some review is the 2007 fiscal year. A quick review of the company's annual report for that year shows that the big change in the statement of cash flows occurs under a $1.2 billion increase in accounts receivable. During that fiscal year, Nordstrom "reacquired all of the co-branded Nordstrom Visa credit card receivables previously held off-balance sheet." (Source: Nordstrom 2007 Annual Report ) In recent years, this number has grown although at rates consistent with Nordstrom's overall business growth.
Future Growth Prospects
According to Yahoo, analysts expect the company to return annual earnings growth of about 11% over the next 5 years. Nordstrom sees growth coming mainly from a three pronged approach including the expansion of the Nordstrom Rack concept, online growth and expansion into Canada. I won't go into a deep dive of these three opportunities but will point the interested reader to the company's December investor presentation where the company goes into some detail regarding its future plans. Considering these facts, the Yahoo growth rate seems reasonable, if on the high side considering the company's stated target of high single digit sales growth combined with mid-teens ROIC.
Conclusion
Typically my search for investment candidates focuses on companies with a long history of dividend growth. While Nordstrom has only grown its dividend on an annual basis since 2009, it is worth noting that the company grew its dividend annually from $0.125 (split adjusted) in 1996 to $0.64 in 2008, held the dividend constant at $0.64 in 2009, and then continued growing after that to $1.20 last year. While that dividend growth record is not perfect, it is still impressive. Also impressive are the company's earnings and free cash flow history. Looking at my dividend discount model however, I give the shares an intrinsic value between $55 and $60. In other words, while an investor purchasing shares today would likely receive considerable value, there would be no factor of safety associated with the shares. As such I will require that the shares drop in price safely below $50 before I become a buyer.
What do you think? Have you had a good experience either investing in or shopping at Nordstrom? Is the company's strength and future outlook fully recognized in the share price?
Disclosure: I have no positions in any stocks mentioned, and no plans to initiate any positions within the next 72 hours. I wrote this article myself, and it expresses my own opinions. I am not receiving compensation for it (other than from Seeking Alpha). I have no business relationship with any company whose stock is mentioned in this article.
Additional disclosure: Additional disclosure: I am not a professional investment advisor nor a financial analyst. I am writing this article because I feel that investing is not a zero sum game for the individual investor and because I believe that the process of writing and receiving feedback improves my own performance.