2013 was the year of solar stocks, as all major solar companies provided solid returns to its investors. The two big solar ETFs, Guggenheim Solar (NYSEARCA:TAN) and Market Vectors Solar Energy (NYSEARCA:KWT), appreciated 114% and 92%, respectively. SolarCity (NASDAQ:SCTY) was no different; its share price soared 361%; thanks to the overall market sentiment and SolarCity's business model, which positions the company to capitalize on the market demand for solar installation.
Goldman Sachs' recent upgrade to "conviction-buy," along with an increased price target from $65 to $80 per share, further supports this fact. Goldman Sachs believes SolarCity's solar panel installation business model makes it among the best picks in solar stocks to capitalize on the strong demand in rooftop installation. Solar companies that are concentrating on rooftop installations (especially residential) have the strongest growth prospects. Along that line of thinking, the Goldman Sachs has downgraded First Solar (NASDAQ:FSLR) from buy to sell, as it is mainly a utility player. First Solar has an entirely different business model from SolarCity, manufacturing solar panels and providing turnkey solutions. First Solar has done well with a CdTe-based solar module and over time has diversified from being a PV manufacturer to providing turnkey solutions. Despite the utility installation market being the largest segment in terms of installation, however, the rate of new contracts has slowed down.
Residential installation, a long-term growth driver
SolarCity has a dominant position in the fragmented U.S. residential solar panel installation (rooftop) market with a 31% share as of the third quarter of 2013, up from 26.2% in the second quarter. Residential solar panel installation in the U.S. is growing at robust rate and through the third quarter of 2013 residential PV installations were up 49% year over year. This will further expand to 52% year over year by the end of the fourth quarter. Thus, as a dominant player, SolarCity is perfectly positioned to capitalize on this demand growth.
Residential and commercial installation forms part of over Rooftop solar, which is a cleaner form of energy that provides cheaper electricity as compared to peak rates of the utility companies. Rooftop penetration stands at 0.1% of the U.S. electricity generation, and with the increasing use of this mechanism for reducing electricity bills, penetration is expected to increase to 3.5% (121 gigawatt, or GW, of capacity) by 2030.
SolarCity has a current penetration of about 0.2% of the Total Addressable Market, or TAM, of 41 million homes, and the company is targeting one million customers by 2018, or 2.4% of TAM. This would mean 6 GW of installed cumulative capacity from the current base of 0.5 GW.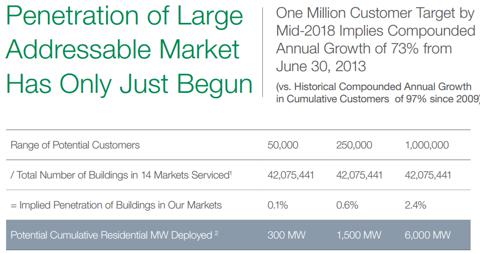 Source: Investor Presentation
Considering the initiative taken last year, which includes acquisition of the direct marketing firm Paramount Solar, SolarCity's target looks justifiable. Paramount Solar brings expertise from Guthy-Renker, one of the leading direct-to-customer marketing companies, owning most of Paramount Equity (Parent of Paramount Solar). Thus, this transaction brings the expertise of veteran Ben Van de Bunt, CEO of Guthy-Renker, who has joined SolarCity's board of directors.
SolarCity operates through lease and power purchase agreements, in which customers don't have to bear the huge cost of purchasing solar panels. Retained value therefore is important in determining the value from the long-term project undertaken. This metric takes net present value of all future cash flows (in form of lease payments) received by SolarCity from the contracts booked, after deducting payments and other operating and maintenance, or O&M, costs. This is a significant metric that determines the actual value of the project booked and is thus crucial to shareholder value. SolarCity's retained value forecast on Sep. 30, 2013, was $846 million, representing a cumulative retained value per watt of $1.37. SolarCity's one-million customer goal will add significant retained value. Additionally, its cost-reduction initiative (such as the acquisition of mounting systems manufacturer Zep Solar and its vertically integrated model) will further improve this metric.
One weakness of the SolarCity model is that it cannot monetize its projects quickly, as it operates on a lease system or a power purchase agreement, or PPA. However, last year the company completed private placement of solar notes of approximately $54.43 million, with an interest rate of 4.80%, which are backed by the solar contract assets. This was the first-ever securitization of solar assets, and helped the company to realize cash flow beforehand, without waiting until the end of the lease term.
SolarCity's growth outlook is strong. Three growth catalysts will be an increase in PV installations, an increase in retained value per watt, and asset-backed securities for realizing cash flow from projects. In addition, SolarCity's full services give customers one point of contact, differentiating the company from other residential installers, which have a more complex network. For example, SolarCity's competitor SunPower (NASDAQ:SPWR) follows an upstream supply chain that involves manufacturing of PVs, and it has to work with partners for installation and other related services. SunPower manufactures high-efficiency solar modules, which provided conversion efficiency of equal to or more than 20%, a record in the industry. Unlike SolarCity, SunPower has market share across different market segments, including residential and utility, and thus has benefited from overall demand of solar modules.
Downside risks
For solar panel installers concentrated on the residential segment, Investment Tax Credit is important in keeping costs down. This law was enacted in 2008 and provides 30% of the total solar panel purchase and installation cost as a tax credit to the buyer of the solar panel. This may be a residential homeowner, commercial building owner, or solar installation company, if it is a solar power purchase agreement and the company owns the solar panel. This credit reduces the tax liability of the concerned party. This is also important in financing the part of the project held by solar panel installer (like SolarCity), as it gives advantage of tax incentive on this investment.
Tax equity funding has played an important role in SolarCity's growth, as the investment helped in filling the funding gap for a project. This tax credit will be reduced to 10% in 2017 and therefore may hamper third-party financing and residential solar installation overall.
Conclusion
SolarCity is set to post another strong fiscal year, with the expected installation of 475 MW to 525 MW in 2014, up from an estimated 278 MW in 2013. The company has made important acquisitions towards realizing its one-million customer goal and reducing overall costs.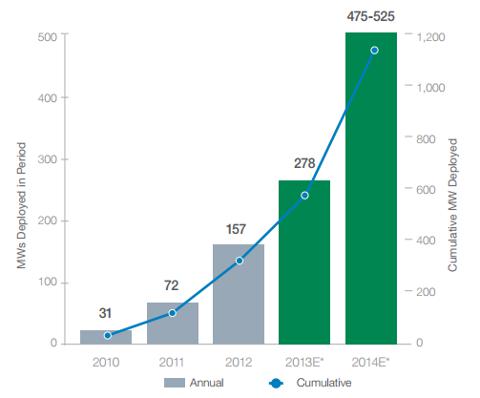 Source: SolarCity's third quarter presentation
The company is moving in right direction towards its 2018 target of cumulative installed PV capacity of 6 GW. With the strong growth fundamentals, I recommend buying this stock.
Disclosure: I have no positions in any stocks mentioned, and no plans to initiate any positions within the next 72 hours. I wrote this article myself, and it expresses my own opinions. I am not receiving compensation for it (other than from Seeking Alpha). I have no business relationship with any company whose stock is mentioned in this article.