Do not let the title for today's article fool you. The Beam (NYSE:BEAM) acquisition is great for investors who held Beam on Friday, but if those investors try to parlay their winnings into further gains by buying peers in hopes for an acquisition it is our belief that they may find a trail of tears. We see a lot of brands getting created these days to fill voids within the marketplace as well as within the brand and product offering portfolios of many companies. The reason this is happening is that many are reluctant to be sellers in this market as assets are harder to come by. The remaining large targets out there are either too large to be bought by others or controlled by families who are not sellers at this time. Neither of those categories represents traditional sellers, or sellers of any type to be honest.
This is why we think investors should cheer the Beam news, but not try to place bets elsewhere on takeover speculation alone. This is a business that requires a long-term outlook, and we think it best to stick to that model of investing here rather than letting takeover speculation drive your investment philosophy for the sector.
Chart of the Day:
This chart shows how the spirits business has maintained its percentage of consumption volume by Americans over the years, while wine gained strongly against beer. It seems obvious that a beer company would not be a takeover target of anything but another beer company.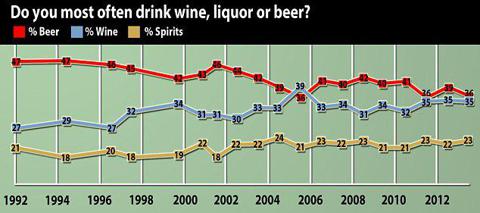 Source: Daily Mail
We have economic news today and it is as follows:
Treasury Budget (8:00 p.m. EST): Est: $44.0 Billion
Asian markets finished mixed today:
All Ordinaries -- down 0.38%
Shanghai Composite -- down 0.19%
Nikkei 225 -- up 0.20%
NZSE 50 -- CLOSED
Seoul Composite -- up 0.54%
In Europe, markets are trading higher this morning:
CAC 40 -- up 0.01%
DAX -- up 0.05%
FTSE 100 -- up 0.05%
OSE -- up 0.12%
Merger Monday
Japan's Suntory announced a deal today to purchase Beam Inc in a deal valued at $13.6 billion, or $83.50/share. This represents a 25% premium to Beam's closing price on Friday and will create an even stronger international spirits maker for Japan. For those who do follow the spirits business, Beam not only has Jim Beam as a product, but also a stable of other whiskey, bourbon and scotch brands. These are among the fastest growing categories in the spirits business and Beam, maybe more so than any other company, dominates the top growth brands with their premier names. The deal represents a nice transaction for Beam shareholders, but investors and speculators should be aware that this is most likely the best deal available based on the landscape of the spirits market these days.
Diageo (NYSE:DEO) is likely too large to do an acquisition of this size with this many premier brands involved and would likely have to sell off a good number of the assets that Beam has. Although Diageo has a history of doing this to gain key brands, in this case we doubt that they would be willing to buy assets at a premium only to have to sell many of them at a potential loss to others. A joint bid could be possible but a headache, and again they still would have regulatory issues to face.
An investment in Brown-Forman should be made based on long-term fundamentals, not the hope that the Brown family will want to monetize their equity position.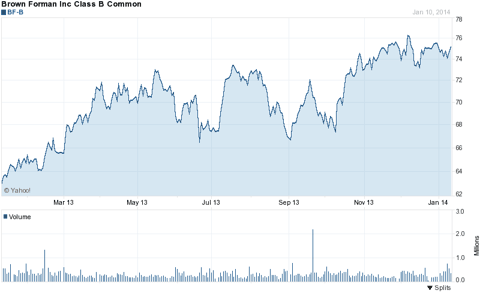 Source: Yahoo Finance
Also regarding the spirits business this morning investors should refrain from trying to chase other names in the sector, namely Brown-Forman (NYSE:BF.B). We imagine that the shares will end the day green, but the company is controlled by the Brown family and combined they own a majority stake in the company which effectively blocks any acquirer from being able to force the company into play without paying a very rich premium. In short, Brown-Forman is a long-term play rather than a takeover play.
Steer Clear of Beer
There is no way to extrapolate the spirits success into other alcoholic beverage categories right now to try to find more takeover targets. Sure Boston Beer (NYSE:SAM) has some nice growth, but the overall beer category is losing share to the spirits makers and even within the beer category the bigger brands are losing market share to smaller craft beer makers.
Boston Beer, maker of Sam Adams, has been one of the hottest names in beer and sports a rich valuation based on its fast growth. It might be too rich for a larger beer company to make a bid at this point.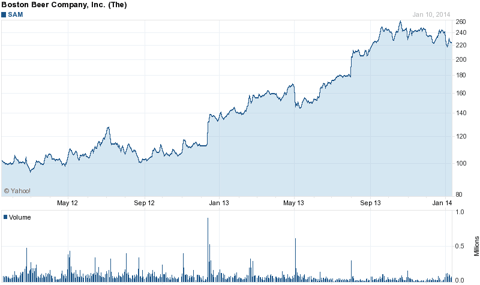 Source: Yahoo Finance
A name like Anheuser-Busch InBev (NYSE:BUD) is far too large to get taken over and has had to get most of its growth via acquisitions and cost cutting. The beer business has become a relatively boring annuity like business these days when dealing with the larger companies and a capital intensive business when looking at craft beer investments (most of which are not even publicly traded). The returns investors can expect here are through dividends and capital appreciation associated with internal growth and cost cutting. The only acquisitions which might take place here are the bigger players buying smaller names to develop their craft beer portfolios but with the family ownership in many companies and rich valuations on smaller beer companies it does look like a waste to speculative on buyouts, especially when one considers it is highly unlikely that a spirits company wants to enter the beer business in today's market.
Disclosure: I have no positions in any stocks mentioned, and no plans to initiate any positions within the next 72 hours. I wrote this article myself, and it expresses my own opinions. I am not receiving compensation for it (other than from Seeking Alpha). I have no business relationship with any company whose stock is mentioned in this article.