DryShips, Inc. (NASDAQ:DRYS) is a company which provides mostly water-based transportation for all kinds of cargo.
Over the past several months, DryShips has been an increasingly volatile stock, often swinging 10%-plus in one direction or another in a matter of just days. Nonetheless, DryShips has returned 79% in the last 12 months for investors and 11% in the last three months. These returns could be short lived in the short-term due to equity dilution and dry shipping rates.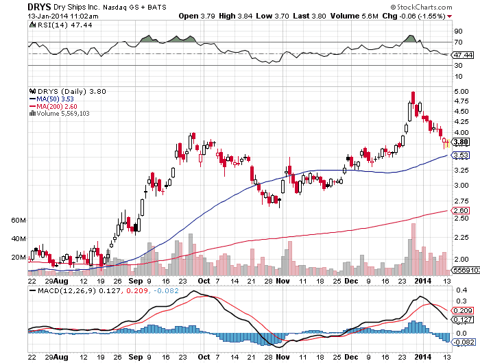 Click to enlarge
From DryShips website:
DryShips Inc. is an owner of drybulk carriers and tankers that operate worldwide.

Through its majority-owned subsidiary, Ocean Rig UDW Inc., DryShips owns and operates 10 offshore ultra deepwater drilling units, comprising of 2 ultra deepwater semisubmersible drilling rigs and 8 ultra deepwater drillships, 3 of which remain to be delivered to Ocean Rig during 2013 and 1 during 2015.

DryShips owns a fleet of 42 drybulk carriers (including newbuildings), comprising 10 Capesize, 28 Panamax, 2 Supramax and 2 newbuilding Very Large Ore Carriers (VLOC) with a combined deadweight tonnage of approximately 4.4 million tons, and 10 tankers, comprising 4 Suezmax and 6 Aframax, with a combined deadweight tonnage of over 1.3 million tons.
My history with DryShips is as follows:
On the 18th of December, I advocated hopping aboard the company and staking a position based on the Baltic Dry Index rebounding and the company holding off on the offering they were bringing to market.
On the 30th of December, after the company posted ridiculous gains to the tune of 40% in just several days, I advocated that people take half their position off the table and secure some profits from the run-up.
On the 9th of January I advised investors to sell their entire position in DryShips, as the company was likely to move lower before moving back up - on the heels of equity dilution and poor dry shipping rates.
My argument today is a simple one: the Baltic Dry Index continues to pull back, so DryShips is likely to do the same thing. DryShips has basically tracked the Baltic Dry Index pretty consistently, so it's generally a safe indicator on the state of business at the time.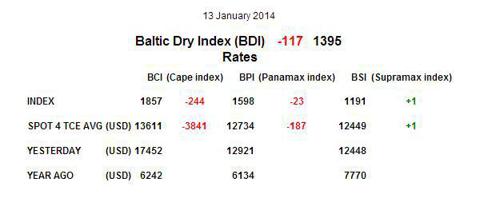 Click to enlargeThis comes on the heels of the Baltic Dry Index dropping 11% on Friday due to coal export regulations in Columbia, according to Financial Times:
A key indicator in the global shipping market has suffered its biggest one-day percentage drop on record after the Colombian government toughened its stance on coal exports.

On Friday, the Baltic Dry index, which reflects the daily charter rate for vessels carrying cargoes such as iron ore, coal and grain, dropped 11.4 percent to 1,512 points on concerns about reduced demand for cargo vessels. A week ago the index was trading at 2,113.
Dry shipping and trade might be a buying opportunity on the other end of this slump, but it's not for the buying right now. Other stocks effected by this sector wide price slump include Safe Bulkers (NYSE:SB), Star Bulk (NASDAQ:SBLK) and Diana Shipping (NYSE:DSX).
The argument for potentially buying after the slump revolves around a macro sized resurgence in dry shipping after the entire industry almost collapsed in 2008. Load sizes and frequency were falling dramatically in 07-08 due to banks not being able to guarantee loads. Additionally, demand fell off a cliff as a result of the recession of the time. Much like the housing industry, as the economy improves, dry shipping has a chance to rebound with the banks.
As I stated in my last article, re-entering around the high $2 level isn't out of the question - but I wouldn't be holding here and I certainly wouldn't be buying here. Long-term is a different story for DryShips, but lets get these poor shipping rates and the equity dilution behind us before we go staking our position.
Best of luck to all investors.
Disclosure: I have no positions in any stocks mentioned, and no plans to initiate any positions within the next 72 hours. I wrote this article myself, and it expresses my own opinions. I am not receiving compensation for it (other than from Seeking Alpha). I have no business relationship with any company whose stock is mentioned in this article.