On Monday, shares of biotech name Dendreon (NASDAQ:DNDN) rocketed higher after reporting preliminary fourth quarter results. Revenues came in above expectations, for the first time in quite a while, and the company grew its account base. While the fourth quarter results were good, they were not great, and serious questions still remain about Dendreon. Today, I'll break down the report, the key numbers, and take a look at Dendreon now.
Q4 preliminary results:
Here are the key numbers, as reported by Dendreon. Dendreon announced approximate net product revenue of $74.8 million, up 10.1% on a sequential basis. Here is a list of all the bullet points in the report, taken word for word from the release.
Business has continued to strengthen

Community oncology grew 19% overall quarter over quarter
Community urology grew 2% overall quarter over quarter
Community accounts represent 72% of total sales
Academic grew 5% quarter over quarter

Continued large account growth

100 large accounts in Q4, up from 94 in Q3, 85 in Q2 and 54 in Q1

Continued to generate new physician interest in PROVENGE® (sipuleucel-T)

Added 31 net new accounts in Q4

Continued progress on restructuring and cost reduction plan to accelerate the path to profitability; continue to expect net benefits to begin to be realized as early as Q1 2014
Advancing automation efforts

Recently conducted a constructive meeting with the FDA regarding automation of the PROVENGE manufacturing process; Agency expressed its support for this effort

Cash on hand of approximately $199 million as of December 31, 2013
Continue to develop clinical data in the active cellular immunotherapy space
Plans to present data from ongoing immuno-oncology trials, which further elucidate the product potency and mechanism of PROVENGE, and surrounding investigational compound DN24-02, at ASCO-GU later this month
Dendreon analysts were looking for revenues of $72.89 million, so Dendreon beat by a little less than $2 million. Analysts were looking for a loss of $0.37, but Dendreon did not provide any earnings data with this report. Additionally, CEO John Johnson provided the following commentary on the quarter:
"Our preliminary fourth quarter results were driven by strong growth in our oncology accounts as well as improvements in urology and academic accounts."

"The DTC campaign is achieving expectations and we continue to experience growth in large accounts, where we see the greatest opportunity. With the increasing amount of data surrounding PROVENGE coming to the marketplace along with a broader understanding of immunotherapy in cancer, we continue to see our KOL support strengthening."

"As we work to accelerate our financial progress, we are pleased to report that our automation efforts are moving forward. Once implemented, we expect automation to significantly lower our cost of goods sold, enabling us to accelerate our path to profitability, which remains a key goal."
Good, but not great:
This is the first time that Dendreon beat revenue estimates since the previous year's fourth quarter report, so that is a positive. As Dendreon pointed out, revenues were up approximately 10% over the Q3 period. The Q4 revenue number was also the best quarterly number of 2013, although that is not saying much since revenues for the year were down more than 12% over 2012 levels.
So why I am not extremely impressed by these results? Well, you have to put them in perspective. Although Dendreon beat analyst estimates as of Monday, the quarter still represented a more than $10 million decline over the prior year period, which was above $85 million. Q4 year over year revenues were still down by about 12.5%. Additionally, going into the Q3 report, Dendreon analysts were expecting more than $81 million in revenues. So while Dendreon beat, you have to realize that Q4 expectations came down by almost $9 million between the Q3 report and Monday.
The other item we have to look at is the account data. The following table shows the number of net new accounts over the past six quarters.

Yes, 31 net new accounts was more than the 27 in Q3. But the Q4 number was still the 2nd worst number of 2013, and the 2nd worst of the past six quarters. Additionally, let me go back to the bullet about large accounts.
100 large accounts in Q4, up from 94 in Q3, 85 in Q2 and 54 in Q1.
So after an increase of 31 large accounts in Q2 and 9 in Q3, just 6 were added in the fourth quarter. In both numerical and percentage terms, that is a slowdown. Again, this goes back to the notion that Q4 was good, but not great. Were Dendreon to come in closer to $80 million in revenues, it would have been a great number. But the company still has not cracked $75 million.
Finally, keep things in perspective. Back in June 2012, analysts were looking for 2013 revenues of more than $507 million. By August 2013, that number was down to about $306.5 million. Dendreon will end up around $285 million or so for 2013. Just think logically. If analysts reduce estimates enough, a beat will be guaranteed. This beat has more to do with estimates plunging than Dendreon having a spectacular quarter.
Update on the financial condition:
One of the reasons I have been so negative on Dendreon is that the company's balance sheet has been getting weaker by the quarter. The company has continued to lose large sums of money, and also burn through cash. Dendreon's original goal was to be cash flow positive from US operations at a $100 million quarterly run rate. Remember, Dendreon is at $75 million now. However, Dendreon announced a new restructuring plan at the Q3 report, and it is working to automate the manufacturing process which will save additional money. That should help cash flow as well. The following table shows key balance sheet numbers at the end of Q3. Dollar values in thousands.

In Monday's press release, Dendreon said that the company had cash on hand of approximately $199 million at the end of the year. That would be down about $34 million from the end of Q3. That would be the best quarterly cash burn number of the year, but it still is not good. Additionally, working capital has been even less than the cash balance. I'm very curious to see all of the balance sheet data.
Dendreon still has a debt payment of nearly $28 million due in a few months. This payment will eat up approximately 14% of Dendreon's cash balance, based on the end of 2013 number. The company's cash number is probably even lower now, because the company is still burning through cash. Dendreon management will need to address these financial concerns on the Q4 conference call. Remember, the company also has debt due in 2016, which was more than $550 million at the end of Q3, and increasing by the quarter. Stockholder's equity is also negative, and getting worse, meaning Dendreon has a lot more liabilities than total assets.
Shorts already covering:
Dendreon has a lot of non-believers, and with good reason as the stock has gone from the $50s to just $3.00 in a few years. The number of short sellers was almost 60 million a couple of months ago. But as I stated in a recent article, the number came down a bit at the end of 2013. More than 11.6 million shares short were covered towards the end of the year, as seen in the chart below.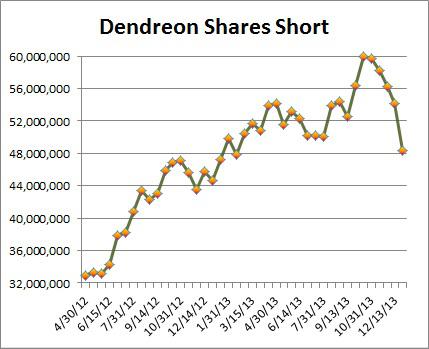 The end of December short interest number was the first time since February 2013 that the number was under 50 million. Sentiment appeared to be shifting a little as 2013 ended, and I'll have more on the stock price later.
Important questions still remain:
Again, this was a good quarter, but not a great one. I think that is totally fair to say. There are a number of key questions that still need to be answered. Here are the most important ones for Dendreon when it announces the official quarterly result and hold the call. I won't go into detail on these, as I've covered them extensively in this article or past ones.
How have results in 2014 fared so far?
When do you expect automation to begin? Do you have any numerical data on how this will impact results?
What do you plan to do with the 2014 notes due?
What's the new cash flow breakeven number?
When is profitability expected?
Can you update us on the bad inventory?
Dendreon needs to follow through into 2014. If the first quarter of 2014 doesn't show more improvement, then Q4 was just a head fake. The company is still getting closer to the point of needing more cash, so maybe there is an equity offering coming soon. I thought that Dendreon should have announced one last year when the stock was at $5.00 or higher, but it didn't. That might cause a little extra dilution now with the stock a bit lower.
Reaction to stock price:
When I wrote my last Dendreon article in December, I recommended that the stock be shorted but that investors hedge with February $3 call options. At that point, the stock was right around $3.00. Despite Dendreon shares going higher initially after my article, they quickly came back down to around $2.80 last week, at which point I issued the following StockTalk on Seeking Alpha.

Closing out the short position would have made you about 15-25 cents on the short side of the trade if you shorted the day of my article. If you decided to hold those $3 call options, you would have been nicely rewarded on Monday. Had you closed out the options position last week, your net gain on the entire trade would have been 10-15 cents depending on when the trade was executed. Considering how high this market has been going, any chance to make money on a short trade would have been pretty good.
As of 11:10 am on Monday, Dendreon shares were up 35 cents to $3.34. Monday's high was $3.48, which was slightly below the $3.51 December high, and the 200-day moving average around $3.55. It will be interesting to see if Dendreon can break through this technical level in the next few days. It might all depend on any analyst notes that come out.
Final thoughts:
Dendreon announced good results for Q4, which was a pleasant surprise for investors on Monday. However, investors should realize that this report was not great, and Dendreon stock is not going to double overnight on this news. The company still has a long way to go to achieve profitability and positive cash flow. Dendreon may be starting to turn things around, but this is just one quarter. Continued progress needs to be made in Q1 and beyond, and the company might still need to raise some cash. Dendreon shares rallied on Monday and rightly so, and some further short covering may take place. I wouldn't be surprised if shares headed towards $4.00 a share, which is why I'm tagging this article as "Long Ideas", but this company is not out of the woods just yet. There may still be some chances to short Dendreon, and I'll come back if I feel the time is right. Q4 was a step in the right direction, but it is just one step, so investors should not go all in just yet. Dendreon still has a lot to prove.
Disclosure: I have no positions in any stocks mentioned, and no plans to initiate any positions within the next 72 hours. I wrote this article myself, and it expresses my own opinions. I am not receiving compensation for it (other than from Seeking Alpha). I have no business relationship with any company whose stock is mentioned in this article. Investors are always reminded that before making any investment, you should do your own proper due diligence on any name directly or indirectly mentioned in this article. Investors should also consider seeking advice from a broker or financial adviser before making any investment decisions. Any material in this article should be considered general information, and not relied on as a formal investment recommendation.