Hindsight View
Back in August, I recommended Five Below (NASDAQ:FIVE) as a decent company worthy of investment because of their consistent store expansion and strong revenue growth Some investors were speculating that if the company continued its "streak" and came back with good numbers, shares could very well trade close to an upwards of $50 per share. Personally I thought this seemed unrealistic, although momentum stocks can be easily fueled through news and analyst price targets so it wasn't impossible for investors to achieve. A week later, the company beat estimates and broke to new highs gaining close to 30%.
Side note: I saw Five Below as a company with good growth prospects and attached qualities of significant momentum and sentiment. Therefore I viewed this company as a swing trade candidate, not necessarily a buy and hold.
As shares traded above that $50 price level I became pretty bearish, thinking they were quite expensive. Furthermore looking back at my friend's point of view, he made some interesting points which ultimately led to my short position at $52 in November. Since then I have had no exposure to Five Below.
Bleeding Like A Pig
I couldn't have said it any better myself. In the article mentioned above, Brian warned investors by stating, "Once the company disappoints... expectations and price targets become more realistic... Five shares are a ticking time bomb right now." This is a classic momentum stock getting crushed by the eventual rationality of the market, and it didn't take very long either with shares down ~32% while people were mindlessly bullish even over $50.
Sell-based catalysts:
In the last earnings report, Five showed non-GAAP Q3 2014 earnings of $0.05, meeting the consensus estimate of 14 analysts covering the company. Leading up to the announcement, analysts adjusted their estimates up 3 cents due to management guidance. On the converse, the company reported weak revenues that felt short of expectations by over 3 million. This disappointing factor had a serious adverse affect on their low net income figure of only 1.6 million.
Management cut their forward guidance; revenue range estimates are down as much as 16 million, along with 5 cents on their EPS. Comparable store sales growth figures were also reduced from 1.5% to 0.5%. The CEO commented, "We did not meet our sales expectations for the holiday season as adverse weather negatively impacted traffic to our stores, which are heavily concentrated in the Northeast and Midwest regions. This was simply exacerbated by the shortened holiday season during which we simply did not make up the weather-driven sales shortfall."
Another going concern is that Five Below has a void COO position for the last four months. It's a widely known fact that although their management is seasoned, the CEO is clearly neither an operator nor is it within his job description.
Reasons to Buy?
While the short term selling has created a huge mess for shareholders the long term growth story is still intact for the most part. Management remains optimistic in their ability to achieve solid growth and boost shareholder value. The chart below illustrates the companies' consistent revenue and gross profit growth:

Click to enlarge
However, the law of large numbers for store expansion obviously weighs heavily on the companies' p/e multiple.
Despite that a large amount of cash has been re-invested into store expansion, fcf ttm has remained positive. Profit margins are also moving closer to industry averages in addition to Five's intact store expansion prospects (revenue growth and expansion usually sacrifice margins).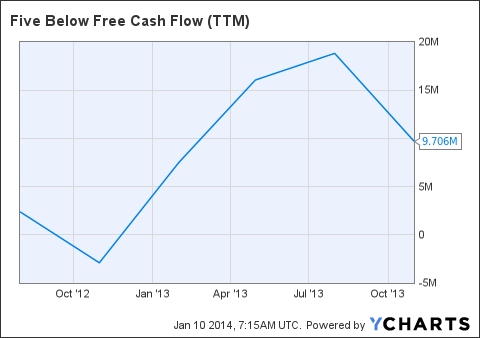 FIVE Free Cash Flow (TTM) data by YCharts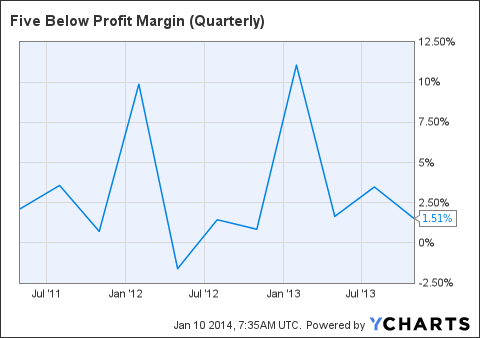 FIVE Profit Margin (Quarterly) data by YCharts
Chart Analysis
Previously Five's price channel was easy trading in my opinion, but with severe volatility in the last few months it seems to be highly unpredictable, specifically with the new information released.
Their chart has maintained its large ascending channel, although resistances and supports are much less defined at this point (the one's I provided in the chart are speculative).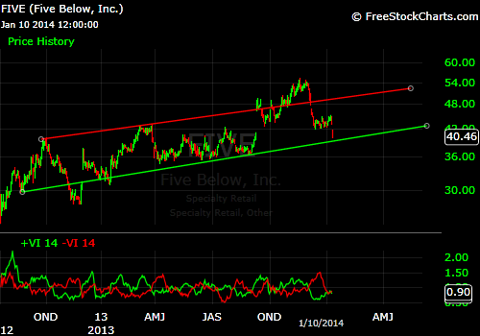 Click to enlarge
One thing I would like to mention here is the vortex technical indicator (on the bottom half of the chart) which is pretty good at timing share price momentum. It's interesting to observe when the green line breaks below the red line, there is an assumed change in the trend, in which case is typically bearish. For example, directly when the green line broke below in late March, shares were trading around $39-40 and in the following days the price fell as low as $35.
A risky but viable short term trade would be to buy when selling stalls, and buying resumes (i.e. the first green day we see).
Final Thoughts
Five Below remains favorable among large players with 92% institutional ownership. While I think the valuation is relatively unattractive here, I think the market has yet to fully realize it. This is a stock that traders could play with given the intense volatility. Now seeing shares down about 11% in two days, the "market view" may see this as an opportunity to buy in.
Disclosure: I have no positions in any stocks mentioned, and no plans to initiate any positions within the next 72 hours. I wrote this article myself, and it expresses my own opinions. I am not receiving compensation for it (other than from Seeking Alpha). I have no business relationship with any company whose stock is mentioned in this article.