For several months now, I've been looking to find an entry point to buy LinkedIn (NYSE:LNKD) shares. Why? Mostly because I think the business is terrific but I'll get into that a bit later. The unfortunate part is that I'm unable to pull the trigger because the stock looks incredibly expensive. It's come down a bit in recent weeks as the hype is being replaced by doubters but it does remain expensive by most measures. So you can imagine my surprise when I noticed that Twitter (NYSE:TWTR) was considerably more expensive and as a whole worth a lot more. Don't get me wrong, I'm a big fan of Twitter as a company and I use their product more than competitors such as LinkedIn and even Facebook (NASDAQ:FB). But as a stock? It looks like it is in bubble territory.
I've been vocal about my thoughts on Twitter and even though I'd still be too coward (or crazy?) to short it, you'd have a very tough time convincing me that it is a good buy at these levels.
LinkedIn vs. Twitter
When looking at companies that are new, it's obviously important to look at both what the company is and its future potential. So let's take a look at some important metrics. Keep in mind that Twitter is currently worth about 25% more than Linkedin which should be explained by either a significantly better business or better upside.
Current Business:
Basically as a business, LinkedIn is expected to have almost 2 times the revenues one year from now yet it is being traded at a discount. In addition, while LinkedIn has been profitable and growing for many years already, Twitter is still hoping to turn a profit for the first time in 2015.
In terms of P/E, LinkedIn is trading at about 63 times its predicted 2015 earnings per share while Twitter is at 417 times.
Annual Revenues (in millions $)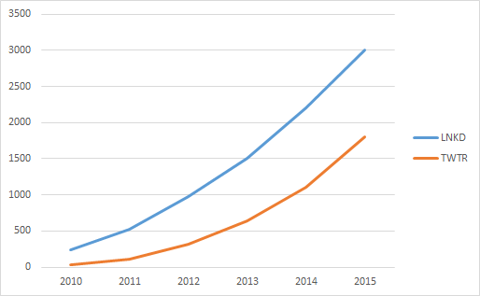 Earnings Per Share (2014-2015 are consensus analyst estimates)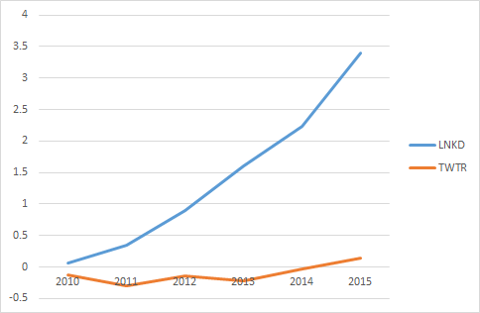 Has To Be About Potential Then...?
If nothing about these companies can possibly explain the valuation discrepancy, I'd imagine that it's all about potential. Here are my main thoughts in terms of upsides and downsides for each one:
Twitter:
Up
-Very significant and fast growing user base from all around the world
-Getting traction from mainstream brands that are now moving their message/money to Twitter. Just look at the number of ads in this year's Super Bowl that will mention a Twitter hashtag compared to 2-3 years ago
Down
-Revenues opportunities remain limited and sponsored tweets remain the one big option
-Faces significant competition from Facebook (just look at how aggressive Facebook has been in fighting Twitter's Vine with Instagram)
LinkedIn:
Up
-Faces little to no competition at this point and if the "default" network for professionals around the world
-Diversified revenues originating from advertising but also paid members both from the corporate and "individual" member side
-Upside in terms of revenues includes becoming the main location for employers and candidates to meet (taking away business from the likes of Monster Worldwide-MWW), adding more corporate services related to consulting, offering ways for individuals to improve their resume through courses, etc.
-Average LinkedIn user is as good as it gets: mix of corporations and highly educated and wealthier than average individuals
Down
-Engagement remains a challenge for LinkedIn which has failed to increase significantly the amount of time its users spend on its service
No-Brainer?
Again, I'd be afraid of shorting a stock like Twitter but if you're thinking about getting in at these levels, I'd highly recommend that you consider buying LNKD instead. It's a much better purchase at these levels.
Disclosure: I have no positions in any stocks mentioned, and no plans to initiate any positions within the next 72 hours. I wrote this article myself, and it expresses my own opinions. I am not receiving compensation for it (other than from Seeking Alpha). I have no business relationship with any company whose stock is mentioned in this article.