On January 9, Bloomberg published an article on how Statoil (NYSE:STO) might respond should the newly elected Norwegian government fulfill its campaign promise to reduce the Norwegian government's current stake in the giant oil company to 51% from its current 67%. Included among these responses are several moves which could prove very beneficial to shareholders in the company. In particular, the Bloomberg piece specifically mentions several possible acquisitions that would expand the company's footprint in Africa.
Why Africa?
Africa is one of the richest continents in the world in terms of oil and gas resources. The African nations of Algeria, Angola, and Nigeria are all listed among the top twenty oil producing nations in the world. Another African nation, Libya, is also a well-known producer of oil. But, there are indications that the vast production potential of this continent has not yet begun to be realized.
Most energy investors have heard of the pre-salt layer that covers enormous deposits of oil off of the coast of Brazil. This pre-salt layer has an analogue that is located off of the shores of West Africa. In fact, the two are part of the same geologic formation. I have discussed this African pre-salt layer as well as the resource potential of it in the past on Seeking Alpha. Statoil is already one of the largest producers in Angola and the company is already operating in the pre-salt layer through its operator or partner stake in five blocks in the Kwanza Basin offshore Angola.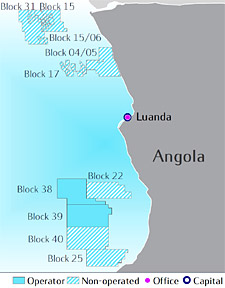 Source: Statoil
However, there is still plenty of room to expand in this area in order to increase the company's presence in the West African pre-salt with its potentially vast resource potential. One way would be an acquisition of the midsized independent exploration and production company Cobalt International Energy (NYSE:CIE).
Cobalt International Energy has an operator stake in three Angolan pre-salt blocks and a partner stake in one block located in the pre-salt region of nearby Gabon. Cobalt has made four significant discoveries of oil in these areas. These discoveries both give the company a substantial resource base from which it will be able to produce oil and gas and also show the ultimate potential of the West African pre-salt. Cobalt has also made three discoveries in the Gulf of Mexico which give the company a significant presence in that region as well.
Statoil is one of the largest operators in both the Gulf of Mexico and the West African pre-salt. Therefore, a takeover of Cobalt International Energy would offer obvious synergies as well as expand Statoil's presence in two of the most promising frontiers for oil exploration and production going forward. However, the aforementioned Bloomberg article made no mention of Cobalt International Energy as a potential acquisition target nor am I aware of any immediate plans for Statoil to acquire Cobalt. However, the potential benefits to Statoil of such a deal are obvious.
The Bloomberg article specifically mentions another oil company that has a large African presence that could be a potential takeover target for Statoil. That company is Tullow Oil (OTCPK:TUWLF).
Tullow Oil is a British oil and gas company focusing on operating in Africa, Asia, the North Atlantic, and South America. Tullow Oil is much larger than Cobalt, boasting an enterprise value of $14.38 billion (according to Yahoo Finance) but still easily within the ability of Statoil to swallow should the Norwegian government's stake be reduced through equity dilution as the Bloomberg article suggests.
Acquiring Tullow Oil would offer some advantages to Statoil that an acquisition of Cobalt would not. For starters, Tullow Oil operates in many more African countries than Cobalt does. This diversifies the company's production base and greatly reduces its exposure to any given national government. Given the continent's long history of civil wars, brutal and narcissistic dictators, and public unrest, this diversification is something that is very important. In addition, not all of the company's production is located offshore like Cobalt's is.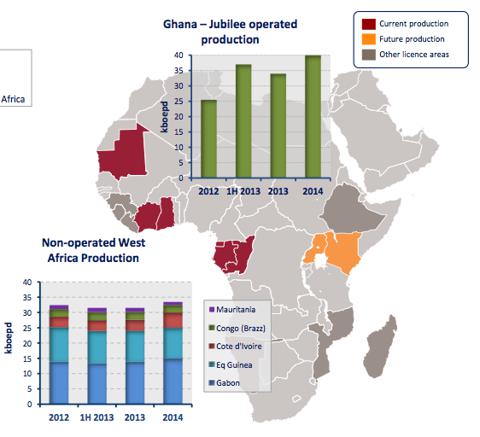 Source: Tullow Oil
Tullow Oil also has an established presence in East Africa which Cobalt lacks. East Africa has been the site of some of the largest natural gas discoveries in recent years, such as Eni's (NYSE:E) Mamba field offshore Mozambique and Statoil's massive discoveries at Mronge, Zafarani, Tangawizi, and Lavani off of the coast of nearby Tanzania. These fields are likely to produce significant growth for the companies involved in developing them going forward due to the location's ideal position to export natural gas to Asia. I discussed the massive forward projected demand growth for natural gas by Asia in a recent article. While Tullow itself has not gotten involved in the development of these gas resources, the company does have oil fields in Tanzania and in nearby Kenya and Uganda. The company is also assisting in the development of an export pipeline across Uganda and Kenya to the sea.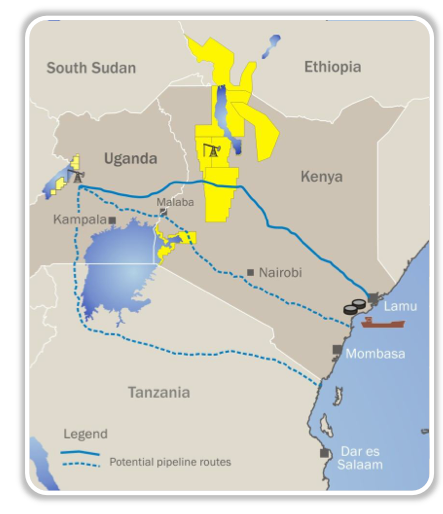 Source: Tullow Oil
The development of this pipeline will put Tullow Oil into an ideal position to export oil to Asia. This would work out well for Statoil should the company acquire Tullow Oil. As Statoil develops its gas fields in Tanzania and the regional export pipeline is built, Statoil would have the potential to become one of the largest suppliers of energy to Asia.
Acquiring either of these companies would prove accretive to Statoil's production, revenue, and profits going forward. The growth in net income could also result in an increased dividend for shareholders as Statoil will have a much larger profit base from which to pay its dividend. However, unlike many other Norwegian companies, Statoil does not have a direct link between its net income and its dividend so there is no guarantee that this will be the case. While this article is simply speculation and Statoil may not even be interested in either of these companies, the amount of capital that the company will obtain by diluting the Norwegian government's stake down to 51% will enable it to engage in acquisitions that could grow the company significantly and further diversify its production away from Norway.
Disclosure: I am long STO, . I wrote this article myself, and it expresses my own opinions. I am not receiving compensation for it (other than from Seeking Alpha). I have no business relationship with any company whose stock is mentioned in this article.