When I recommended buying 3M Company (NYSE:MMM) in my article on July 3rd 2013, everyone (that is, everyone who commented on my article) thought it was overvalued. However, the stock has gone up by 25.25%, far surpassing the S&P 500's growth of 14.14%. In this article, I will try to determine if I should take my profits at this point in time or if I should keep my shares in 3M. The graph below is from Google Finance.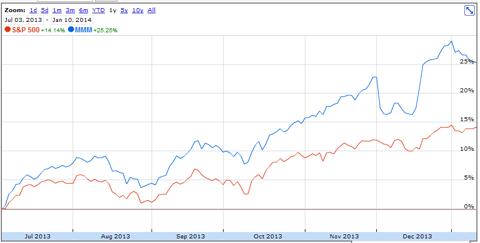 I'd like to start by looking at 3M's dividend. On December 17th, the company announced it would be paying a quarterly dividend of $0.855 in Q1 2014. This is an increase of 35% to the previous dividend of $0.635. However, with an increase in price per share to $136.18, the current yield is still at only 2.51%. Analysts expect 3M's earnings per share to reach $7.46, which would put 3M's payout ratio at 45.8%, which is quite a bit higher than in recent years, as can be seen in the graph below.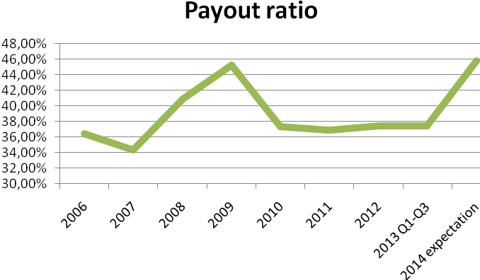 For 2014, 3M expects earnings to be between $7.30 and $7.55, which puts its forward price to earnings ratio in the range of 18.04 and 18.65. While this is a fairly high p/e, I believe it may be justified by high growth expectations. 3M has set itself some pretty impressive financial objectives for the 2013-2017 timeframe, with plans to grow its earnings per share at a 9%-11% rate. Revenues are expected to grow at 4%-6%. A large part of the growth in EPS will come from a huge share repurchase plan. 3M plans to spend between $17 billion and $22 billion on share buybacks until 2017. Further growth will come from acquisitions, on which 3M plans to spend between $5 billion and $10 billion before the end of 2017.
If EPS for 2014 comes in at $7.30 and then grows by 9% annually, 3M will have earnings per share of $9.45 in 2017. This is the lower end of the objectives. However, if 2014 EPS reaches $7.55 and grows by 11% in the years thereafter, EPS in 2017 might be as much as $10.33.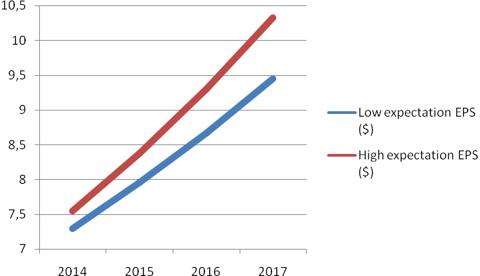 Growing the dividend at 9% per year would give 3M a dividend of $1.11 per quarter in 2017, while a dividend growth rate of 11% leads to a dividend of $1.17 per quarter. This would give investors getting in now a yield on cost between 3.26% and 3.43% as soon as Q1 2017.
Conclusion:
Even though 3M is currently trading close to its 52-week high, with a forward price to earnings ratio of above 18, I don't feel the company is overvalued. Revenue is expected to grow in the mid-single digit range, but share repurchases should be able to boost earnings per share. 3M has a long history of rewarding its shareholders, and if dividends increase at the same rate as earnings per share, we could see quarterly dividends of between $1.11 and $1.17 in the first quarter of 2017. I have a lot of confidence in this company and will hold on to my shares so long as it continues to perform as well as it has.
Disclaimer: I am not a registered investment advisor and do not provide specific investment advice. The information contained herein is for informational purposes only. Nothing in this article should be taken as a solicitation to purchase or sell securities. Before buying or selling any stock you should do your own research and reach your own conclusion. It is up to investors to make the correct decision after necessary research. Investing includes risks, including loss of principal.
Disclosure: I am long MMM. I wrote this article myself, and it expresses my own opinions. I am not receiving compensation for it (other than from Seeking Alpha). I have no business relationship with any company whose stock is mentioned in this article.