Celsion (NASDAQ:CLSN) was upgraded by H.C. Wainwright on Friday, who was resuming coverage on the stock. They put a price target of $8 on the company - roughly 100% higher than it was trading on Thursday. Subsequently, Celsion stock shot through the roof to the tune of nearly 13% on Friday, closing up $0.52 to $4.57.
Celsion, as you can see below, isn't a heavily covered stock. Take away the two obligatory downgrades after they beefed their Phase III trial last year, and this is really the first coverage the company has received in well over a year.
(source streetinsider.com)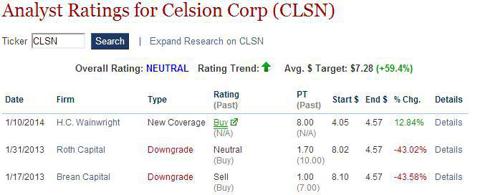 Wainwright's upgrade comes with no substance, as it appears. I haven't been able to find any editorialization behind the reasoning of such a move. If anyone has this info or a write up - I'd appreciate you passing it along.
So, with this upgrade, there's a few things you need to remember before this turns into mass hysteria.
1. According to this filing during Celsion's direct offering in 2013 for $9.83 million, H.C. Wainwright acted as exclusive placement agent. This means they have a working relationship with Celsion already - meaning you might want to take this upgrade with a grain of salt.
2. This upgrade, if of substance, is likely based on the positive data the company recently disclosed from its Phase I DIGNITY trials.
3. Since Celsion's Phase III trial, the stock has sometimes traded without rhyme or reason - running or dropping 20%+ in a day on no news. Once the company's share price dove after the Phase III results and before the reverse split, there is no doubt a faction of traders tried to make this into a low priced swing trader stock.
However, I don't necessarily disagree with Wainwright's price target. I, however, see $8 happening in a different manner, should the company get there.
It's likely we'd see an emotional run up to trial results coming in the future for Celsion - whether it be reinstated Phase III results in China, or more promise from the DIGNITY study. The company, sans making an acquisition this year, isn't likely to move up on profitability or fundamentals.
It's likely to run up on emotion like it did pre-Phase III last year - like many biotechs do before a binary event. People want to get in before the "main event":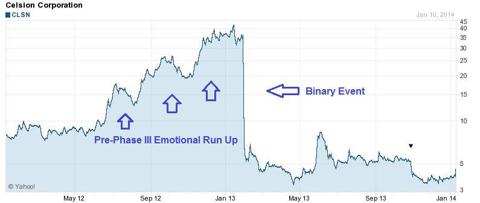 A caveat here is that Celsion seemed to show the same type of promise leading up to the HEAT study - only to be met with a "we missed by a lot" the morning that the company reported the Phase III results. However, with continued M&A talks, Hisun Pharmaceutical pushing for another HEAT study in China, and a seemingly positive step in the right direction for Celsion's DIGNITY study - dare I again say that Celsion could be heading into the new year with a little momentum?
Celsion could see $8 this year - don't get me wrong - but a 13% move on a baseless upgrade on Friday left me scratching my head. Take caution in buying here, although long-term I do believe Celsion will find something of value with its technology.
Best of luck to all investors.
Disclosure: I have no positions in any stocks mentioned, and no plans to initiate any positions within the next 72 hours. I wrote this article myself, and it expresses my own opinions. I am not receiving compensation for it (other than from Seeking Alpha). I have no business relationship with any company whose stock is mentioned in this article.